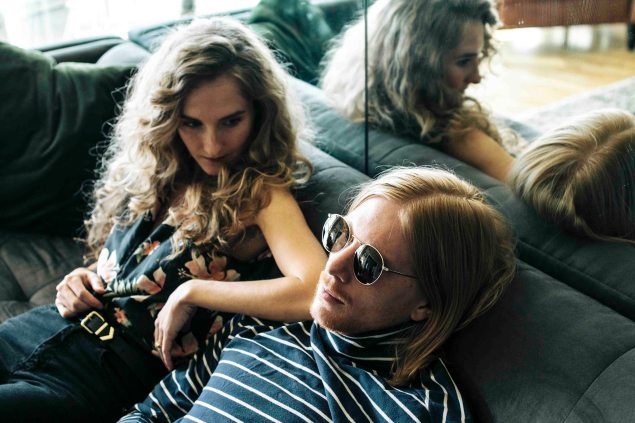 It's all there if you look closer:
On the cover of every Tennis record, adorned with the face of singer Alaina Moore, who grew up in a culture that systemically keeps women quiet.
In songs like "Needle and a Knife" and "Viv Without the N," when Moore evokes the strength of women in conservative marriages, inspired by her mother's story in the first and T.S. Eliot's wife Vivienne in the second.
"Needle" and "Viv" are part of Tennis' third and most recent album Ritual in Repeat, which shows her face obscured in white, though, as is always the case, her waterfall of curly golden hair can't possibly be contained.
---

'It's funny, sometimes people will be like, "Cool song about Patrick," and I'm like, "Actually it's a really dark song about me losing my faith in God, but O.K." '


---
Read without much thought, like so much of what Tennis have produced since arriving in 2011, the cover is just another paean to vague notions of hipster cool. Read another, the total dimming of Moore's face nods to one of Ritual's central themes, at least between the lines: the disenfranchisement of women, both beneath and beyond the realm of religion.
"It's funny," Moore says over the phone on the eve of Tennis' current tour, "sometimes people will be like, 'Cool song about Patrick' "—her husband and bandmate—"and I'm like, 'Actually it's a really dark song about me losing my faith in God, but O.K.' I've probably only had two people tell me that they intuited the meaning of the song 'Origins.' "
Moore works hard to universalize lyrics so that listeners can form their own interpretations of Tennis' work. She wants listeners, in other words, to approach the band's lithe pop however they enjoy it most.
"If someone wants 'Origins' to be a song about heartbreak, that's great," she says, laughing. "But I know it's a song about original sin and how insanely devastating of a belief it is."
Still, the question is begged: What if Tennis—oft confused for another over-hyped, vapid, Brill Building-aping duo of scholarly whites, who, if we're honest, few of us thought we'd hear from again after 2012's Young and Old—are sending bold transmissions on feminism, religion and whatever else that we're not receiving?
It's understandable, to some extent, why most critics and listeners haven't given Moore's words a closer read. In 2011, as indie culture reached peak levels of self-hate thanks to its dalliance with Hollywood, fashion and advertising, the duo arrived wrapped in a narrative so twee that it was bound to generate backlash: Two philosophy majors fall in love, get married, buy a sail boat, christen it "Swift Ranger," scoot along the Eastern Seaboard, write Cape Dory, become (seemingly) overnight Hype Machine favorites.
"I've enjoyed listening to Cape Dory about as much as anything else this week," Nitsuh Abebe wrote on Vulture, "but there's not a lot of mystery to it: It's the kind of record that's a charming fantasia to some people and way too cute for everyone else."
Beyond its tendency to polarize, he wrote, Tennis also arrived at a sensitive moment. "I can't think of much that this band's target audience is more wary or conscious of than this version of cozy romance, especially when it reads as quirky or homespun—for a lot of indie fans, there's nearly as much suspicion of being charmed by that as there is of being charmed by a particularly winsome Target commercial. Consider also that the whole sailing-adventure narrative is itself basically working through some obvious questions about class and lifestyle: Running away into simplicity, staring at stars instead of a desk, contemplating quiet countryside and bemused questions about jobs."
---

What if Tennis is sending bold transmissions on feminism, religion and whatever else that we're not receiving?


---
This is where criticism and critical narratives get sticky. Abebe, one of the recent decade's most thoughtful critics, deserves an audience when he raises issues about how class and indie intersect. But in doing so, he cast a skeptical eye on two young people who simply saved up, lived out a childhood dream, and wrote a few catchy songs in the wake of adventure. That Moore and bandmate/husband Patrick Riley's journey was mythologized to the point of annoyance by a get-there-first-check-facts-later blogosphere wasn't their fault, though Moore will be the first to admit the hype put Tennis on the map. In raising the stakes to class, however, Abebe surely turned some readers off a band who wasn't initially trying to do anything more than, as Moore tells me, relieve a little stress. Which, as Young and Old and Ritual in Repeat went on to show, is unfortunate—because Tennis has a lot to say.
"People are interpreting our work through the lens of how they first learned about it," Moore says now. "Cape Dory wasn't meant to be definitive. It was one piece of me, not everything."
Perhaps compounding the confusion was the fact that Moore and Riley only got better at writing mellifluous surf-pop between their debut to Young and Old, thanks in part to working with Patrick Carney of The Black Keys. So when Moore switched from singing about Coconut Grove to "mortality, God, and human nature," most of us just kept nodding our heads, projecting visions of surf and sand into songs that begged, lyrically at least, deeper consideration.
Moore acknowledges the thematic leap between Cape Dory and Young and Old was significant, and says it took a complete deconstruction of Tennis' writing process for her to articulate the big ideas she wanted to convey. This process—molding melodies to lyrics instead of the other way around—took place between Young and Old and Ritual, however, implying Moore was still learning in public on Tennis' sophomore effort. Pitchfork's Marc Hogan noticed as much in his review, writing "the lyrics lean toward awkward abstraction" and "Moore philosophizes clumsily."
When pressed, Moore doesn't completely disagree, admitting she was "unsure" of herself with no ready-made Cape Dory narrative to mine and little experience writing lyrics. Before penning the debut's sweet, seafaring gems, she'd only written long-form prose—philosophy ftw—so Young saw her struggling to simplify language without sacrificing nuanced thought.
Although Young and Old has plenty of bright spots lyrically—"Paradise is all around, but happiness is never found" is just so perfect in the context of both religion and Cape Dory—Moore improves dramatically on Ritual. In lieu of grad school-y abstraction, the 2014 effort saw her composing with a finesse and personal conviction that suggests she found both her voice and confidence. The same could also be said of Tennis musically—with each record Moore and Riley inch closer to a playful yet sophisticated pop music that is distinctly their own.
---

'People are interpreting our work through the lens of how they first learned about it. Cape Dory wasn't meant to be definitive. It was one piece of me, not everything.'


---
Many of the shows on Tennis' current tour are sold out, suggesting listeners still find plenty to love about the duo in their post-hype years. Still, one can't help but assume that's largely due to Tennis' penchant for writing transcendent melodies, not Moore's meditations on the feminine mystique. Again, that's understandable—most listeners are pining for sugar in pop music, not vegetables. Nevertheless, it's unfortunate that the symbolism and imagery Moore invokes is not given more editorial play.
"A lot of it is people not even attempting to read my lyrics seriously, because they're not expecting them to be serious," Moore says. "This is one area where I really, really admire what J. Tillman is doing in Father John Misty, which is taking the much riskier path of being off-putting, but being meaningful to himself."
Tillman comes up when Moore and I discuss her upbringing in a religiously conservative household. The oldest of four children, Moore was homeschooled by her mother, who moved from Canada to Colorado to be with Moore's father, an ordained minister. Although she's no longer affiliated with Christianity, its culture of repression in many quarters sits close to the bone.
"As a woman, I've been way more guarded," she says when we discuss Tillman, "especially because I grew up in a culture that told me to literally be quiet and be supportive. So I have to balance that with this desire to speak out and openly process those things. It's definitely something I'm still working through."
Moore, who just turned 30, initially attended a Christian university, but transferred to University of Colorado Denver after attending a debate over whether women could serve in leadership positions above or have authority over men, according to scripture.
"Once I heard it presented in this way," she says, her voice rising, "I thought, What am I doing? Why is this happening? Why am I devoting my whole life to this? Why is this a thing? I can't even believe it. The university I attended didn't even have a philosophy department. I was like 'I'm out.' "
Moore spent the next five years "learning the same things, but from a secular humanist perspective," becoming a philosopher, a devout feminist, and a partner to someone who'd had a thing for sailing since he was a child. The songs came later, after the fateful trip.
"We had a list from a website or a doctor that read 'Things to Do to Release Stress: Drink a glass of wine with dinner, pick up a hobby, etc.,' " she recalls. "For a while, we were trying to paint and we were horrible, but it was fun. In a similarly lighthearted way, we decided to write songs, and the songs we wrote reminded us of the boat, and then we started fleshing that out and telling stories about that trip through songwriting. The next thing we knew this is happening."
The resulting myth made Tennis, but Moore and Riley refused to let it define them, which is why we ended up with a record as promising as Young and Old and rewarding as Ritual in Repeat. That same sense of self gave Moore the strength to lose her religion and stand up for women who've been marginalized by it. Her approach may be more pop than polemic, but occasionally it is trojan horses that raise the most hell. If only we'll pay attention.
[youtube https://www.youtube.com/watch?v=hWaJRja8n2k&w=560&h=315]