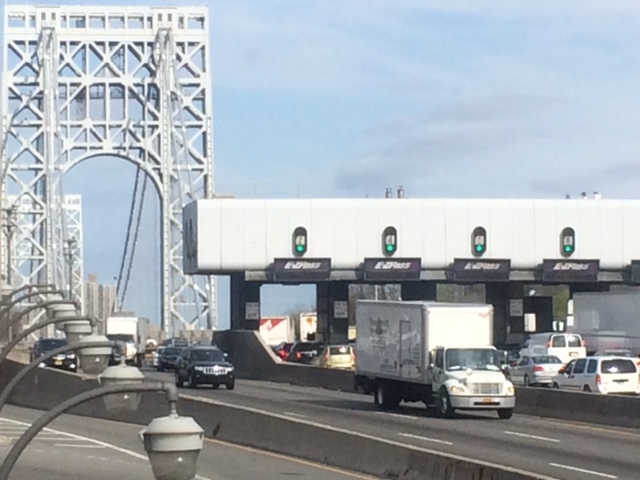 THE BRIDGEGATE FILES: PolitickerNJ plows into GWB Traffic as Wildstein set to appear
The expected appearance in federal court later today by former Port Authority official David Wildstein once again puts the New Jersey scandal otherwise known as Bridgegate at the forefront of NJ politics. Inside: A View From the Bridge, Fort Lee revisited in 2015; profiles on the main alleged players, a look at U.S. Attorney Paul Fishman, and Christie's continuing headaches… (Pizarro, Bonamo, and Brush/PolitickerNJ)
THE BRIDGEGATE FILES: PolitickerNJ plows into GWB Traffic as Wildstein set to appear | New Jersey News, Politics, Opinion, and Analysis
ELEC: In terms of financial health, Passaic Dems up, Hudson Dems down
According to this morning's state Election Law Enforcement Commission (ELEC) report itemizing filings due yesterday at noon, county party fundraising for the first quarter of 2015 outdistances similar totals from the past three years, with at least one former political behemoth severely financially hampered. (Pizarro/PolitickerNJ)
ELEC: In terms of financial health, Passaic Dems up, Hudson Dems down | New Jersey News, Politics, Opinion, and Analysis
Christie Ally Expected to Plead Guilty in George Washington Bridge Lane-Closing Case
A former Port Authority official and ally of Gov. Chris Christie of New Jersey is expected to plead guilty on Friday to the first charges stemming from the 16-month federal investigation into the George Washington Bridge lane closings scandal.
The United States attorney for New Jersey, Paul J. Fishman, announced early on Friday that he would hold a proceeding related to the closings at 11 a.m. in front of Judge Susan D. Wigenton to discuss the investigation. He said he would hold a news conference at 1 p.m., breaking his long silence over the inquiry. (Zernike and Santora/The New York Times)
http://www.nytimes.com/2015/05/02/nyregion/christie-ally-expected-to-plead-guilty-in-george-washington-bridge-lane-closing-case.html?_r=0
New Jersey Gov. Chris Christie returning to Iowa for Polk County GOP dinner
DES MOINES, Iowa — Chris Christie is coming to Iowa soon for a trip that will likely include one of his famed town hall meetings.
Samantha Smith, a spokeswoman for Christie's political action committee, said Wednesday that the Republican New Jersey governor and potential 2016 presidential candidate will be in the leadoff caucus state in June. He is slated to speak at the Polk County Republicans' spring dinner. (Associated Press)
http://www.startribune.com/politics/national/301716021.html
Typo causes $10 million mistake in New Jersey
PARAMUS, N.J. (AP) — A typo amounted to a $10 million mistake in northern New Jersey. (Associated Press)
http://www.pressofatlanticcity.com/news/ap/new_jersey/typo-causes-million-mistake-in-new-jersey/article_076a53ca-e1e1-5096-aee6-4bb1d83c13c3.html
Jon Stewart buys New Jersey farm to create animal sanctuary post-'Daily Show'
As New Jersey native Jon Stewart winds down his stellar 16-year run on Comedy Central's Daily Show, speculation has begun to mount surrounding what exactly the beloved comedian will do next.
But as it turns out, Stewart's future may end up being a little more farm-y than funny.
Stewart and his wife, Tracey McShane, recently announced that they have purchased a New Jersey farm with hopes to turn it into an animal sanctuary for rescued farm animals. (Vadala/The Philadelphia Inquirer)
http://www.philly.com/philly/blogs/trending/Jon-Stewart-buys-New-Jersey-farm-to-create-animal-sanctuary-post-Daily-Show.html#MKWAW1eIgCBW9lPZ.99
Lloyd joins Chiesa's firm as counsel
Prominent real property taxation lawyer John R. Lloyd, will join the law firm of Chiesa Shahinian & Giantomasi PC as Counsel, the firm announced today.
Lloyd was most recently at Nowell Amoroso Klein Bierman, P.A.  The move is effective June 1, 2015.
Chiesa's firm rose out of the remains of Wolf Samson, that law firm dismantled at the top of the totem pole in the aftermath of former Port Authority Chairman David Samson's Bridgegate reported woes. (Pizarro/PolitickerNJ)
Lloyd joins Chiesa's firm as counsel | New Jersey News, Politics, Opinion, and Analysis
The Political Debut of the 'North Jersey Quad County Unity Alliance'
Read more at So those North Jersey "unity" events have now moved beyond the coffee klatch and Lyndhurst luncheon stage to the formation by four county organizations of a 501(c) 3 nonprofit.
The Democratic chairs of four potent counties – Bergen, Passaic, Hudson and Essex – are co-partners in the venture, designed as a consolidation of northern political power.
PolitickerNJ obtained an invite to a June event at the Meadowlands Racetrack organized by Bergen Democratic Committee. (Pizarro/PolitickerNJ)
The Political Debut of the 'North Jersey Quad County Unity Alliance' | New Jersey News, Politics, Opinion, and Analysis