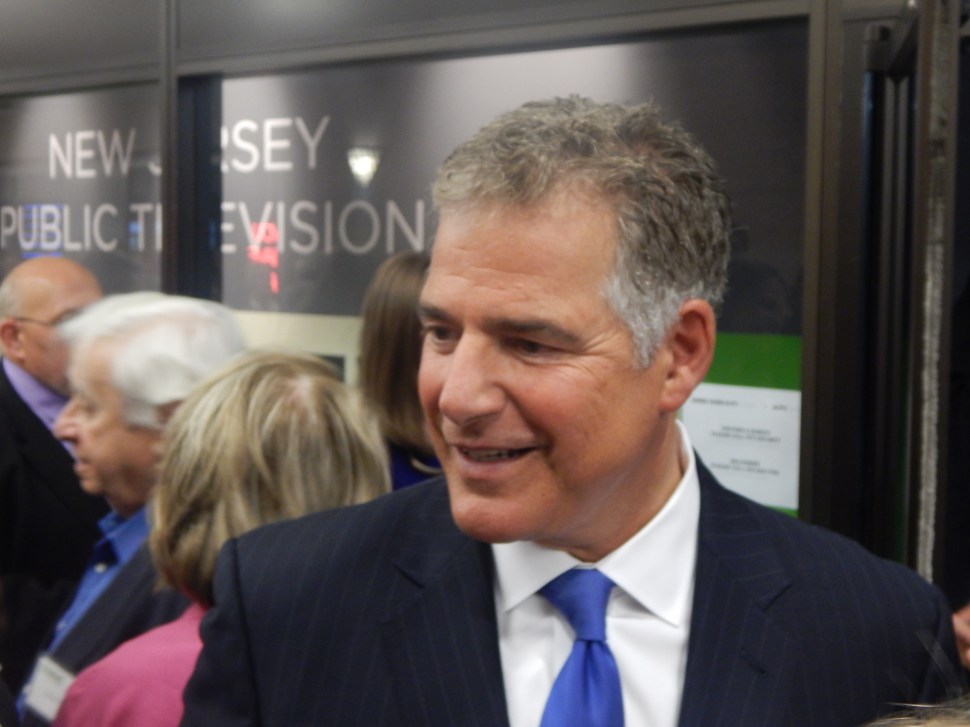 Incensed by state-dictated school cuts, Sumter won't rule out 2017 run for governor
PATERSON – Announced cuts last week to Paterson's state-run school budget by State Commissioner of Education David Hespe enraged Assemblywoman Shavonda Sumter (D-35), who is focused on getting reelected to the Assembly this year, while not ruling out a run for governor in 2017, she told PolitickerNJ this afternoon in her downtown district office. (Pizarro/PolitickerNJ)
Incensed by state-dictated school cuts, Sumter won't rule out 2017 run for governor | New Jersey News, Politics, Opinion, and Analysis
Stung by the EBOE, School Board regulars gear up for Tuesday payback
ELIZABETH – Irritated.
Irritated and betrayed.
That's the way a group of special needs moms and activists feel when they hear the name Ana Maria Amin, the sitting School Board President of the Elizabeth Board of Education, who ran on a ticket with their choice candidates last year only to don the dreaded black hat of the opposition once in public office. (Pizarro/PolitickerNJ)
Stung by the EBOE, School Board regulars gear up for Tuesday payback | New Jersey News, Politics, Opinion, and Analysis
The Buccos and Sette back Krickus Team in Morris
PARSIPPANY – The Morris County Freeholder race was already competitive.
Now, it's war.
Morris County Republican Chairman John Sette and state Senator Anthony Bucco (R-25) and his son Assemblyman Tony Bucco, Jr had stayed, at least publicly, out of the fray. (Pizarro/PolitickerNJ)
The Buccos and Sette back Krickus Team in Morris | New Jersey News, Politics, Opinion, and Analysis
Chris Christie attacks Rand Paul for 'siding with' Edward Snowden
New Jersey Gov. Chris Christie on Wednesday slammed fellow Republicans in the Senate for blocking the renewal of the PATRIOT Act, calling out Utah Sen. Mike Lee and Kentucky Sen. Rand Paul in particular. (Gass/Politico)
http://www.politico.com/story/2015/05/chris-christie-defends-patriot-act-slams-rand-paul-mike-lee-118314.html#ixzz3bOmzBizF
Chris Christie: "Some Others Might" Have To Spend A Lot Of Money Just To Get In The Debates
Chris Christie, making a 2016 announcement "next month," appeared on Fox News Wednesday morning to discuss the presidential election and candidates. (RealClearPolitics)
http://www.realclearpolitics.com/video/2015/05/27/chris_christie_some_others_might_have_to_spend_a_lot_of_money_just_to_get_in_the_debates.html
Chris Christie Backs Fox News GOP Debate Limits
Gov. Chris Christie said Wednesday he supports limiting the number of candidates participating in the first Republican presidential primary debate.
During a morning interview on "Fox and Friends," Mr. Christie said he backed Fox News's decision to limit the first GOP primary debate in August to the top 10 candidates based on standing in national polls. (Haddon/Wall Street Journal)
http://blogs.wsj.com/washwire/2015/05/27/chris-christie-backs-fox-news-gop-debate-limits/
Navy's attack submarine will be named for New Jersey, officials announce

JERSEY CITY – The state of New Jersey will be represented in the United States Navy once more.
U.S. Navy Secretary Ray Mabus joined New Jersey Senator Robert Menendez, U.S. Rep. Rodney Frelinghuysen, and New Jersey Brigadier General Michael Cunniff at Liberty State Park this morning to announce that a new Virginia Class attack submarine will be commissioned as the USS New Jersey. (Speiser/The Jersey Journal)
http://www.nj.com/hudson/index.ssf/2015/05/new_jersey_gets_first_naval_vessel_in_72_years.html
N.J. Supreme Court to hear gun rights case involving ex-cop
A former New Jersey police officer is headed to the state Supreme Court, arguing that he should be able to keep his firearms and a hunting knife despite a stormy, 15-year marriage with episodes of domestic violence. (Rizzo/The Record)
http://www.northjersey.com/news/n-j-supreme-court-to-hear-gun-rights-case-involving-ex-cop-1.1343454
Christie says he supports opening casino in North Jersey
Governor Christie said Wednesday night he would favor allowing a casino to open in North Jersey and has "absolutely no problem" with putting that question to voters "right away." (Racioppi/The Record)
http://www.northjersey.com/news/christie-says-he-supports-opening-casino-in-north-jersey-1.1343474
Time to change Atlantic City tourism slogan again?
ATLANTIC CITY — Joe Zetooney, who is 90, believes his long life has given him some pretty good insights on what people really want.
When it comes to Atlantic City, he is convinced that tourists crave fun and games. (Wittkowski/Press of Atlantic City)
http://www.pressofatlanticcity.com/communities/atlantic-city_pleasantville_brigantine/time-to-change-atlantic-city-tourism-slogan-again/article_6f4d65d2-04d4-11e5-8aef-6bfedc4dec24.html
Lawmaker: Bills to aid Atlantic City to get vote next month
TRENTON, N.J. (AP) – Legislation to help a struggling Atlantic City stalled since late last year appears headed for a vote in the state Legislature next month. (Catalini/Associated Press)
http://www.philly.com/philly/news/politics/20150526_ap_844c1afafa5a47ddaa8e13e5ec1134fb.html#WirmF9tByJJpBESU.99
Westwood Dem mayoral nominee Conkling, a mechanic, wants to tune Birkner up in primary
WESTWOOD – Former Westwood Councilman Gary Conkling finds himself at the top of the Democratic ticket going into the June 2 primary against incumbent Westwood Mayor John Birkner Jr.. Birkner was taken off the line by a Westwood Democratic Committee vote last month. Conkling finds this fact, attributed by some to back room machinations in the Bergen County borough, to be no accident. (Bonamo/PolitickerNJ)
Westwood Dem mayoral nominee Conkling, a mechanic, wants to tune Birkner up in primary | New Jersey News, Politics, Opinion, and Analysis