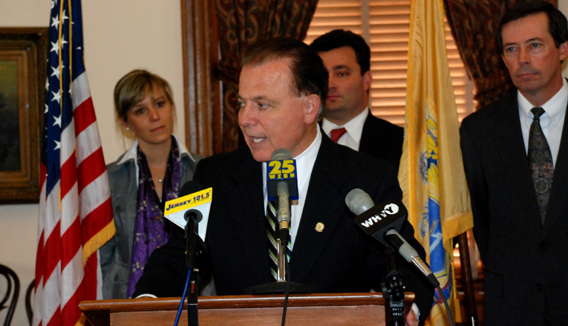 Backing incumbent Freeholder John Cesaro in the June 2nd Republican Primary, veteran state Senator Joe Pennacchio (R-26) today objected to what he identifies as the Krickus Team's negative characterization of union money in the contest.
"It fits a certain political narrative, but it's pretty narrow," said Pennacchio, referring to email hit pieces and points made by Krickus and company at Tuesday night's debate in Morristown.
Pennacchio said he personally has worked to expand the Republican Party, precisely by appealing to Building Trades labor. "I've worked hard for outreach to Building Trades and I don't understand why people would choose to demonize these guys. Why? Because they work for their money?"
Pennacchio's only backing Cesaro in this contest, and insists he is staying out of the hornet's nest of the two teams' larger collision. The Cesaro Team's receipt of labor dollars but also money from a Democratic-affiliated PAC put the Krickus/David Scappecchio forces on offenses. At Tuesday's debate, Krickus lingered on the latter.
"I'm pretty sure our senators and assemblymen haven't taken money from a Democratic PAC," he told his opponents.
Pennacchio said, "My focus is not the Democratic PAC. My focus in on the trades, where I'm getting to know these guys personally.
"The trades are in Morris County," the senator added. "They're not outsiders. They have supported Republican causes at a county level and they are here to say. To say that my friends in the trades aren't here is misguided."