When the annual award show season rolls around, it's undoubtedly accompanied with complaints about boring red carpet choices. While fashion houses and their respective PR teams are beyond delighted to rack up credits from an A-Lister, the celebs and their stylists almost always opt for a safe look: a dress that's the opposite of avant-garde, completely inoffensive, and something so familiar, we all feel like we've seen before.
And then, there's the Cannes Film Festival. There must be something about the crisp air on the Croisette that pushes celebrities out of their comfort zone. Ensconced in couture and dripping with fine gems, this is where movie stars and models get to live out their fashion fantasies. Or at least those of their stylists.
Take Natalie Portman for example, who's rarely spotted in a frock that wasn't whipped up by Raf Simons at Dior. However, over the past two weeks she's donned creations by Rodarte and Lanvin, the former of which was dark and brooding with a touch of sparkle, almost as a nod to her former Black Swan days. That's not to say that she didn't wear a Dior Couture number, because she certainly did, but even that black and white dress had an edgy touch. With a revealing a sliver of skin on her back, the tea-length gown created the illusion of a crop top.
Which brings us directly to the actual crop top, which has become a favorite among models with near-perfect physiques. There's Cara Delevingne who wore glittery Chanel Couture to a dinner for the maison. Meanwhile at the premiere of Youth, Kendall Jenner slipped into a wispy Alaïa two-piece with sheer paneling, while Joan Smalls chose a similar Alaïa style in a summery white hue. These breezy yet fashion forward looks would never be spotted on an Oscar or Golden Globe tapis rouge, but they ultimately seem fitting when the backdrop is the French Riviera.
So is there a secret equation to creating a red carpet stunner? "Something about the gown has to have that 'wow factor', whether it be the silhouette, the color, [or] the drama of it. Cannes is glamorous and it's a time to play," Naomi Watts' stylist, Jeanann Williams, told us. And after seeing the Spring 2015 Elie Saab Couture gown that Watts wore to the opening ceremony of the festival, we trust that Williams knows her stuff. "I knew the Saab would go over well," she explained. "People love to see someone go for it, and that gown with its plunging neckline, feathers, and train definitely did just that."
While at times the looks at Cannes might have been a bit over the top, like Natasha Poly's costume-esque Atelier Versace corset and wrap skirt, other celebs took a tiny yet victorious step towards the avant-garde realm. Case in point? Cate Blanchett, who wore a delightfully voluminous Giles gown that featured a graphic and futuristic print. The elegant starlet and her stylist Elizabeth Stewart usually favor Armani Privé pieces, like the one she wore to the Oscars this past year, but veering away pretty looks and testing out riskier silhouettes have proven fruitful for this ingenue.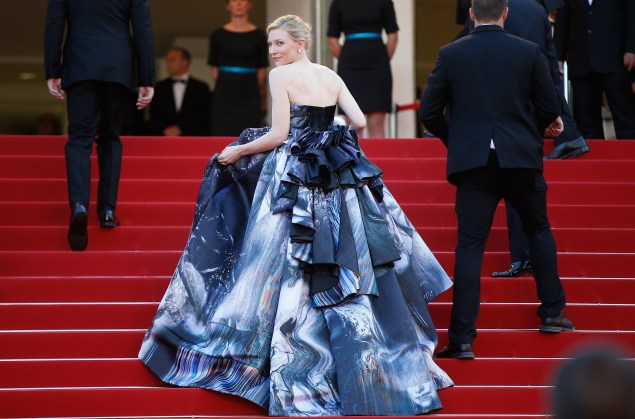 How could we forget Emily Blunt, who's not only mouthing off on the unfair rule of wearing high heels on the red carpet, but who's also shown off a number of truly standout looks. Most notable was the colorfully embellished Peter Pilotto dress that she selected for a photo call, paired with some strappy yellow Jimmy Choo sandals, which surprisingly had a rather high heel. Factor in the crystal-embellished Stella McCartney number she also wore this week and Blunt continues to cement her status as one of today's perpetually best-dressed actresses.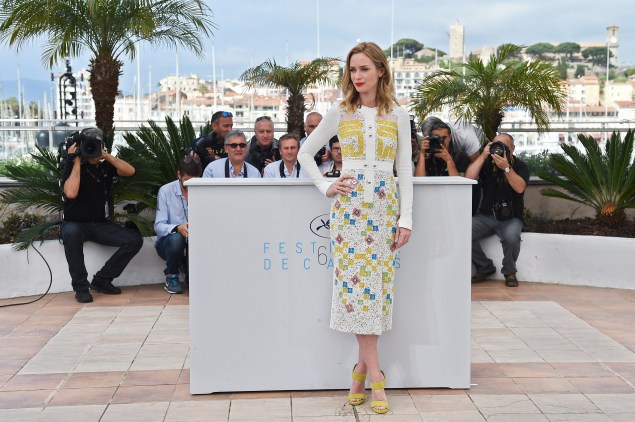 Perhaps it's the French approach to dressing, where formal wear is embraced and casual threads are reserved for more appropriate settings, but we'd love for these American starlets to bring this stylish sentiment back to the States. If there are more knockout pieces, like Lupita Nyong'o's vibrant Gucci gown or Sienna Miller's playful Valentino Couture look, red carpets would serve as more meaningful fashion bait for viewers and attendees alike.