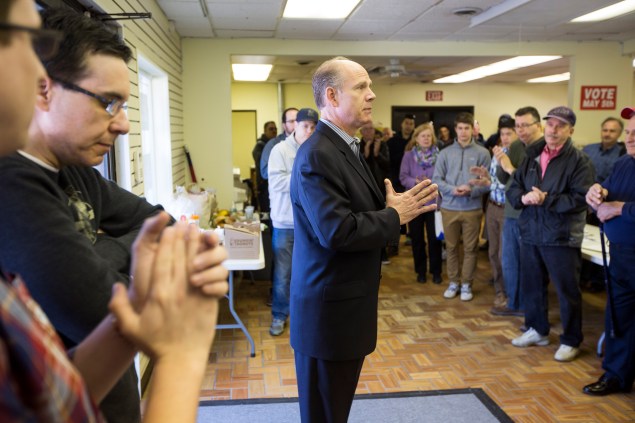 On the heels of Staten Island District Attorney Daniel Donovan's resounding victory in an open House race, national Democrats are promising the Republican will "simply be a seat warmer."
The Democratic Congressional Campaign Committee, which has a mixed track record in the Staten Island and Brooklyn-based district, said the 2016 campaign environment would allow them to topple Mr. Donovan.
"NY-11 will be highly competitive in 2016 and the DCCC will be actively engaged in taking back this seat," said Congressman Ben Ray Luján, the DCCC chairman. "The general election will be a much more positive climate for Democrats up and down the ticket in New York, particularly if Hillary Clinton leads the charge, and we are confident that Dan Donovan will simply be a seat warmer."
The DCCC offered no financial assistance to Councilman Vincent Gentile, the Brooklyn Democrat who took on Mr. Donovan in the special election. The district became vacant after Republican Michael Grimm resigned following a tax evasion charge.
But Mr. Grimm was able to fell a DCCC-backed challenger last year, Domenic Recchia Jr. The DCCC poured several million dollars into the race, only to watch Mr. Grimm easily win in a year the GOP dominated races nationwide.
The 2016 environment is expected to be more competitive for Democrats. Presidential years mean a far higher turnout, which can mean more younger, nonwhite voters coming to the polls in the 11th Congressional District. In 2012, President Obama defeated Republican Mitt Romney in the district, despite Mr. Grimm's victory over a weaker Democrat, Mark Murphy.