"It once belonged to a Rockefeller!" Yasumasa Takeda is bound to say of the three-bedroom apartment at 279 Central Park West that he just bought for $7.385 million, according to city records. How could he not? "Did it belong to the one who founded that big oil company?" guests will ask. Well, no, John D. Rockefeller Sr. died in 1937, and the building didn't even go up until 1988. "Oh, well, what about the one who was governor of New York, or vice president?" Nope. Nelson Aldrich Rockefeller, who served in both those capacities, passed away in 1979, still a whole nine years shy of the condo's construction.
It was his son–Nelson A. Rockefeller Jr. and Mr. Rockefeller's wife, Amy K. Taylor, who originally bought the place for $2.3 million back in late 2000. (Ms. Taylor appears only on the most recent deed.) Neither swashbuckling robber baron in the mode of his great grandfather, nor political heavy like his dad, whose one-time Fifth Avenue co-op sold in 2013 for $23.9 million, Mr. Rockefeller doesn't have quite the personal cache of his forebears. But then, the competition is rather stiff, and sometimes the name itself is all one needs.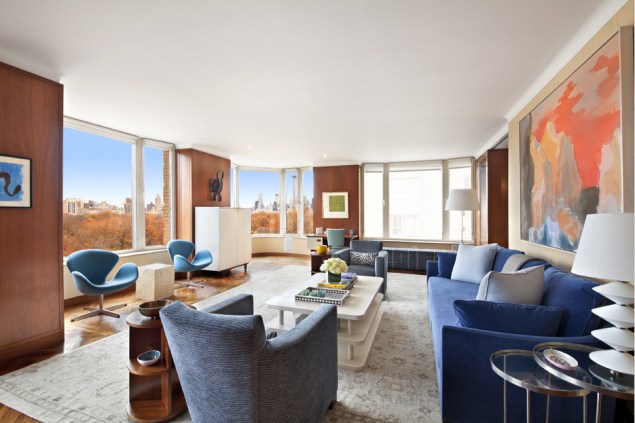 Where selling this particular condo was concerned, a glitzy name might have been helpful to Stribling brokers Valerie Artzt and Cathy Taub, who had the listing, as the dwelling is not really otherwise what you'd generally call glitzy. Designed by Costas Kondylis, the architect favored by Donald Trump known mostly for cookie-cutter units in mid-range luxury towers, the condo has some nice wood paneling, custom millwork, slate countertops and lines clean almost to the point of sterility–or at least blandness. It's a bit of a hotel vibe, if an upmarket one, with herringbones floors, a corner living room and many large windows that provide views of Park and skyline alike.