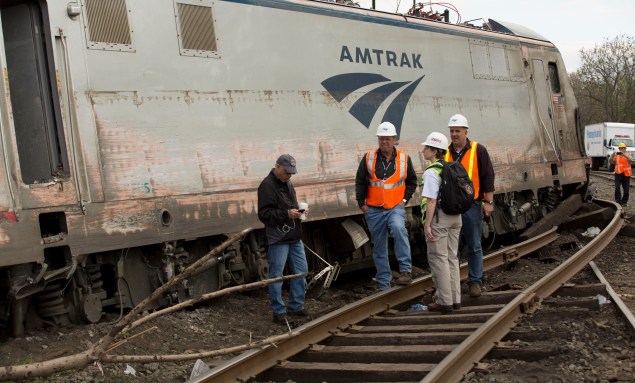 Mayor Bill de Blasio's new press secretary slammed the brakes on her Twitter account last night—and a deleted tweet shows how much she really thinks about a braking technology that many experts believe could have saved lives on an Amtrak train that derailed last week.
Mr. de Blasio announced today that Karen Hinton, a longtime friend who has known Mr. de Blasio since he worked at the U.S. Department of Housing and Urban Development, would become his new press secretary, replacing Phil Walzak. Mr. Walzak had been promoted to a senior adviser role.
Ms. Hinton's deleted Twitter account is already putting Mr. de Blasio, a liberal Democrat and major proponent of infrastructure spending, in an awkward position. In a tweet yesterday, Ms. Hinton linked to a Wall Street Journal opinion piece critical of the braking technology, known as positive train control, and called it a "dud."
"I never agree with Holman Jenkins but he's right about Positive Train Control; it's a dud," Ms. Hinton tweeted.
Asked today about Ms. Hinton's tweet, Mr. de Blasio took a different stance on the safety measure, which the National Transportation Safety Board says would have prevented the Amtrak wreck that killed eight people and injured dozens.
"I'm a fan of positive train control. I think it's necessary," Mr. de Blasio told the Observer. "You'll have a chance to ask her directly what she means and what she feels."
In a telephone interview with the Observer, Ms. Hinton, who will begin working at City Hall next month, said she regretted the Tweet.
"I really regret being flip about it. I shouldn't have written it, and Mayor de Blasio knows a heck of a lot more about trains than I do. I am no expert on the matter and I should not have been tweeting about it," Ms. Hinton said. "What matters is what the mayor thinks, and what the mayor is going to do working with the people of New York, trying to figure out what the best solutions are to make sure Amtrak is safe. And I will be communicating that position, and only that position."
Mr. de Blasio said he did not know that Ms. Hinton had chosen to delete her Twitter account.
"I think it is normal when someone is about to enter public service that they leave their past personal opinions behind, because they are about to become part of an administration," Mr. de Blasio said.
Just before taking the question from the Observer, Mr. de Blasio welcomed an Observer reporter back to work—and said he was pleased to see her "alive and well" after being injured in the Amtrak derailment.
This story has been updated with comment from Ms. Hinton.