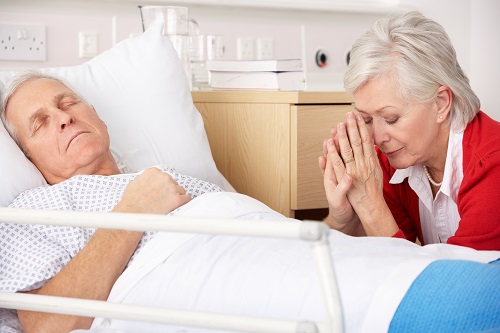 Hospitals call it "comfort care."  Medicaid will pay for it.  Unfortunately, even knowing that a patient with no chance of recovery might have their pain symptoms eased does not provide much "comfort" to either the patient or their families.
Anyone who has had to watch a loved one unconscious in a hospital bed with no hope of recovery knows firsthand why a resounding majority of New Jerseyans support the enactment of a "death with dignity" law.  The Governor and the New Jersey State Legislature should support it too.
Last year, the ability of terminally ill patients to decide when and how to die received national attention. Brittany Maynard, a 29-year-old California woman who moved to Oregon where physician assisted suicide is legal, spoke openly about her decision in the final months of her life. After her death, her family has continued to advocate for death with dignity laws.
According to a new Rutgers-Eagleton Poll, nearly two-thirds (63 percent) of the New Jersey residents support the Aid in Dying for the Terminally Ill Act, while only one-third  (29 percent) oppose it. The bill would allow a competent adult, who has been determined by doctors to be terminally ill, to obtain medication that the patient may self-administer to terminate the patient's life.
The Assembly has already passed the law, and it is currently awaiting consideration in the Senate. However, Gov. Christie has stated he has "grave concerns" about its passage. Without political support, death with dignity advocates will have a very tough road.
Federal and state law largely recognizes the legal right of patients to refuse care, even if it will end their life. In 1976, the New Jersey Supreme Court was the first to recognize that the constitutional right to privacy is broad enough to encompass a patient's decision to decline medical treatment. In In Re Quinlan, the state's highest court further concluded that a patient's right of privacy could be asserted by a guardian. The case involved a father who sought to remove his daughter's artificial ventilation after a brain injury left her in a permanent vegetative state.
In the wake of the New Jersey Supreme Court's landmark decision in Quinlan, courts across the country recognized that patients have a legally protected right to refuse life-sustaining medical treatment. Ending one's own life, however, is viewed differently under the law.
Despite decisions striking down medical euthanasia bans by the federal courts, the U.S. Supreme Court has refused to recognize a liberty interest in hastening one's own death. In 1996, the United States Court of Appeals for the Second Circuit held that New York statutes criminalizing medical euthanasia violate the Equal Protection Clause, noting that "those in the final stages of terminal illness who are on life-support systems are allowed to hasten their deaths by directing the removal of such systems; but those who are similarly situated, except for the previous attachment of life-sustaining equipment, are not allowed to hasten death by self-administering prescribed drugs…" However, the Supreme Court overruled the appeals court's decision in Quill v. Vacco, concluding that New York's ban on physician-assisted suicide was rationally related to a legitimate state interest. As further explained by Chief Justice Rehnquist, there is a legal distinction between "letting a patient die and making that patient die."
Despite the Supreme Court's position, states are generally free to pass their own laws regarding end of life care. To date, four states have legalized some form physician-assisted suicide. It will be interesting to see if New Jersey will be next.
Donald Scarinci is a managing partner at Lyndhurst, N.J. based law firm Scarinci Hollenbeck.  He is also the editor of the Constitutional Law Reporter and Government and Law blogs.