Food and drink is all good and well, but what New Yorkers really need on a summer night out is a breeze and a top notch view.
There are many go-to rooftop bars that are perfect destinations for anyone with this kind of evening in mind, but there are a slew of new venues opening for warm-weather fun this spring.
These new destinations are offering a menu packed with fresh lobster, a truly unique craft ale experience and picturesque views from the South Seaport.
Industry Kitchen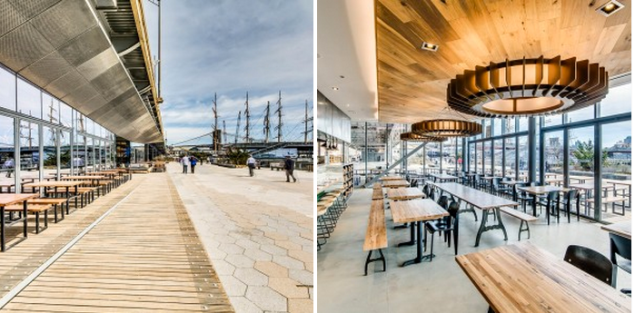 Nestled under the FDR on the water's edge of the South Street Seaport, this venue opening May 26 has prime views of the East River for everyone in its 5,000 square-foot indoor/outdoor space. Industry Kitchen can accommodate up to 300 guests; those seated outside experience the harbor breeze, and the floor-to-ceiling windows frame a picturesque view of the waterfront for those inside. The downtown venue offers a wide variety of craft beers and signature cocktails, and an open kitchen with an unobstructed view of two large custom-made wood burning ovens. The food menu includes dishes that New Yorkers know and love such as abundant salads and wood oven grilled meats and pizzas that are cooked to perfection with the intense heat of a wood burning oven.
Located at 70 South Street at Maiden Lane.
Clinton Hall
This cozy neighborhood storefront is nestled in downtown Manhattan treats guests to a courtyard view and a truly unique craft ale experience. The 4,000 square foot venue boasts 200 seats and features 20 draught beers and ciders on rotation. Ten select super craft beers are served precisely to each Brew Masters specs—thanks to an on-site flux capacitor, the most advanced beer technology in the market. Clinton Hall serves beer at its scientific best.
Located at 90 Washington Street.
Ambrose Beer and Lobster

Located on the historic South Street Seaport, Ambrose Beer & Lobster is an indoor/outdoor dining hall with a focus on fresh lobster-based dishes and a craft beer program. With weekly beer pong tournaments, trivia nights, and communal outdoor seating, it's the perfect place to enjoy the warm weather with friends. The venue opens May 14.
Located at 18 Fulton Street.
Governors Club
NYC's dance music island oasis just got better. The Lure Group's Governors Club on Governors Island is NYC's premier outdoor concert venue, and new this summer, The Lure Group is partnering with Space Ibiza New York to launch "Open Air NY"—an outdoor electronic music event series at Governors Club. Open Air NY will launch May 16 featuring DJ Boris, Steve Lawler and The Junkies. The new state-of-the-art sound and lighting system and updated facilities at Governors Club make it the perfect backdrop and outdoor haven to enjoy some of the biggest and best headlining music acts.
Accessible via ferry from Battery Maritime Building located at 10 South Street.