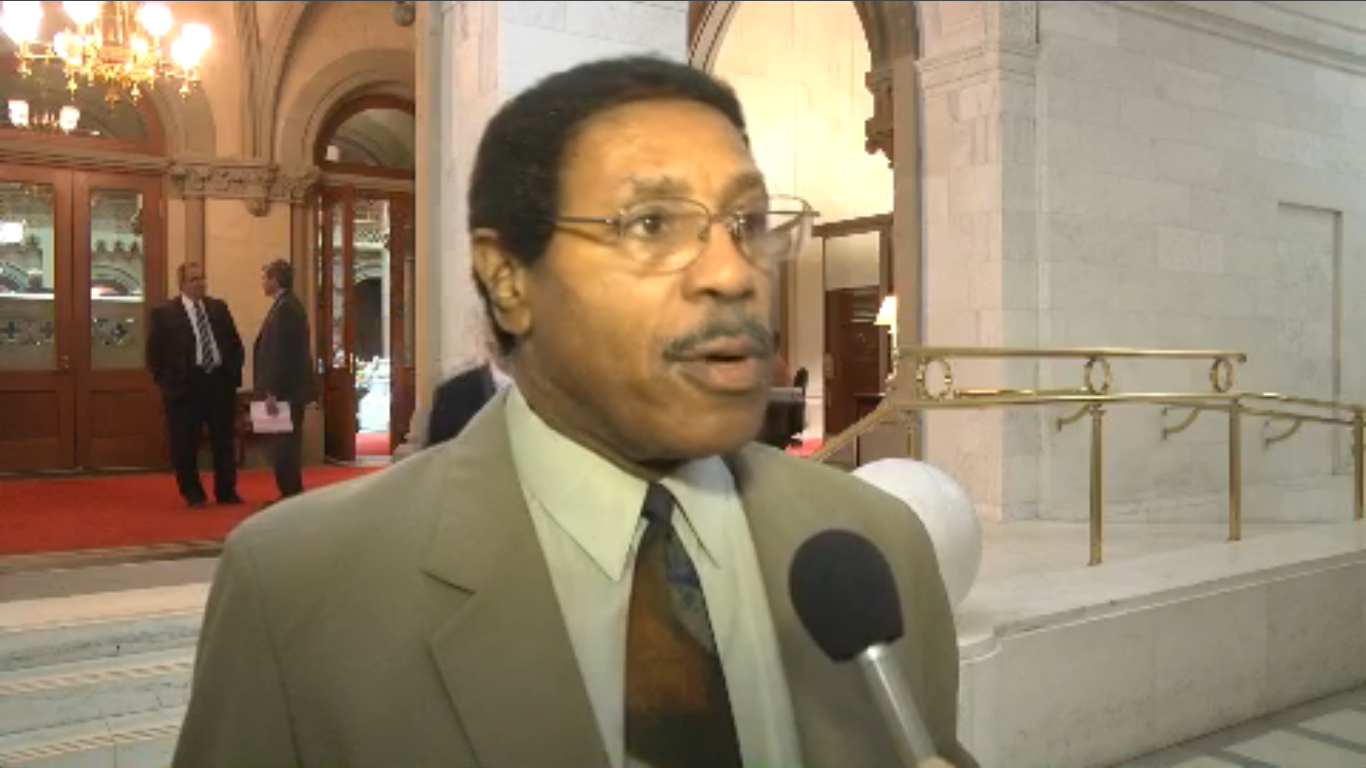 New York State Assemblyman William Scarborough, a Democrat representing Queens, has agreed to enter guilty pleas to state and federal charges related to misusing his campaign funds and state travel reimbursements, Attorney General Eric Schneiderman and Comptroller Thomas DiNapoli announced today.
Mr. Scarborough, 69, will pleaded guilty this morning on the federal charges of wire fraud and theft concerning a program receiving federal funds. This afternoon, he will appear in an Albany court to plead guilty to state charges of grand larceny in the fourth degree related to the misuse of more than $40,000 from his campaign account.
The guilty plea comes just days after Republican State Senate Leader Dean Skelos was charged with using his position and influence to earn cash for his son, Adam Skelos, and months after Democratic Assembly Speaker Sheldon Silver was charged with disguising kickbacks and bribes as outside income. The rash of high-profile Albany corruption cases has spurred calls for ethics reforms, with some changes included in Gov. Andrew Cuomo's recently adopted state budget.
As part of the deal, Mr. Scarborough is expected to serve a year in jail for the state charge. He could face up to 20 years in prison on the federal wire fraud charge, and 10 years for the theft charge.
Mr. Scarborough has agreed to resign his position as an Assemblyman, donate his remaining campaign funds to charity, and pay $54,355 in restitution to the state.
The charges stem from an investigation into Mr. Scarborough's per diem payments—the money Albany lawmakers are paid in expenses for each day they report they are staying in Albany, the subject of much scrutiny in conversations surrounding ethics reforms. In his federal plea, Mr. Scarborough admitted  that he submitted vouchers for $54,355 in per diem payments he was not entitled to, falsely claiming he had been in Albany when he was not.
Mr. Scaborough will also admit in his state plea to making more than $38,000 in unauthorized cash withdrawals from his "Friends of Bill Scarborough" campaign account for personal use.
"Today Assemblymember Scarborough pleaded guilty to crimes that betrayed his constituents and the taxpayers of the State of New York—crimes that will send him to jail under this plea agreement," Mr. Schneiderman said in a statement. "While he will pay the price for his individual crimes, we need to channel public outrage at the ongoing corruption scandals into a movement for comprehensive reform. We have done this before in New York, and we can do it again."
Mr. Schneiderman has called for reforms in Albany that go beyond those adopted in Mr. Cuomo's budget—including ending the per diem system and banning outside income.
Mr. Schneiderman and Mr. DiNapoli have been working together with the FBI Public Corruption Task Force on public corruption cases as part of "Operation Integrity."
"Public service means just that: serving the public. Mr. Scarborough abused his public office for personal gain and now faces the consequences of his actions," Mr. DiNapoli said.