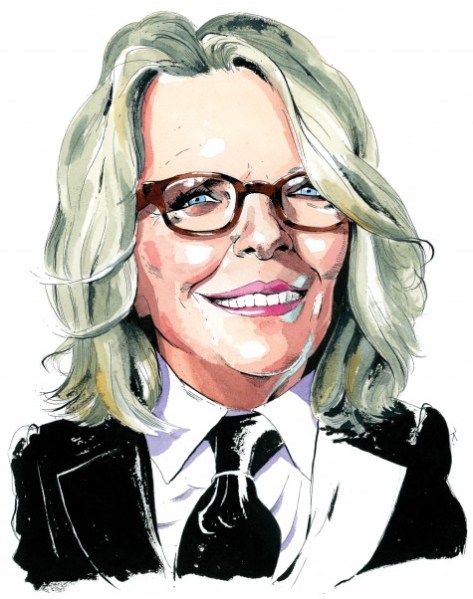 We're in the catacombs of the Crosby Hotel, off in a corner, and Diane Keaton has just watched, for the first time in decades, one of the greatest romances on film. "I was visiting my brother and for some reason Gone with the Wind was on," she explained. "It's been 30 years since I'd seen it but, oh my God, Vivien Leigh is so great in that movie." She rises. "You should have seen her float down the stairs, she wears this huge sweeping gown, and her dress went out that far," Ms. Keaton gestures. Animated and enthusiastic, she recreates Scarlett O'Hara's hoop-skirted sweep down Twelve Oaks' circular stairway—despite her own slim-hipped, impeccable Thom Browne herringbone suit.
"It's like you're watching a dance because every time she would move it would flow," Ms. Keaton continued with a swirl. "I didn't expect the movie to be so strangely beautiful to look at and almost modern. She was completely a modern actress…"
And so, of course, is Diane Keaton. This tall, slim woman—pretty not beautiful if one believes her own estimation in her book of essays, Let's Just Say It Wasn't Pretty—has ridden to $1 billion in box office grosses playing winsome yet strong-minded dreamers. In person, the Oscar-winner (for Annie Hall, 1977) seems that same character, but life-sized and approachable. One has the false feeling that one knows her, having seen her mature with so much vulnerability and neurosis and passion from Sleeper through The Godfather and so many other classic comedies and dramas and romances to her latest movie opposite Morgan Freeman, 5 Flights Up.
Sitting in the chic Crosby, where the upholstered furniture wears nearly as much tweed as she does, Ms. Keaton, 69, sports a black leather belt wide enough to gird a WWE wrestler around her slender waist, a black handkerchief with white polka dots peaking out from her breast pocket and short square nails painted a matching black and white herringbone. With her slightly tussled hair and black-rimmed specs, there's a little Charlie Chaplin to her. If Chaplin was very, very feminine.
---

At her home, the actress collects men (their faces at least), framed and behind glass. Morgan Freeman's is a particular prize.

---
The subject of our talk in Soho is love. As the longtime muse of Woody Allen, partners on-screen and off with Al Pacino and Warren Beatty, and great good friends with Jack Nicholson, that interplay of intimacy, fictional and real, is always a question with Ms. Keaton. In her charming latest film, her paramour and husband, (lucky girl) is Morgan Freeman.
The movie's characters of Ruth (Ms. Keaton's New York school teacher) and Alex (Mr. Freeman's mid-level artist) find themselves in the enviable position of being able to make a killing on an apartment bought for convenience and affordability when they moved to Brooklyn years ago, when it was considered akin to moving to Pittsburgh. But nothing, of course, is easy.
Ms. Keaton finds the depiction of the strong bond between Ruth and Alex (the original title of the Richard Loncraine romance from Jill Ciment's novel) comforting. "When you see it you just feel reassured that a great marriage can happen because it's him, Morgan Freeman, because he's playing the husband, because he's the everyday."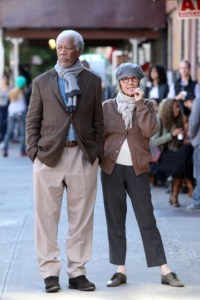 But, whether she means to or not, Ms. Keaton clanks her large, modern silver rings on the table noisily when asked whether she could have ever had the kind of bond with longtime companion Al Pacino. "I think that it never could have worked. Ever. Not in a million years unless I were a different woman. And that's true with all the great loves of my life, or the men that I was intoxicated by for a while, or they with me, or whatever. It wasn't reasonable. I didn't know how to run it. No."
Mr. Pacino looms large in the Mount Rushmore of co-stars who have played a leading role in Ms. Keaton's private life. "Al was as mysterious as the love I felt for him the moment I saw his face," she once wrote in an essay collection. She fell in love (or lust) with him at first sight when they met in a Manhattan bar after being cast in The Godfather. "I wasn't prepared for Al Pacino," she wrote, and neither actor was prepared for Francis Ford Coppola's mob epic to endure the way it has.
Perhaps it's just a matter of a smart woman making stupid yet irresistible choices: Pacino, Allen and Beatty, among others. "I picked these guys that are just monster, monster amazing, you know, directors, actors. I don't know what they were looking for—but for sure it wasn't me." Gravitating to men in the spotlight, Ms. Keaton found herself in situations where both partners in the match were emotionally needy people who wanted to be loved by large crowds of people. "And there were the competitive aspects!"
While Ms. Keaton never married, she did become a mother relatively later in life when she decided to adopt. Family, as anyone that has read her poignant bestselling memoir Then Again knows, is very important to her. "I loved my mother, I loved my mother so much, and I loved being in my family. I loved the romance of my family. I was sort of afraid of my dad but I admired him and I loved him. But that was family." So, does it all go back to childhood? "I was comfortable being a daughter. It was easy for me to be a daughter. I really did well as a daughter. So to become the mature person who doesn't have the enabler, my mother, is not so easy for me."
Not easy would also characterize the actress' stormy relationship with Mr. Beatty, perhaps the most classically beautiful of the men in her past. Even now, discussing Mr. Beatty adds more hems and hah's to Ms. Keaton's speech. He was Rhett to her Scarlett with Reds, the 1981 Oscar-winner about the love affair between radical journalists Louise Bryant and John Reed while covering the Russian revolution. The movie's marketing tagline was: 'Not since Gone with the Wind has there been a great romantic epic like it!'
---

Even now, discussing Warren Beatty adds more hems and hahs to Ms. Keaton's speech; he was Rhett to her Scarlett in Reds.

---
"Warren Beatty," Ms. Keaton says, "I just think, 'What a guy.' I frequently think about him and his marriage. Whenever I see a photograph of Annette Bening I think about their marriage and I'm impressed. Because that's a big man, that's a huge, astonishing human being on a lot of levels and I think that, wow, they've done it! They have a marriage and what is it, 20 or 25 years? And four kids? They did it. I have nothing to say but, 'hats off.' "
But Ms. Keaton can't quite wrap her head around being in Ms. Bening's position herself. "I just don't know what it feels like to be somebody who could take that bigness and be O.K. with it, do you know? By that I mean I'm just not that big a person. I don't think I ever was, you know, in the sense that I can manage everything about him. He was just really complex and really brilliant and really dazzling and there you are, [me]: the little brown hen."
"I know I was envious of him," Ms. Keaton continues musing on the subject, "and I think that I was not really good material for Warren at all. But I'm so very proud of Reds."
She's not done talking about the legendary Hollywood playboy: "The reason Gone with the Wind came to mind is thinking about how much Warren took on with Reds, what a huge project that was, the scope of it, the subject matter and the love. You think about that kind of ambition to take on such a massive project that is so hard. Warren's a great character and a great talent and a great mind and a beautiful man, pretty. The point is that our relationship was too much for me, I think. And I think he knew that, too.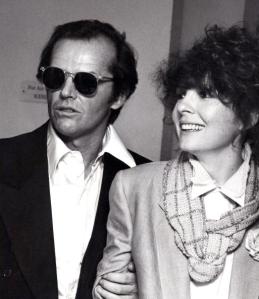 "And that's why he was smart. He married well. And she's great and she's a fantastic actress. After I saw her in The Kids Are All Right, I had to call her because of how great she was in that movie. I didn't even know her. I don't know what to say about Warren. Warren was just larger than life."
Another larger than life figure was Mr. Nicholson, who played Eugene O'Neill in Reds. The pair later co-starred in Nancy Meyer's 2003 romantic comedy hit Something's Gotta Give (it grossed $267 million worldwide). They remain close, regularly lunching together at Mr. Nicholson's Los Angeles hilltop ranch house, its walls adorned with works by Pablo Picasso, Andy Warhol and Henri Matisse.
And then, finally but in some ways first, there's the man Ms. Keaton calls "Wood." They have been friends for four decades since Mr. Allen cast her opposite him in the 1969 Broadway hit Play it Again, Sam (despite his reservations that, at 5 foot 7, she was two inches taller than he was). She went on to recreate that role on screen, part of a prolific collaboration that included Sleeper, Love and Death, Manhattan, Interiors, Radio Days, Manhattan Murder Mystery, and Ms. Keaton's groundbreaking title role in Annie Hall in 1977.
While audiences might speculate what Annie Hall's return would look like in 2015, a reunion of a partnership nearly as potent as that of the Beatles seems unlikely. "I don't think so," says Ms. Keaton doubtfully, about an updating of the brilliant and bittersweet Oscar-winning romance. "I don't think it's in the cards at all. That's over. I don't know what he would write. What would he do? … Let it go. What I learned in our movie 5 Flights Up. Let it go."
In that film, while the money the Brooklyn couple is offered for their home is tempting, the movie also shows Mr. Freeman's character threading his way through a rapidly gentrifying neighborhood, past a yuppie obliviously yakking on his cellphone and yummy mummies carelessly pushing ankle-bashers. Alex's morning dog walk and coffee run reflects how a once-friendly, funky neighborhood of corner stores and shared stoops has priced out the younger artists that once flocked there for views and value.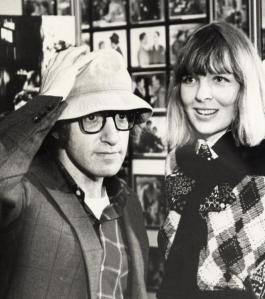 Ms. Keaton's eyes light up with warmth and enthusiasm (could it be infatuation?) behind her glasses as she talks about the film and rhapsodizes on Mr. Freeman. Even before they co-starred, she had the actor's photo portrait on her living room wall, adjacent to that of Alexander Gardner's 1865 portrait of Abraham Lincoln, Robert Mapplethorpe's Francesco Clemente, the young John Wayne and Sam Shepard, Marlon Brando and Jeremy Renner.
At her home, the actress collects men (their faces at least), framed and behind glass. Mr. Freeman's is a prize. "Any portrait of Morgan is exceptional," Ms. Keaton said, "Because that face is so hard to believe, just on sheer surface value it's gorgeous. The way the cheeks are, the way his whole construction of his face is fantastic, I love the nose. He's got a fantastic nose and there's no bad angle on that face to me. But also, underneath that, is a kind of a grace that you just don't see very often. And the integrity that he didn't mess with it, he didn't take all those little moles. He left them there, I dare you! Can you imagine what they must have said to him? 'What are we going to do with this guy, and that face?' "
In short, what's not to love?