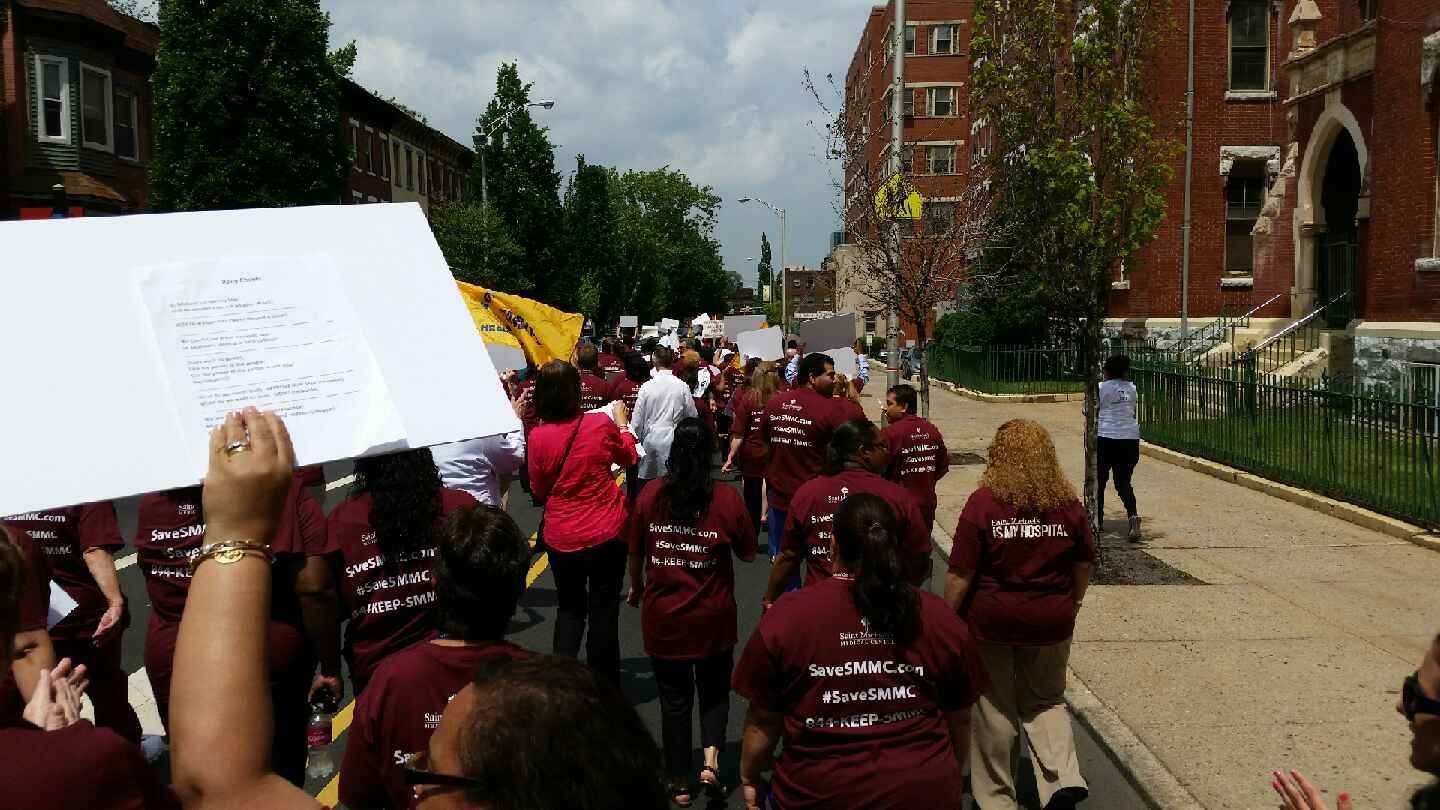 NEWARK – More than 200 protesters marched in Newark on Wednesday in support of keeping Saint Michael's Medical Center open for business.
Among the labor unions that led the rally, also attended by local residents and healthcare workers, were JNESO, District 1199J and IUOE Local 68.
The Newark city council passed a resolution in March calling on the state to approve the sale of Saint Michael's to Prime Healthcare Services, a for-profit firm based in California. The vote followed the release of a report by Navigant Consulting that recommended that Saint Michael's, Newark Beth Israel Medical Center and East Orange General Hospital be modified from full-service inpatient hospitals to outpatient emergency and ambulatory care centers. The same report also suggested that the state expand the state-owned University Hospital, also in Newark.
While stating that he wants to keep Saint Michael's open to preserve jobs and services, Newark Mayor Ras Baraka spoke out against the purchase of the hospital by Prime last November, demanding that certain conditions are met by any buyer before a sale goes through. These conditions include that the state requires the buyer of Saint Michael's keep the hospital open longer than the five-year commitment offered by Prime, as well as mandating that the buyer remain in health insurers' provider networks and agreeing to work closely with the city's other hospitals, Newark Beth Israel and University.
Adding to the political ramifications of any potential hospital closures is union involvement. JNESO, the union representing Saint Michael's nurses, supports the sale to Prime. However, New Jersey's other large nurses' union, the Health Professionals and Allied Employees (HPAE), opposes the sale, questioning the for-profit company's track record. HPAE also represents University Hospital nurses.
The future of Saint Michael's presents a conundrum to Baraka, who was elected last year to be Newark's mayor with heavy union support, yet who doesn't want to aggravate Newark voters who might see the potential closure of the downtown medical center as an economic and healthcare disaster.