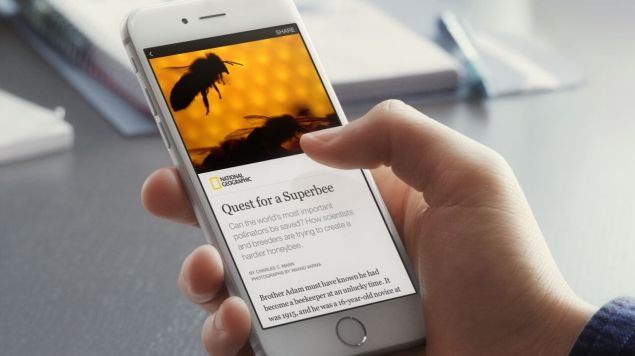 Facebook has launched a new plan to publish articles from selected news outlets directly on Facebook, the social network announced last night. The new platform, which is called "Instant Articles," had been the subject of rumor and speculation for months as publishers grappled with the terms of the deal and its implications for the future.
Facebook is touting the new service as a way to avoid the multiple seconds spent waiting for a link to open.
"People share a lot of articles on Facebook, particularly on our mobile app. To date, however, these stories take an average of eight seconds to load, by far the slowest single content type on Facebook," Facebook product manager Michael Reckhow explained. "Instant Articles makes the reading experience as much as ten times faster than standard mobile web articles."
Under the terms of the deal, according to Facebook, "publishers can sell ads in their articles and keep the revenue, or they can choose to use Facebook's Audience Network to monetize unsold inventory" and share the revenue. Additionally, publishers will "have the ability to track data and traffic through comScore and other analytics tools." The nine publishers who signed on as launch partners are: The New York Times, National Geographic, BuzzFeed, NBC, The Atlantic, The Guardian, BBC News, Spiegel and Bild.
"The New York Times already has a significant and growing audience on Facebook. We're participating in Instant Articles to explore ways of growing the number of Times users on Facebook, improving their experience of our journalism and deepening their engagement," New York Times CEO Mark Thompson said in the announcement. "We have a long tradition of meeting readers where they are and that means being available not just on our own sites, but on the social platforms frequented by many current and potential Times users."
But despite Mr. Thompson's enthusiasm, many in the news industry are wary of giving even more power to the already powerful Facebook. That wariness is reflected throughout the Times story about the deal:
Facebook's long-rumored plan to directly host articles from news organizations will start on Wednesday, concluding months of delicate negotiations between the Internet giant and publishers that covet its huge audience but fear its growing power.

Nine media companies, including NBC News and The New York Times, have agreed to the deal, despite concerns that their participation could eventually undermine their own businesses.
The Times story goes on to point out changes that Facebook made in the past that may prove cautionary in the future.
Facebook has a long history of changing the algorithm that determines what people see in their feeds. Zynga, the mobile gaming company, built its business on Facebook only to lose much of its traffic when the company changed the rules to make a user's game activity less visible to friends.

Last year, Facebook decided to downgrade the prominence of viral content like cat videos and promote "high quality" news content. A month ago, it changed course again to highlight personal posts by users' friends and family.
As Fortune writer Matthew Ingram put it in a tweet: "Facebook's offer to news publishers is attractive, but then peasants got a lot of good things out of the feudal system too, as I recall."
But then again, the promise of traffic may be worth the risk.