ATLANTIC CITY — Silverware clinked and waiters hurried about the room as New Jersey's Democratic Party paid tribute to a litany of its members at a mid-day luncheon at Harrah's Resort and Casino here this afternoon.
The event, meant to kick off the second day of their annual convention, featured some of the party's foremost figures, a sprawling group of people that included state senators, assembly people and rising candidates, and county chairmen and women from across the state. Leading the pack was Democratic State Committee Chairman John Currie, who presided over the affair on stage alongside Committee Vice Chair Lizette Delgado-Polanco, state Senator Ray Lesniak (D-21), and Vice Chair of the Democratic National Committee Raymond Buckley.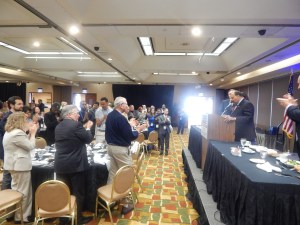 Buckley, a former state legislator from New Hampshire who also chairs the state's Democratic Party and serves as president of the Association of State Democratic Chairs, fired-up the room with a speech about the need for greater grass-roots campaigning in the face of rocketing spending by conservative bundlers like the Koch brothers. He also took shots at Republican lawmakers in the Granite State who began their careers in the Garden State — such as New Hampshire Congressman Frank Guinta, who grew up in Edison — asking the crowd, "why do you hate us so much?"
"And then, for the last couple years, every other week we have your governor coming up," Buckley said, including New Jersey's Gov. Chris Christie in the excoriation, and pointing out the prospective presidential candidate's recent frequenting of the first-in-the-nation primary state. "Though the Dunkin Donuts' I'm sure do appreciate it."
The names of those notable players in attendance were announced in between keynotes speakers, including the likes of state Senator M. Teresa Ruiz (D-29), state Senator Nellie Pou (D-35), state Senator Loretta Weinberg (D-37), Assemblywoman Nancy Pinkin (D-18), Assemblywoman Eliana Pintor Marin (D-29), state Senator Jim Whelan (D-2), Assemblyman Vince Mazzeo (D-2), Assemblyman Benji Wimberly (D-35), Assemblyman Gary Shaer (D-36), Assemblywoman Liz Muoio (D-15), Assemblyman John Wisniewksi (D-19), Assemblyman Dan Benson (D-14), Assemblyman Joe Lagana (D-38), Assemblyman Gordon Johnson (D-37),  and Assemblyman Raj Mukerji (D-33).
And on the county level: Somerset County Chairwoman Peg Shaffer, Hunterdon County Chairwoman Arlene Perez, Essex County Chairman Leroy Jones, Hudson County Chairman Vinne Prieto, Ocean County Chairman Wyatt Earp, Sussex County Chairman Mike Bush, Bergen County Chairman Lou Stellato, Warren County Chairman Tom Palmieri, and Mercer County Chairwoman Liz Muoio, and Monmouth County Chairman Vin Gopal — "he's turning the county and it's going to be blue one day," Currie said.
Stellato, after orchestrating an upset win with newly-elected Bergen County Executive Jim Tedesco over incumbent Republican Kathe Donovan last November, was honored as chairman of the year. Hauling a massive gold-plated trophy on stage, he humbly explained the team's secret to success, which he said included getting "help from the nervous system of the party: unions, nurses, plumbers."
"I'm just the bus driver," Stellato, who expounded on his strategy in an interview with PolitickerNJ late last year, said."I had a great candidate."
"It was the perfect storm — we were able to beat her in her home town, we were able to beat her where her strengths were," he added.
Also there to stir the excitement, particularly as the legislature heads into an Assembly-only election season this year, was Assembly Majority Leader Lou Greenwald (D-6), who offered a rousing series of comments on the strength of the party ahead of those races and a promise to win up-for-grab seats in competitive districts like LD1 and LD2, both in South Jersey.
"The truth of the matter is we will grow this assembly chamber," he said.
He also offered hope for the city — despite chronic economic problems that have threatened its fiscal stability — in which the party is holding its conference today.
"This city will be a part of an American success story, because of the leadership from north to south," he said. "As we have done in Camden, as we will do here, as we will do in Trenton."