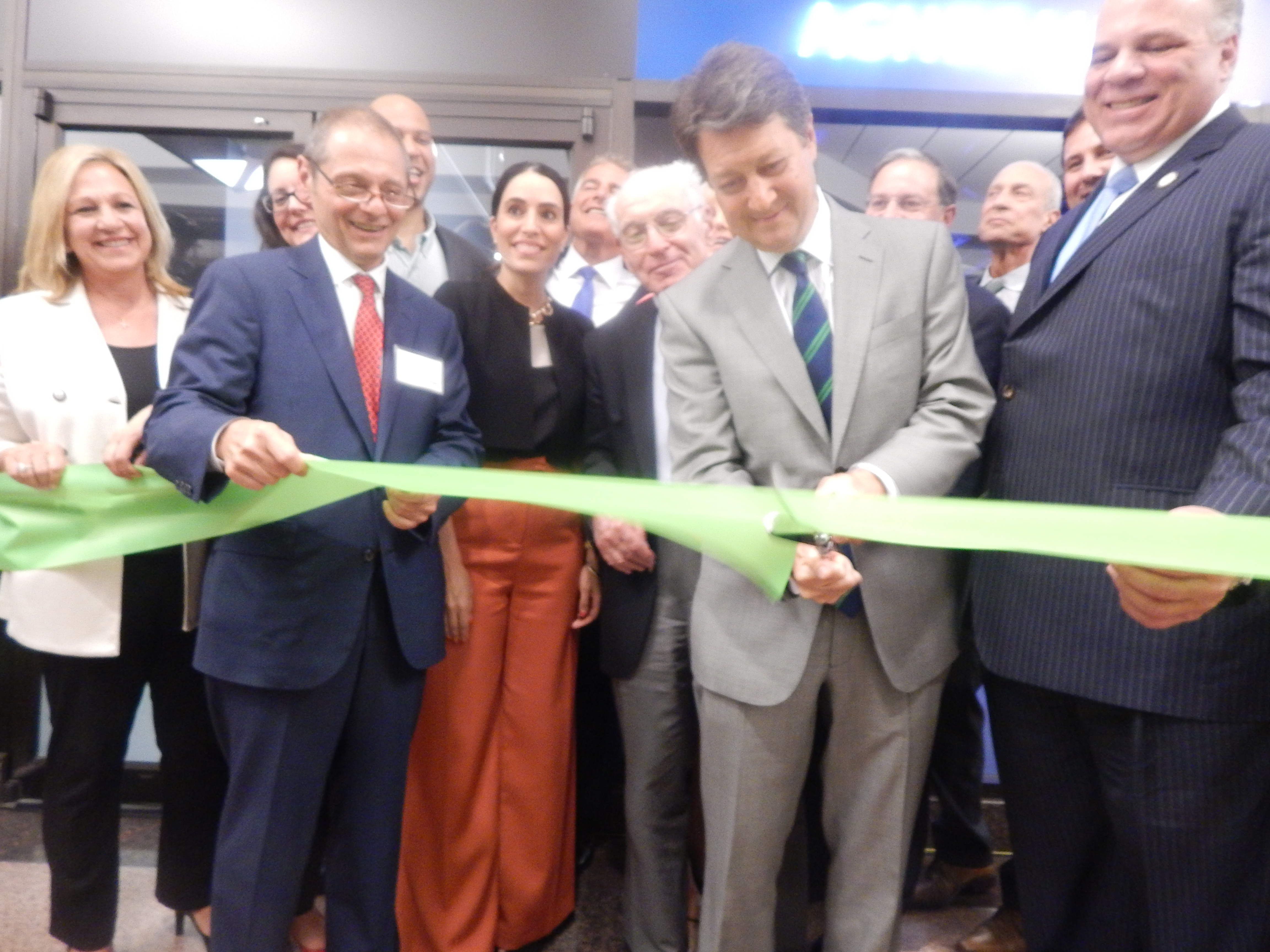 NEWARK – NJTV, New Jersey's public television network, became even more accessible to the public with the opening of its new studio space in downtown Newark on Wednesday.
The new 10,000 square-foot television studio, made possible in part by a $2 million gift from the Agnes Varis Charitable Trust, is located at 2 Gateway Center, connected to Newark Penn Station. Thousands of workers and commuters passing through the downtown Newark complex will be able to watch broadcasts being taped at the network's new anchor studio.
NJTV, the successor to New Jersey Network following NJN's demise in 2011, has had a series of temporary broadcast centers, including in the State House in Trenton and at Montclair State University.
Surrounded by celebrants at the Newark studio ribbon-cutting ceremony, NJTV correspondent David Cruz explained what the day meant to him and to his co-workers.
"For us, it is a homecoming, and in that respect it feels great," said Cruz. "For New Jersey, I think that we've been growing, expanding and deepening our coverage every year. We're proud of that, and this gives us an opportunity with all of us in the same room to do that even better."
"Public television in New Jersey has a permanent home again," said Michael Aron, NJTV's chief political correspondent, whose public affairs programs On The Record and Reporters Roundtable will soon be produced at the new digital studio. "We had a significant Newark presence under the NJN regime. This is a great boon to Newark that we're here again."
"This is a very big deal," said Steve Adubato, co-host of New Jersey Capitol Report, one of the public affairs programs independently produced and broadcast on NJTV, and a Newark native. "Four years ago, when NJTV started, there were a lot of folks who didn't think this day would come, but it did. NJTV News is a great operation covering every part of the state, now based in Newark, my hometown, where it belonged all along."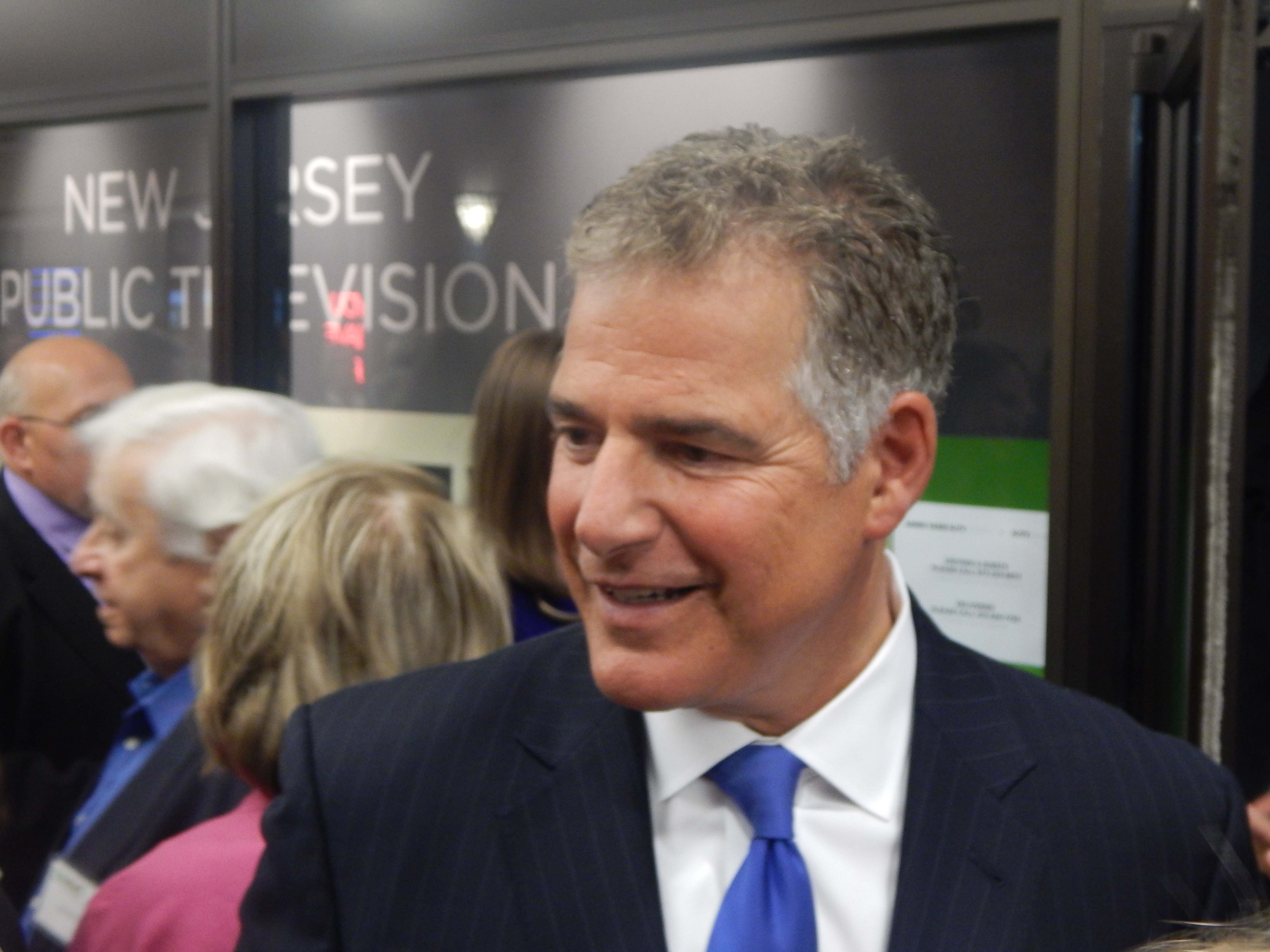 Another Newark native present at the opening of the new television studio also expressed his support for the move.
"This is exciting. This is another great thing that will be happening here in Newark, along with all of the other development in the city," said Essex County Executive Joe DiVincenzo. "People can now literally see the news that is happening here. This will help us all with what we're trying to do here."
Other politicians from further away spoke about what the new studio will do to help New Jersey's overall media presence.
"This shows that NJTV is fulfilling the promise that they made when they took over from NJN – that they would ensure that they would cover the state and that they would make an investment in the state. This studio is proof of that investment," said State Senate President Steve Sweeney (D-3), a South Jersey native. "We in New Jersey have an image issue at times, being between New York and Pennsylvania. We're New Jersey, and we want to have New Jersey news. This is important for the people who live in this state."
Sweeney's support for the new studio was mirrored by politicians on the other side of the aisle.
"I'm proud that every member of the Senate Republican caucus voted for legislation to support this," said State Senate Minority Leader Tom Kean, Jr. (R-21), joined by State Assembly Minority Leader Jon Bramnick (R-21), a fellow Westfield resident. "This is great for creating new jobs and to help focus on a great city."
For another prominent Garden State politician, NJTV's new Newark studio creates a positive opportunity in traffic-snarled New Jersey.
"For those of us in North Jersey, it's convenient to get to," said State Senate Majority Leader Loretta Weinberg (D-37), who lives in Teaneck. "I'm booked for next week."