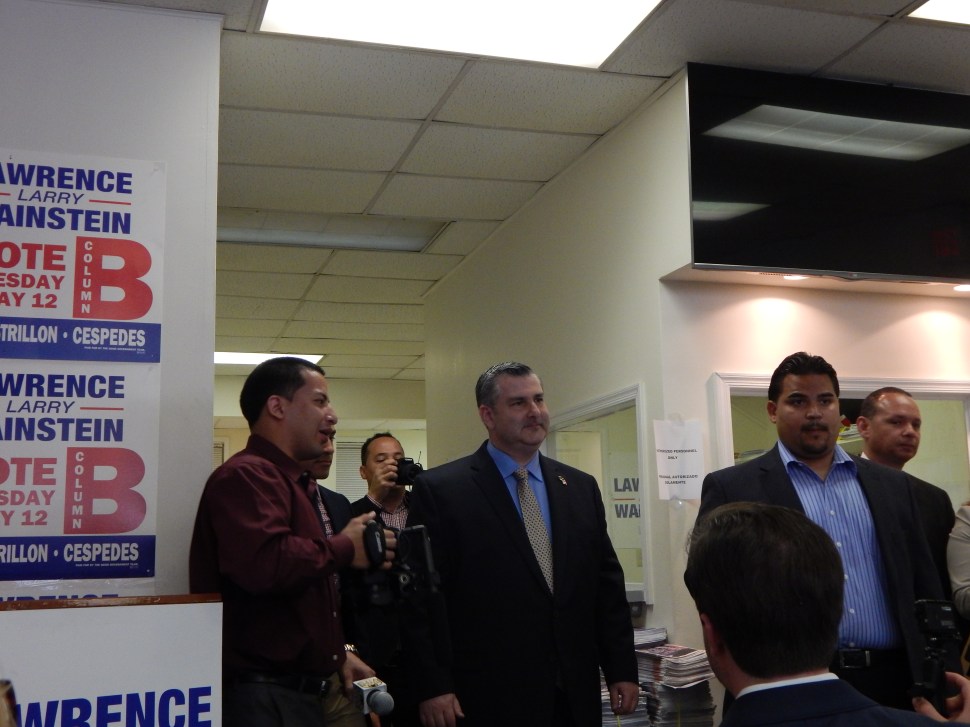 NORTH BERGEN — A last-ditch salvo in the nonpartisan mayoral race here has the incumbent's team accusing their opponent of using some sketchy financial gymnastics to purchase his home for cheap — just ten dollars, to be exact.
The campaign of incumbent mayor Nick Sacco this afternoon alleged that challenger Larry Wainstein, a local businessman and longtime establishment agitator, used "one of dozens of shell corporations involved in the twisted web of Wainstein finances" to  purchase his North Bergen home for $339,000 cash in November of 2013. Eight months later, according to documents provided by the campaign, he transferred it to himself for $10.
"Larry Wainstein wants North Bergen to believe that he lives in town, instead of the $2 million mansion in Franklin Lakes where it was recently proven he really lives," said North Bergen Commissioner Allen Pascual. "But this highly dubious real estate transaction where Wainstein used one of his many dummy corporations to buy a house for only $10 is just another in a long trail of lies he has told all over North Bergen."
It's not the first time Sacco's camp has sought to fuel controversy surrounding Wainstein's residency. Earlier this week, the team sought to paint the candidate as a carpetbagger from out of town, presenting a set of business registration documents that they said showed Wainstein lived in the relatively wealthier town of Franklin Lakes, where he owns property.
But Wainstein  — who's lobbed his own set of criticisms at the 25 year incumbent over the course of the race, accusing him of promoting voter fraud and a culture of corruption in town hall, where two parks department employees were recently arrested for falsifying time sheets — hasn't taken the attack lying down. In his own release on this issue, he defended his financial practices and working history, saying he earned his money "the old fashioned way."
"I retained a lawyer and accountant to ensure the transfer was completed properly," Wainstein said. "Every "I" was dotted, every "t" was crossed, and every document recorded in the County. All requirements for the lawful transfer of the property were fully satisfied; otherwise the County Register would not have recorded the documents."
With just three days to go before the town's nonpartisan election, the race in North Bergen has been getting ugly. Both camps have spent considerable amounts of money. In a recent interview with PolitickerNJ, Sacco called it one of the "most vicious" he's ever seen.
Of course, it's worth noting that both sides have slung their fair share of mud.
"I made my money the old fashioned way – I earned it," Wainstein added. "Sacco lines his pockets with tax payer dollars dollars through three public jobs he holds at the same time and history of fraudulent and corrupt practices. That's why he needs to go. This is another lie and desperate attempt to distract voter's from Sacco's record of corruption."
North Bergen's mayoral election will take place on Tuesday, May 12.