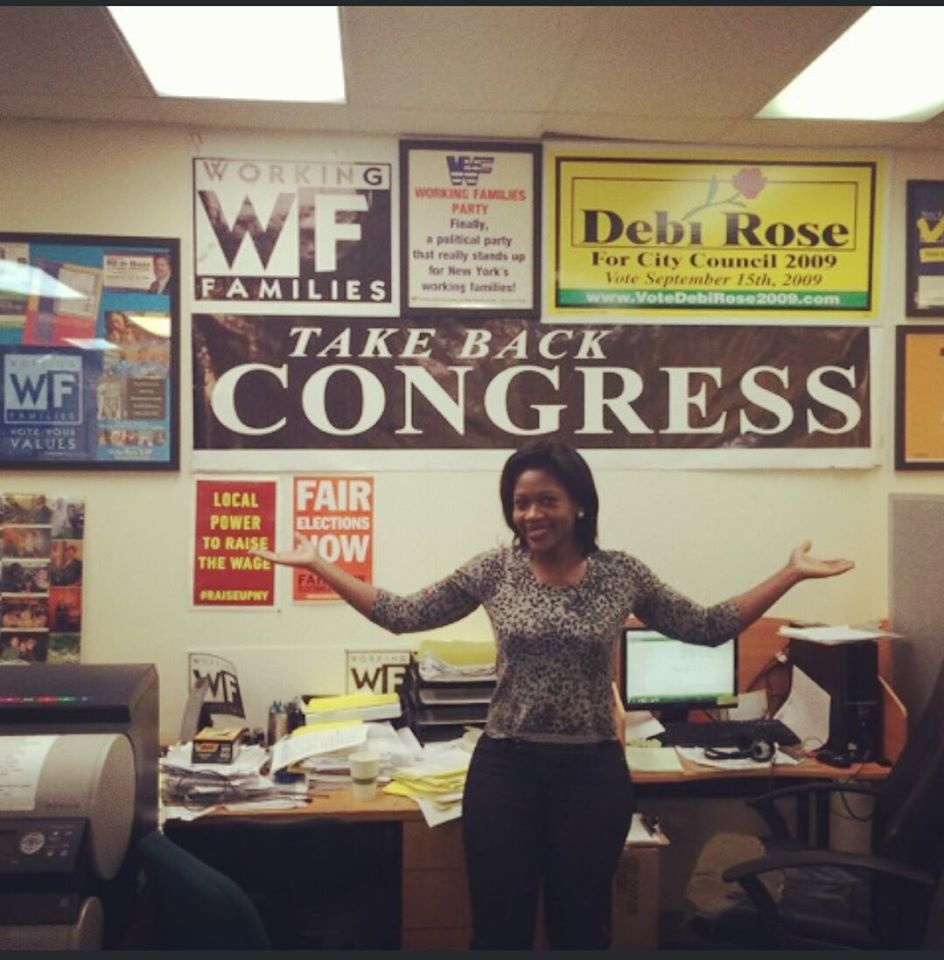 Diana Richardson, the Working Families Party candidate in the race for a vacant central Brooklyn Assembly seat that included no one on the Democratic party line, has won that special election, she declared tonight.
Ms. Richardson currently has more than 50 percent of the vote in a four-way race, with more than 70 percent of votes counted, according to unofficial Board of Elections returns. NY1 and the Associated Press both called the race for the candidate, who also proclaimed her own victory.
A community board member, Ms. Richardson's victory in a crowded field—including two other people who, like her, identify as Democrats despite the party's empty ballot line—represents a considerable win for the Working Families Party, which suffered some tough losses in November. The party usually cross-endorses Democrats; Ms. Richardson is the first candidate to win an office solely on their party line since now-Public Advocate Letitia James won the a special election for City Council in 2003.
"Tonight's win shows people power can still beat big money and developers don't own New York," Ms. Richardson said in a statement tonight. "We the people do. This win is a mandate for protecting and building affordable housing and making sure working families can make ends meet. I'm proud to be New York State's first Working Families Party state legislator and voters can always count on me to put the needs of working families first."
Ms. Richardson refused to accept real estate developer donations in a district that is struggling with rapid development of luxury buildings and, with it, rising prices gentrification. The candidates were repeatedly quizzed on housing issues at a recent forum, and a strange e-mail that purported to be from 1199 SEIU Political Director Kevin Finnegan sought to tie Ms. Richardson to developers—with the union and the WFP decrying the missive as "fraudulent."
"This race was a referendum about the role of real estate money," Bill Lipton, director of the New York Working Families Party, said in a statement. "Diana's refusal to accept a penny of developer or landlord money showed working families, seniors, and youth in Central Brooklyn that she can't be bought and will always put working families first."
Her closest competitor in the reliably Democratic Crown Heights district was Shirley Patterson, who was backed by Brooklyn Borough President Eric Adams and likely would have cruised to victory on the Democratic line if not for a paperwork snafu. She had been favored to get the nod after Assemblyman Karim Camara left office to work for Gov. Andrew Cuomo.
But perennial (and perennially unsuccessful) candidate Guillermo Philpotts was able to control a majority of members of the district's county committee—a body of local Democrats charged with selecting a candidate in a special election—boxing out Ms. Patterson and State Senator Jesse Hamilton and enabling him to make himself the party's nominee. Then, he failed to file the paperwork required to actually get himself on the ballot, leaving the Democrats with an empty line.
Ms. Patterson ran on the Independence line. Another Democrat, Geoffrey Davis, whose late brother James Davis served in the City Council, entered the fray on his own "Love Yourself" line. Menacham Raitport, who owns a kosher butcher shop in the district, ran on the Republican and Conservative lines.
People in several of the camps suspected the race would be tight, but in prompt returns from the Board of Elections, Ms. Richardson opened a wide lead that Ms. Patterson was never able to close. While Ms. Richardson's victory is a success for the WFP (and Comptroller Scott Stringer, who lined up in Ms. Richardson's corner), it's a loss for Mr. Adams, a central Brooklyn power broker. Backed by unions with considerable political muscle like 1199 SEIU, the WFP often rolls out strong get-out-the-vote operations—which seems to have been the case tonight.
The party boasted of its big win on Twitter:
[protected-iframe id="9c6f47a83f9786fe1520b63fc5d1321a-35584880-67241311″ info="hash" class="twitter-tweet"]