The line, somewhat unexpectedly, ran down West 118th Street. It was 'round midnight at Minton's, where icons like Dizzy Gillespie and Thelonious Monk entertained the slick and in-the-know from 1938 into the '60s. A fire in the building closed the club in the early '70s. Its most recent resurrection in 2013 by Richard Parsons, former chairman and CEO of Time Warner, and chef-restaurateur Alexander Smalls draws nonstop crowds for its acclaimed musicians and the kitchen it shares with one of the city's hottest dining destinations: The Cecil, but never in the after-hours tradition. Until now.
The lure? Breakfast. Of the ham-and-sunnyside-up-egg-with-fig-jelly-on-a-biscuit variety. In other words: carbohydrate and nostalgia-rich, American-style comfort.
"If you think about the best breakfast you ever had it was probably a holiday, event, or pancakes-every-morning vacation," said Nicole Avena, Ph.D., a neuroscientist at Mount Sinai who studies the psychology of how food affects the brain. "It resonates. You build an association, the pleasure of the experience. You want to engage in that again."
The breakfast-anytime-of-day craving is largely subconscious, just like the related gravitation to carbs. A benefit of which is a short-term surge of energy (thank you, sugar). Of course that leads to a crash, which can lead to a cycle of overeating, but this is a happy story. "It's not harmful to substitute a [non-breakfast-time] meal for breakfast," said Dr. Avenea. In fact, she and her husband recently enjoyed breakfast for dinner. 
Down in Tribeca, Bubby's has served midnight brunch since 2009. That's 11 p.m. to 7 a.m. Thursdays to Saturdays, and there's always a buzzing, mellow scene. Chef-owner Ron Silver occasionally stops by at 3 or 4 a.m. "It reminds me of some arty after-place," he said. "A low-key hangout for the late-night industries, restaurants, Broadway, big guys in hip-hop."
Mr. Silver expects the restaurant's High Line location to offer the same in the coming months, until 2 a.m. "It's a very American thing, this kind of breakfast," he said, referring to satisfying plates of eggs and meat and home fries. "It's literally built into the landscape, the way America was settled and built. Up-and-at-'em. That's what breakfast is." (See: surge of energy, above).
And any time of day can be breakfast time.
In September, year-old Nolita bagel darling Black Seed started opening 10 p.m. to 4 a.m. Thursdays to Saturdays to sell the ultimate breakfast-non-breakfast hybrid: Pizza Bagels. Pick a favorite bagel (they recommend against whole grain) then choose cheese ($6), or pepperoni ($6.75). It's a way to use day-olds, brought back to life by the moisture of the sauce, said head baker Dianna Daoheung (bagel recipe = hers). This sustainability attracts local restaurant staff and foodie bar patrons, and really hops around 1 a.m. when industry folks get out. 
"Breakfast as a category has changed," said Sarah Schneider, owner of equally trendy Egg Shop, where the breakfast star is part of every dish. "You can be indulgent or healthy, classic or creative." The Spandex (poached eggs, miso quinoa, avocado, pickled carrot, farm greens, tamari) for $15, ties with the B.E.C. (a runny, bacon, cheddar, tomato jam, pickled jalapeno panini), for $9, for most ordered item.
"As we move forward in time and life we want to be young, we want to feel young," said Egg Shop chef-partner Nick Korbee, who equates breakfast with all things childhood memories, including the American parenting mantra "breakfast is the most important meal of the day." Anticipating the city's gravitation to endless breakfast, the restaurant has served from 8 a.m. to midnight (1 a.m. on weekends) since it opened last August.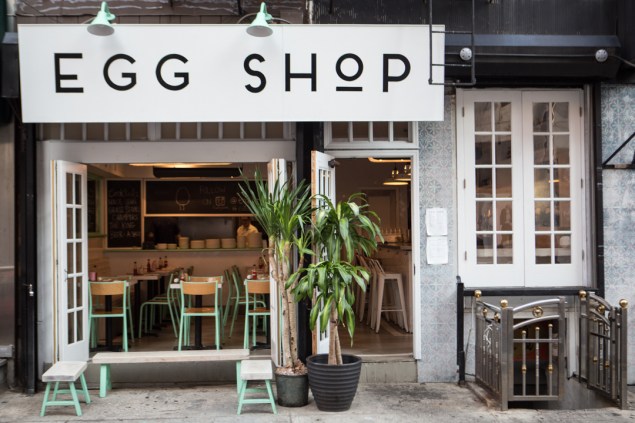 And indies aren't the only ones aware of the draw. Perhaps expanding to a nationwide rollout, McDonald's will start testing Breakfast All Day at some San Diego locations this month. "We know our customers love McDonald's breakfast and they tell us they'd like to enjoy it beyond the morning hours," said Terri Hickey, a spokeswoman for the company. "We look forward to learning from this test, and it's premature to speculate on any outcomes."
Note: Though in demand, breakfast all day is a challenge for any restaurant, even large ones. A McDonald's website FAQ, "Why don't you serve breakfast all day?" is responded to like this: "[kitchen grills] simply don't have the room for all of our menu options at one time."
So while you will find a breakfast-like dish on many a non-breakfast menu, you will not find an excess of choice. Sometimes people want non-breakfast foods, too. Hence brunch, and the McDonald's After Midnight menu with breakfast and dinner items offered midnight to 4 a.m.
Which brings us back to Harlem where the history of "too late for dinner too early for breakfast" runs deep. It was Wells Supper Club, open from 1938 to 1982, that popularized chicken and waffles, staying open late to accommodate band members (see: late night industries, above) and others.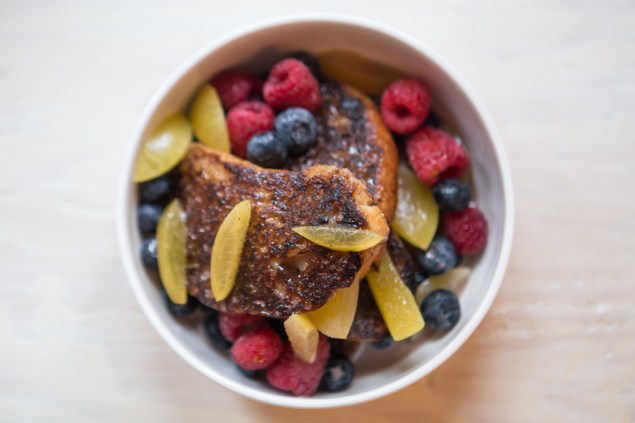 Mr. Smalls of Minton's said a late-night program was always a thought, since the club was known for its late-night jam sessions. "The house packed; it's so sexy," he said. But packed with "rogue musicians" waiting to play on a legendary stage (read: starving artists) isn't a great business plan. So the concept was flipped to make food the star. "People will come for food, especially good food."
Mr. Smalls collaborated with chef de cuisine J.J. Johnson (who made both Forbes and Zagat's 2014 "30 Under 30" lists for his work at The Cecil) on a menu of savory and breakfast-y items like the jumbo lump crab cake with scrambled herb eggs ($23), and the runaway hit duck hash: crispy duck and duck confit, sweet potato, onions, peppers, potato, cheddar, fried egg ($18).
The expectation for midnight breakfast's March test drive was a sort of modern speakeasy through which Mr. Smalls would walk, stopping by each table to speech with the guests. The linen tablecloths and dress code of Minton's—Dress Sharp Gents. No Hats. No Shorts. Collared Shirts and Jackets Highly Recommended—would attract an older, more subdued crowd, right? Even if a live band (the standard here) was substituted for a DJ.
Instead, Mr. Smalls could hardly walk though the space at all. Stylish, professional urbanites in their 20s and 30s filled Minton's for two sold-out seatings (and some standing). The overflow went to The Cecil, filling the entire lounge and some of the dining room. The reception was so great they started taking reservations immediately for the next midnight breakfast, April 25, and are discussing making it a weekly event after that.
"They came, they ate, they shake-shaked," said Mr. Smalls. The best nights end in breakfast.