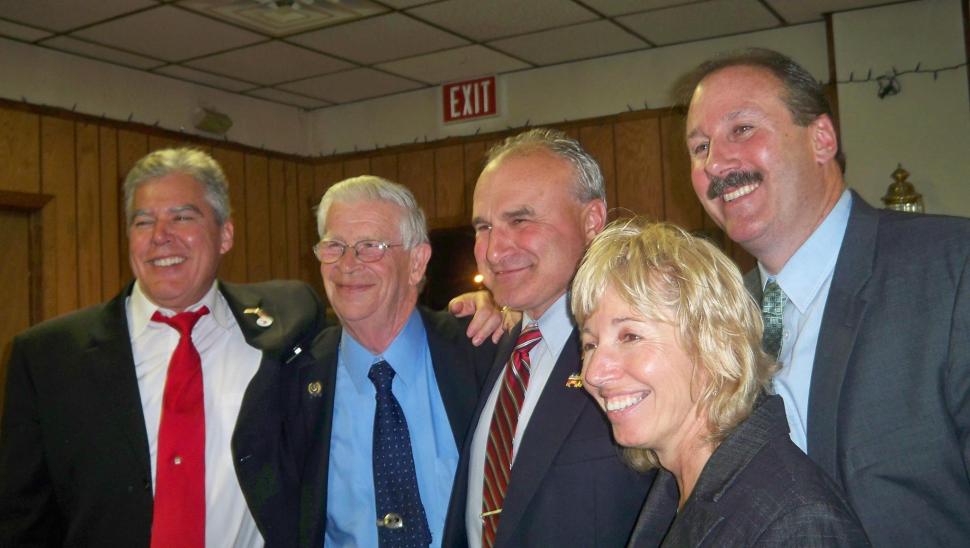 Wading in to a messy political battle that has pit members of the town council against one another and resulted in a contentious Republican primary, Old Bridge Mayor Owen Henry came to the defense today of one of the incumbents at the center of the fight.
"Councilman Cahill's record over the passed eight years in Old Bridge has been impeccable," Henry said of Councilman-at-large Brian Cahill, who is running for re-election on the Middlesex County Republican Organization's ticket this year. "He was on the council when he was in the minority, and he was able to get input and results. When I became mayor, he was elected council president, and he supported all the tough decisions I had to make when I came into the office. I really feel he is deserving of the Republican line in Old Bridge."
Henry's support lends credence to Cahill's position, which was thrown into jeopardy after he received the fewest votes at a screening of candidates by the county committee earlier this year. Cahill came in last among the four candidates running for seats in the June 2 primary, with incumbent council president Debbie Walker garnering the most voters, incumbent councilman Jim Anderson garnering the second-most votes, and newcomer Anita Greenberg garnering the third-most.
But the committee's decision was reversed — and the feud between council members laid bare — when Middlesex County Republican Chairman Sam Thompson decided to replace Walker on the county line with Cahill, calling Cahill the "stronger candidate." The decision has apparently sent the party into an "uproar", in the words of Greenberg, who has now sided with Walker in running against Cahill and Anderson (this despite Greenberg still running on the county's ticket with Cahill and Anderson, and Walker running by herself on the Old Bridge Republicans line).
Henry said he did not agree with the decision of the county committee, which without Thompson's intervention would have resulted in Cahill being left off the ticket. He said Cahill has been a strong ally throughout his time as mayor, and called it a "little upsetting" that, after asking the committee's support for Cahill during the screening, so few voted for him.
Asked what is driving the bitter infighting among party members in his town, Henry chalked it up to warring egos.
"I think we have a difference in personality, a difference in opinion. I think a lot of times in Old Bridge, I like to say it's attitudes. People need to change their attitudes, people need to change their egos," Henry said. "They need to lose the egos. And adjust the agendas. There are a lot of agendas."
One of those agendas, at least according to Cahill, is a pay-back scheme by Greenberg, the former town chair, to get him off the ticket. While Greenberg and Walker contend that the party was left without appropriate explanation as to why the ticket was tinkered with, and have slammed Cahill and Thomspon for not respecting the will of the committee members, Cahill argues that he was the target of a "smear campaign," one that finds its roots in his refusal to allow the re-appointment of a local Democrat to the town's Municipal Utilities Agency that Greenberg had pushed for in a 2013 election.
That nomination– which he block by getting himself appointed to the post — has led to Greenberg harboring a "vendetta" against him, Cahill says. It's the reason why she decided to jump into the council race this year; it's also the reason why a two-term incumbent who's done good work on the council could garner so few votes at a committee screening, he said.
"This all goes down to the fact that I told Anita Greenberg no, that I wasn't going to do what she wanted me to do. I thought it was wrong, even though she was very demanding," Cahill told PolitickerNJ earlier today, adding that he believes Greenberg "rigged" the committee screening by packing it with new members to vote down his own nomination.
Henry said that while there were "a lot of new faces" at the March screening, there were also a number vacancies that needed to be filled leading up to it. And it's part of the local party's job to help get those seats filled.
"I will not play politics," Henry said. "My message is: politics are expensive. Once you put politics into the equation, it becomes very expensive for the taxpayers. And they're the ones who foot the bill for our decisions."
Ideally, he would have liked to see all three council incumbents given the county line because they've all done good work — but he also respects Thompson's wisdom, who has "been around longer." Thompson told PolitickerNJ yesterday that he made the decision to switch Cahill and Walker in order to create the strongest ticket possible as the team heads into a November general, when the council and freeholder board will face a Democratic challenge.
Henry, for his part, will face Democratic hopeful Bill Cerra.
"I'm prepared. Like I said, my record, my administration, my record. I'm pretty confident," he said. "In the end, I just don't understand why there's a primary in Old Bridge."