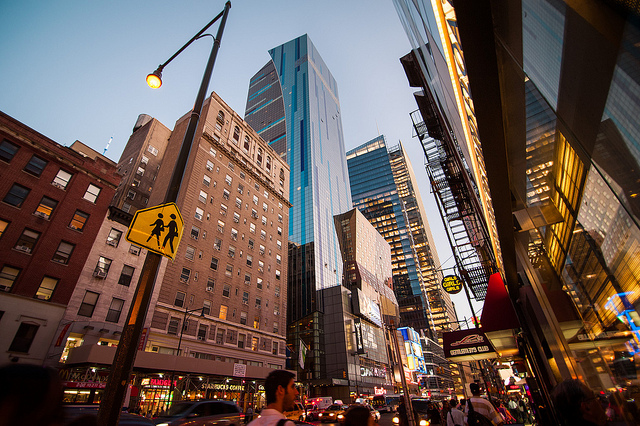 Eleanor Roosevelt kept a "little apartment" at 211 E. 62nd Street, but the building, which has since  reconfigured into a single-family home to suit more gluttonous tastes, is now asking $18 million according to The Wall Street Journal. Ms. Roosevelt only kept an apartment there for about 5 years, with her primary residence in Hyde Park; most recently it was occupied by an investor.
Speaking of gluttonous tastes—Houston Rockets owner Leslie Anderson doesn't want his 18 Gramercy Penthouse anymore, but he thought someone else might, for $7.75 more than he bought it for just a few years ago, or $49.75 million, according to The Journal. According to his broker, he's hardly scuffed the walls at all since buying the place: "He's always on the road with the Rockets."
It would appear that even Christina Ricci has been priced out of the market for nice Fort Greene  townhouses. The Post reports, she bought a squat little two-unit one lot over from the BQE on Adelphi, which resembles a starter-home in Cincinnati, for $1.99 million.
Meanwhile, the number of "$100 million homes" in the U.S.—or rather, homes that listed asking $100 million, surged this year to 10, according to The Wall Street Journal. Last year, three such properties actually sold for more than $100 million.
Most of New York's most recent building boom can be attributed to the surge in luxury condos. Construction spending jumped 26 percent last year to $36 billion, according to Crain's, but $11.9 billion of that came from residential building (the first time it's ever exceeded $7 billion, even adjusting for inflation), and the number of new units created was just over 20,000—a third fewer than the years between 2005 and 2008.
Roy Kim, Compass' new development chief, won't be overseeing any new such palatial condos; he's out after just nine months, according to The Real Deal. Mr. Kim spent eight years at Extell, from which he was hired away with much fanfare, and was allegedly overseeing $2.5 billion in projects at Compass. "Roy is an exemplary new development professional," Compass CEO Robert Reffkin told TRD in a statement. "We wish him nothing but the best as he pursues his next endeavor." Which makes it sounds like there maybe isn't a next endeavor.
On the topic of new development, Chinese real estate development and investment group Fosun group has acquired a stake in the 180-unit condo tower slated to rise at 126 Madison Avenue, according to Crain's.  Last year, the company completed its first deal in the city, acquiring 1 Chase Manhattan Plaza for $725 million.
And a Midwood man threatened to shoot Staten Island councilman Vincent Ignizio for demolishing an abandoned home he owned in 2007 (he was also fined $200,000 for the cost of demolition and safety violations at the property), according to DNAInfo. His lawyer insists that his client "never threatened to shoot Ignizio and instead told the CB over the phone he would sue the council member over the dispute." Common misunderstanding, we hear.