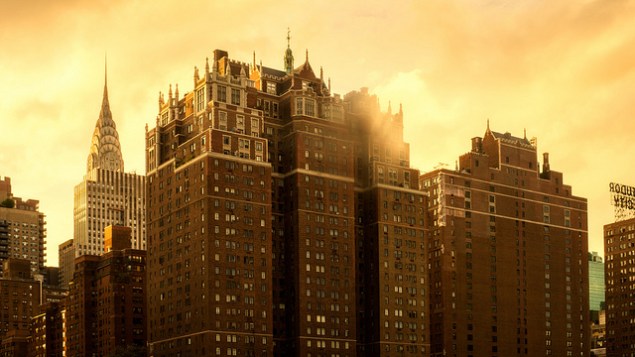 HFZ Capital payed $870 million for a Chelsea development site last year—one of the highest prices ever—but it doesn't plan to recoup the sum with ultra-luxury condos on the level of 57th Street skyscrapers, Bloomberg News reports, via Crain's, just your average luxury condos. While price per square foot will be in a standard $4,000 per square foot range, they'll only be 1,500 to 2,000 square feet. "I don't want to be hostage to a $10-to-$20 million condo market," Ziel Feldman told Bloomberg. "I don't want to be in that market a year or two from now."
New Yorkers are famously averse to cooking, but whereas once they made do with Chinese and pizza when they wanted to order in, Crain's reports that now a burgeoning field of food delivery services are seeking to eliminate the need to even consider cooking for an increasingly affluent, workaholic and domestically lazy populace with something closer to actual dinner.
Living in a $3,900-a-month one-bedroom in Dumbo may be many New Yorker's version of the very good life, but  the couple featured in this week's "the Hunt," complain that there was nothing there and that "the commute [to the Financial District] was horrendous." Spoiler alert: they buy a two-bedroom condo in Harlem, which they think is great, except that the elevators are too slow.
Maybe they should rent at One57, where, oddly, Extell has elected to rent a handful of units on lower floors, The Wall Street Journal reports. There are a number of financially advantageous reasons why they might be doing so, the paper posits, like a break on capital gains and property taxes.
Damrosch Park, most famous for acting as an extension of Lincoln Center during Fashion Week, will be getting new plantings after all the old ones were destroyed by stilettos (well… more or less), DNAInfo reports. As another result of a lawsuit, the park can no longer be usurped from public use by large-scale events as of spring 2016.
Greenwood Cemetery, meanwhile, is not technically a park, though it is parklike, but in green space-hungry Brooklyn it apparently counts as positively sylvan: Curbed reports that new construction condos abutting it on the South Slope side are running half-a-million for a just-under 700-square foot one-bedroom.
In Bed-Stuy an architect couple was thrilled when they determined the townhouse they bought would need a total gut renovation, Brownstoner reports. Pronouncing the place a "total wreck" with "nothing worth saving" they renovated the home to suit all their tastes, rather than catering to the tastes of those florid Victorians.
You can read Gothamist's very long list of all the subway changes expected this holiday weekend, but the main gist of it is that you should avoid the subway at all costs.