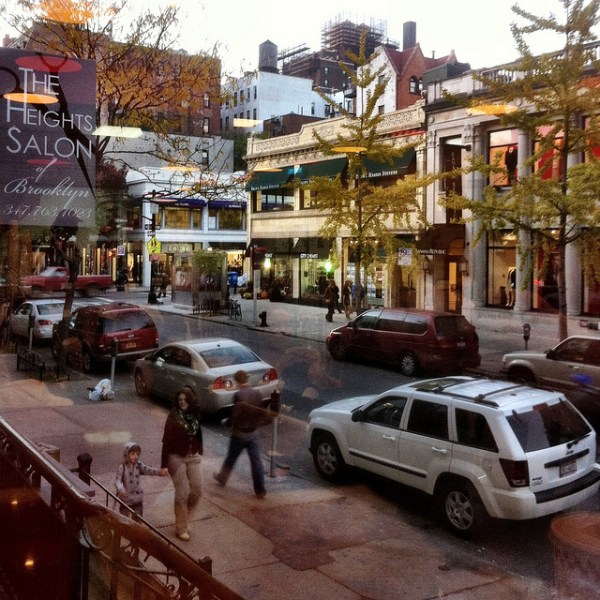 The city wants to squeeze more revenue out of NYCHA, it announced to the The New York Times and The Wall Street Journal Monday (and plans to announce to everyone else on Tuesday), by leasing land to private developers, increasing the rate of rent collection, charging more for parking and transferring hundreds of NYCHA employees to other city agencies. NYCHA would also give developers land, in exchange for $200 million in fees over 10 years, to build 10,000 low-rent apartments starting at Van Dyke and Ingersoll in Brooklyn and Mill Brook in the Bronx. The plans are likely to prove unpopular with housing advocates, though as The Times points out, "the Housing Authority has an operating deficit of $98 million this year and building maintenance needs totaling $16 billion, threatening the survival of the city's single largest affordable housing stock."
In news of other beleaguered city institutions: the MTA is starting a campaign to get the 6,7 and F trains running back on track after a recent evaluation showed those lines' performances standards have fallen more than others, The Wall Street Journal reports. However, the means of doing so sound somewhat odd: adding "about 70 employees, called platform controllers, to problematic train stations. They would direct riders into trains and help keep train doors clear so that riders can board and get off more rapidly." How about adding more trains or a better signaling system instead?
Neighbors in Woodside, Queens have started a campaign against a barking basset hound in the building, leaving anonymous notes, booby traps and strange powders outside the owners door, the New York Post (of course) reports. One read: "Get out now McPherson. Nobody likes you or your loud dog!"
Meanwhile, neighbors of the seven skyscrapers rising (and risen) along 57th Street and nearby environs want the city to protect their sunshine. Capital New York reports that Community Board 5 has released a report asking the mayor to better regulate skyscraper construction south of the Central Park, where they say shadows can drop temperatures up to 20 degrees in cold winter months. (No doubt a selling point for those nearby oligarchs, with their notoriously icy hearts.)
Meanwhile, on the Upper East Side, rumor has it that Aby Rosen's failure to take possession of the currently co-op'ed mega-mansion at 1025 Park Avenue was due to an 11th-hour move to lower his $60 million bid, The Daily News reports. This, naturally, deeply offended the sensibilities of the three owners, who listed it this week for $65 million.
One of the Walker Tower penthouses is rather full of itself, sure that having sold for $50.9 million last year it can now fetch $70 million, The Wall Street Journal reports. As for why it's listed again so soon and for so much, the broker told the paper that "the strength of the high-end Manhattan market is a factor. 'It's a great time to sell, with what the market is doing.' Because the one thing the market lacks right now is ultra-luxury units. Oh wait…
On the topic of delusions, an investment firm wants Brooklyn Heights to be the next Soho, the impossible, Crain's reports, and has paid $8.5 million for a building at 142 Montague Street. The current tenants, however, say it all: an Aerosoles and a sushi place.
The two-year-old girl who was struck by a piece of falling facade from the Esplande Luxury Senior Residences on the Upper West Side Sunday morning, has died, The New York Times reports. The facade of the building was deemed safe in 2011; after a similar accident killed a Barnard student in 1979, such inspections have been mandated every five years for buildings taller than six stories.
Should cars be banned from Prospect Park? A new petition is circulating that would seek to stop automobiles from using the park during the permitted morning and night rush hours from 7-9 a.m. and 5-7 p.m., South Slope News reports.
Forest Hills residents are upset that they may lose their Barnes & Noble and with it any place to browse through real physical books. The book retailer says that it's only interested in staying if the rent in its new lease is very close to what it's currently paying, DNAInfo reports.
In a more dramatic story of beloved retailers closing, the famed FAO Schwartz toy store is planning to vacate its Plaza District space in July because of rising rents, leaving the brand without a retail presence, Bloomberg reports. The brand's parent company, Toys R' Us, is currently looking for something cheaper. "It's very exciting for Fifth Avenue. We're going to get a new retailer, so we can all spend more money," said broker Faith Hope Consolo, who represented neither FAO or landlord Boston Properties, of family-focused stores' migration away from Fifth.
Finally, for those who have been disappointed at only being able to get Shake Shack at one of the many other locations in the city, the restaurant in Madison Square Park reopens this Wednesday, Gothamist reports.