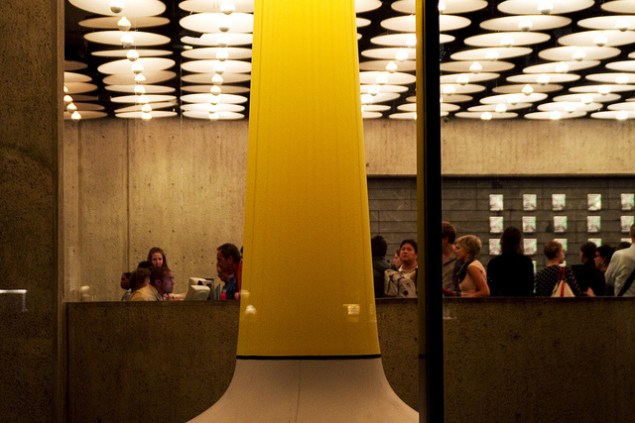 A new bakery on Halsey Street in Bed-Stuy will have a Haitian focus with coconuts, mangoes, patties and salads, according to DNAinfo. Though we think Kafe L'Ouverture may be just a little full of itself. As one of the owners told the news site. "We won't just sell coffee, it's an experience. People can brace themselves for an amazing trip you won't need a passport for."
The Village and the Lower East Side looked pretty much entirely different in the early 1980s, as these photos by Steve Butcher on Gothamist illustrate. Well, actually the corner of 13th and Avenue A looks pretty similar.
Meanwhile, Madison Avenue merchants are yearning for the more recent past after the Whitney decamped to the Meatpacking District, according to Crain's. Restaurants and businesses report quieter afternoons, but really have no one but themselves to blame, the paper notes, but they opposed any and all expansions of the Brutalist building that was long the Whitney's home. Also, the impending use of the space by the Met would seem to mean any dip in business will be short-lived.
Maybe all the poor people should just leave Manhattan already so they can afford their rent, Rahul Jain of the Citizens Budget Committee suggests in an interview with the Village Voice in which he advocates for ending rent regulation. In any event, he "corrects" some myths that would seem to advocate for the former: Myth: "A majority of tenant households in New York City are rent-burdened." Fact: "Thirty-eight percent of tenant households in New York City are rent-burdened."
Brooklyn Bridge Park has settled a lawsuit spurred by the addition of affordable housing in two towers planned for Pier 6, according to The New York Times. A judge ruled that while another environmental review was not necessary, the park corporation did have to formally change the plan.
Many of us are already coughing up $116 a month for an MTA card, but Gothamist reports that a new study from comptroller Scott Stringer shows that each household in the city is actually chipping in an additional $130 a month in taxes to the transit authority, suggesting that it's time the state and the federal government pony up and put in some more.
Nor does it help when thieves steal 500 feet of copper cable from the subway tracks, leading to service disruptions, as they did on the A tracks by Howard Beach, according to The New York Times—a theft that was unusually brazen, even for copper thieves.
Moving on to non-public transit related issues: four taxi medallion lenders filed a lawsuit against the mayor and the Taxi and Limousine Commission for allegedly not enforcing the law to prevent Uber from picking up street hails, Crain's reports. The dispute turns on whether or not using a phone app on the street amounts to hailing or calling a dispatcher and ordering a car.