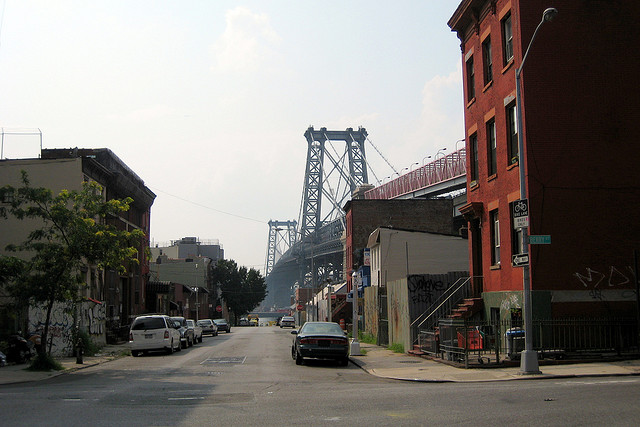 A Hasidic Brooklyn landlord describes his racist and probably illegal methods in New York Mag: first he bought up deeds that were close to going into foreclosure and rented them until the bank came, now he buys properties, pays the black tenants to leave and puts in white tenants paying twice as much. "every black person has a price. The average price for a black person here in Bed-Stuy is $30,000 dollars. Up over there in East New York, it's $10,000 dollars. Everyone wants them to leave, not because we don't like them, it's just they're messing up — they bring everything down. Not all of them." The landlord claims that it's the white clients who complain if any blacks are living in the building, so he's just giving them what they want.
Health care instead of condos? Seems crazy, but a planned condo project in Long Island City is going to be an NYU Langone outpost instead, Crain's reports. NYU has signed a 31-year lease on the two-story space at 21-21 44th Drive, presumably hoping to tap into the neighborhood's huge residential growth.
Also in Long Island City, Steve Holl's long-stalled library is finally slated for ground-breaking this Saturday, Curbed reports.
What's with all the vacant storefronts in hot neighborhoods? Well, there's no simple answer Gothamist claims, though there's usually a straightforward one: landlords think they can get more than they actually can, or they have minimal costs on the building and they just decide to hold out for the price or the glitzy retailer they think should move into the space.
New York I love you, but you're bringing me down? James Murphy of LCD Soundsystem is planning to open a wine bar in Williamsburg, The New York Times reports. Though he's done his time in the city's restaurants and bars once even acquired gout.
Extell is expecting the Nordstom Tower, called "The Central Park Tower" in filings on the Tel Aviv stock exchange to be its most lucrative yet, fetching $4.4 billion in sales, according to The Wall Street Journal. "That is, if the market cooperates, which is no sure thing given the wave of new supply underway." One57 is looking to bring in a comparatively modest $1 billion in profit.
Finally, the house of French fashion sculptress Marie Christophe is very, very French and very, very whimsical, The New York Times reports. Wire sculpture, seafoam green, robin's egg blue, a linden tree, lilac bushes and of course, "a sitting room done in faded toile de jou."