"And 1985 was a good year." It's a repeated statement in the chorus of "Lifted Up (1985)," the opening song on Passion Pit's third album, Kindred. The song's author and singer, Michael Angelakos, was born in 1987—so, what on earth does he think was so good about 1985? Live Aid, 9,000 dead in the Mexico City earthquake, "Like a Virgin" topping the charts, the Unabomber, The Breakfast Club, 10,000 dead in the Bangladesh cyclone, Bruce Dickinson's iconic cry of "Scream for me, Long Beach"? To Angelakos, it was the year he was given a lifeline: 1985 was the year his wife Kristy was born.
---

Kindred is candy-coated and bubblegum tacky; but it's also deeper: despair gone desperate—dance transcendence as a short-term fix that's no fix at all.


---
In interviews, Angelakos has name-checked his wife as playing a huge part of why he's still on Planet Earth. The New Jersey-born, Brooklyn-based singer, who for all intents and purposes is Passion Pit, has suffered depression and bipolar disorder, which disrupted touring for the band's second album Gossamer, and, according to Angelakos, has disrupted his life to the point where suicide was an option.
Back around 2006, when he was in college in Boston, it was love that inspired Angelakos to write a few songs and self-release them as an EP. Those songs attracted fans and fellow musicians and a band called Passion Pit—the lusted-up nickname for America's drive-in theaters—was formed and immediately shot to local, then national acclaim. Within two albums, Passion Pit sold out Madison Square Garden; record No. 3, Kindred, is the kind of sonically florid and energetic album to keep Angelakos filling such enormodomes.
Kindred is a subject under close scrutiny in these days of holographic relationships on so-called social media. The album cover shows a retro family dinner scene with a young boy in sharp relief while everyone else is blurry and in the background. The boy has his back turned away from the convivial scene, as if he's not a part of it. Just who are our kin has always been a question; after all, even before the 20th century breakdown of the family group, many people dreaded being anywhere near their kinfolk. (Hello, Lizzie Borden.) So it is that we find kindred spirits as best we can and sometimes we get lucky.
All of this back story leads to … a dance pop album? Well, that's the surface of this 10-song set, which Angelakos both wrote and produced. With his original bandmates long gone, the players on this record are newcomers: bassist Aaron Folb and guitarists Giuliano Pizzulo and Ray Suen—all of whom are credited with adding the synthesizers dominating Kindred's sound—and drummer Chris Hartz, who's been around Angelakos for a couple of years now.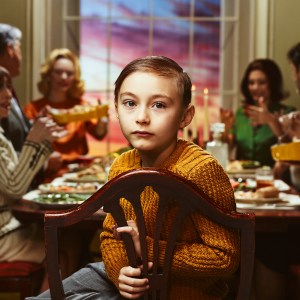 It is a highly produced record, with as much gloss and glitz as anything in mainstream pop. It's straightforward enough: verse-chorus punctuated with utterly spot-on beats for the feet and precision-timed propulsive breaks for spontaneous arm waving. It's candy-coated and bubblegum tacky; but it's also deeper: despair gone desperate—dance transcendence as a short-term fix that's no fix at all. None of which is a bad thing, it's just one thing, and overall Kindred's as brilliant as it is mind-boggling.
If Kindred has a downside, it is a manic monotony to be so Up. So much so that the quiet-ish, slower songs—like the swooning lullaby "Dancing on the Grave"—are thrust into sharp relief, and the respite they provide to the rapid-fire upbeatness lends an unwarranted magnificence. But balance is not a point, and Kindred mostly feels like it is teetering on the edge, which doesn't stop it from being a fun, movement feast: tweaky and wiry, "Whole Life Story" has a slapping big beat and "All I Want" a luscious '60s girl group swaggering rhythm.
Having said that, as much as this supersonic palette is infectious, Kindred is a reluctant party album: "Five Feet Ten" is a big, rave-y anthem where Angelakos asks to be both alone, and then alone with his girl. Three-quarters of the way through, the bright and breezy "My Brother Taught Me How To Swim" is punctuated with a shouty catcall of "Hey, get lost!" It's something an older sibling or even fading friend might curtly shout out, and a hard turn for a song that feels cozily nostalgic. It's those details, and sharp, complex emotional turns, which make Kindred as sad as it is celebratory.
"Lifted Up (1985)" simultaneously nods to nascent rave culture and a nation's youth escaping Thatcherite Britain by creating their own underground world, and grandly tells a personal story of hope, as Angelakos chooses to count none but the sunny hours, and hang on tight.
Passion Pit performs at Kings Theater, May 11. 
[youtube https://www.youtube.com/watch?v=YeINWQDg7zg&w=560&h=315]