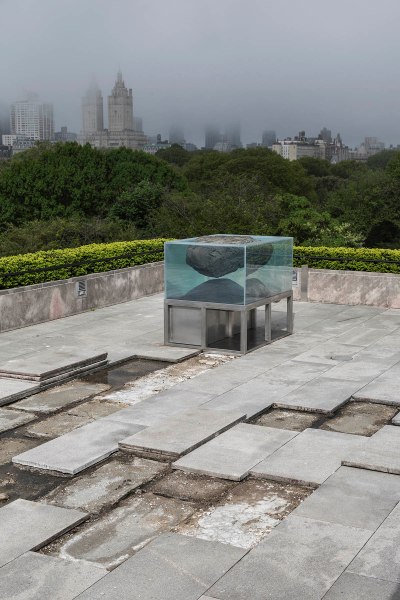 If you walk out onto the roof of the Metropolitan Museum and think you've stumbled upon a construction site, or perhaps an archaeological dig, you have—in a way.
French conceptual artist Pierre Huyghe has transformed the serene rooftop garden and exhibition space into a controlled experiment of sorts, upturning cement slabs to expose the dirt and cement underneath, and installing a massive aquarium filled with a giant boulder of Manhattan schist and a slew of tiny creatures. The tank is slowly leaking water into the ground below.
The construction of intricate ecosystems with actual biological organisms is Mr. Huyghe's bread and butter. "The fact that I do not know what will be the evolution, the change, the transformation, is what I'm interested in," the artist told the Observer amid buzzing bumblebees on the Met's roof garden—a happy coincidence since they are native to the garden, and not the handiwork of Mr. Huyghe.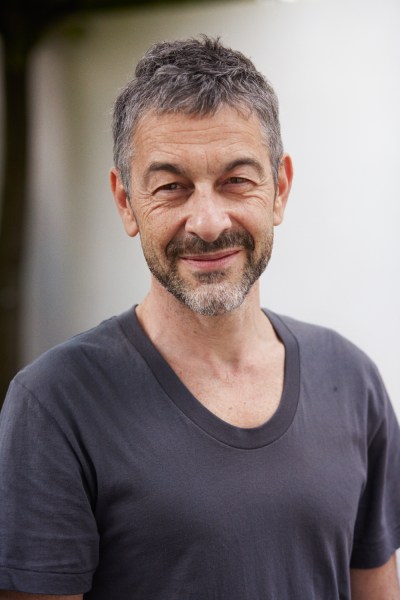 The Parisian-born-and-based artist, who now shows with Marian Goodman Gallery, is the winner of the 2002 Hugo Boss Prize, and has had solo shows at the Tate Modern, the Dia Center for the Arts and the Guggenheim, among others. But it was perhaps the artist's 2012 installation at the Documenta art exhibition in Germany that attracted the most attention. Its elements included a painted and unleashed dog, a sculpture of a reclining nude that featured a beehive, an assortment of poisonous plants, and marijuana. The project was partially recreated for his retrospective at the Centre Pompidou in Paris and the Los Angeles County Museum of Art.
In his review of that show, critic Ben Davis called it "maze-like" and "somewhere between an adult theme park and that dream where you show up for the final exam but realize you haven't studied." Frieze magazine said the artist's work explored "Postmodern brain twisters" and Randy Kennedy of The New York Times simply dubbed him "intellectually formidable."
"Every project with Pierre is a network of scientists, forensic anthropologists, entomologists, production designers, plumbers, aquarium manufacturers. It's a vast crew that works to put things together in stages," said associate curator Ian Alteveer to the Observer.
There's beauty in Mr. Huyghe's opaque, minimalist, and philosophically challenging oeuvre. His works are often presented as a set of what feels like psychological tests. Information is never handed to viewers on a silver platter, and sometimes it's totally absent all together. The fact that his retrospective was filled with poisonous plants and insects could have been easily missed—unless you read the fine print on the exhibition pamphlet.
At the Met, a complex filtration system has been built around the very quiet, subtle work. Certain elements of the insallation are totally hidden, but complete a necessary circle with the more visible yet uncontrollable variables he's tossed into the mix.
---

Information is never handed to viewers on a silver platter, and sometimes it's totally absent all together.

---
The artist described the ancient animals he'd chosen for this specific piece, lamprey and triops, both organisms that originated millions of years ago. "They either sleep, or reproduce, or they swim. You say to me, 'Do you know what they're going to do?' I don't know if they're going to go on the right or on the left, or if this one is going to reproduce with that one, or if they're going to come out if it's sunny or gray, but what I do know is that they will reproduce. What I know is that they're moving stones. There's an evolutionary pattern that I know and I choose them for that," he said.
The aquatic organisms aren't the only ones to be found on the roof. Mr. Huyghe tells us that the leak from the aquarium has released small worms into the exposed dirt from the lifted panels. If you look carefully into the pools of collecting water in between the mud and sprouting weeds, you might spot one. Will they thrive? Will they become a food source for visiting birds?
"If there is uncertainty in something, I become myself a witness," he explained. "It's an evolving organism… And I'm getting more and more interested in ritual rather than exhibition. But it would be too pretentious to say that it's a scientific experiment, because science is very precise."
"There's a wonderful tension in Pierre's work," said Mr. Alteveer. "He's always interested in chance, and preserving what was there, balancing this really deliberate incursion with something that is natural and pre-existing."
He's known for drumming up emotional reactions. Perhaps the best example of this is his film The Third Memory, a moment-by-moment reconstruction of the famous bank robbery portrayed in the 1975 film Dog Day Afternoon, for which he recruited its real life criminal, John Wojtowicz, to recount and direct actors to restage. The two-channel film juxtaposes the Hollywood version with the one told by Mr. Wojtowicz some 25 years later, and the subtle differences in his unscripted retelling run their own unpredictable course.
Flash forward to his Roof Garden Commission, and Mr. Huyghe has similarly concocted a side-by-side view of a fantasy world of his orchestration alongside the very real history of the lamprey and triops, as well as the Met's Roof Garden space.
Since 1998, the Roof Garden has been exhibiting single-artist shows, featuring work by Ellsworth Kelly, Claes Oldenburg, Jeff Koons, Roxy Paine, and Doug and Mike Starn. Then, in 2013, the museum began a new series of site-specific commissions for the garden, with works by Imran Qureshi, Dan Graham and now Mr. Huyghe.
On the concrete slabs the artist has removed can be seen the faint remnants of Mr. Qureshi's floral paintings in splashes of red paint. During the exhibition preview, Mr. Alteveer noted that bamboo shoots from the Starn Twins' 2010 installation Big Bambú were found, as well as mirrored shards from Dan Graham's 2014 show.
But the beauty of Mr. Huyghe's controlled experiments is in just how much he is able to get away with. He literally tore up the Met roof garden's patio.