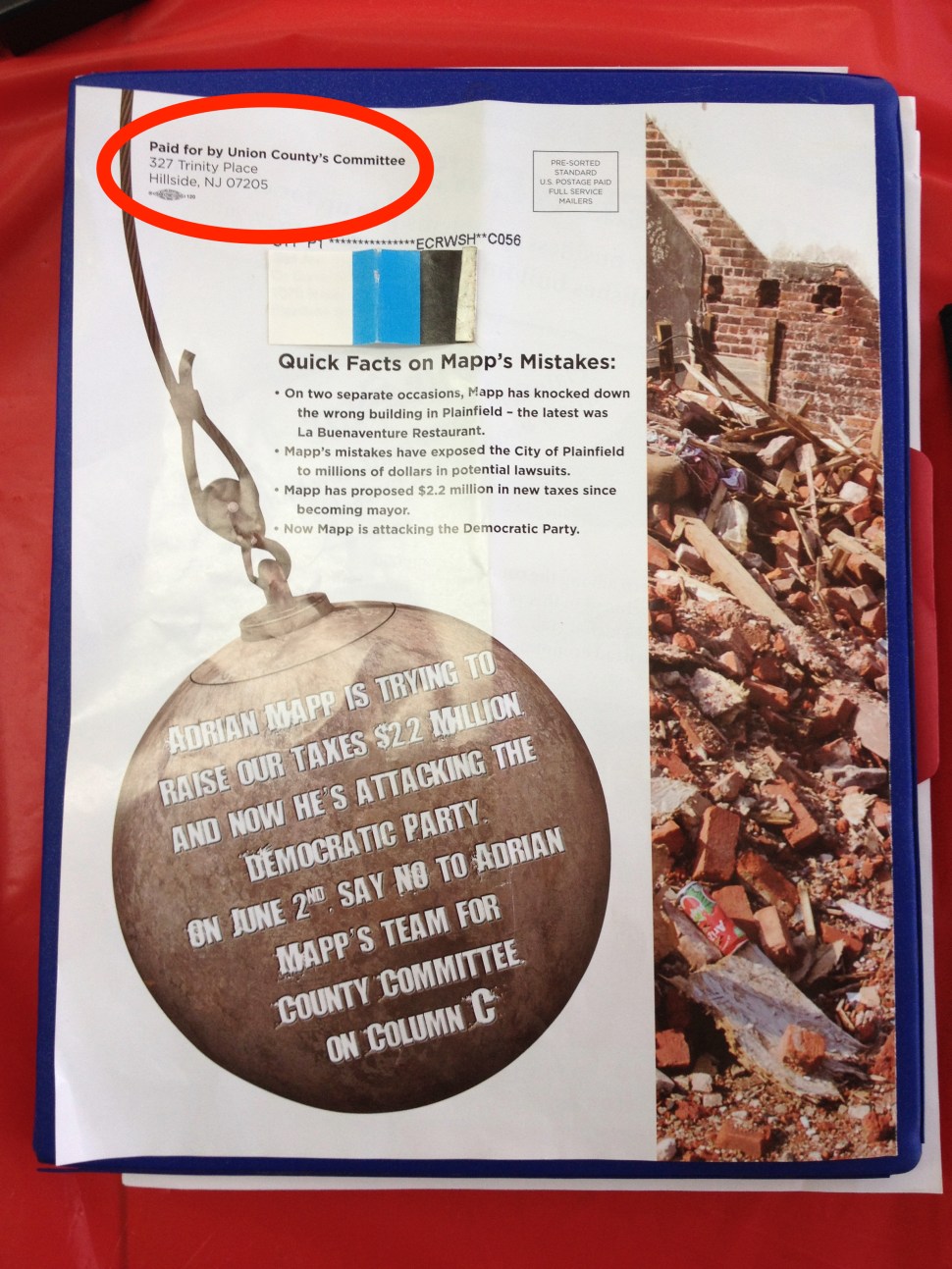 In a local council election against the larger backdrop of a fight for Plainfield Democratic Committee seats, Mayor Adrian Mapp and his allies said they intend to reach out to the state Attorney General's Office and the Union County Prosecutor's Office demanding an inquiry into the actions of the County Board of Elections administrator.
They also want the resignation of administrator Dennis Scott Kobitz, who promptly shot back that Mapp and company are full of it, and charged them with scrambling the addresses of him and his brother.
Mapp, for his part, dug in.
Officially in charge of maintaining voting machines and counting absentee ballots, Kobitz owns property at the mailing address of the home base of an organization self-identified as "Union County's Committee." The so-called committee distributed negative campaign mailers allied with Assemblyman (and Union County Democratic Chairman) Jerry Green and his local team. An outraged Plainfield mayor said he will not let the incident stand.
"This was done solely to benefit the "Column A" Democrats, and such practice will not be tolerated," the mayor said. "We will make every effort to ensure that not only the people in Plainfield, but those throughout the county, are aware of the type of unethical behavior going on."
The mailer in question could be traced to 327 Trinity Place, Hillside, NJ 07205. "To our knowledge, this 'committee,' does not exist, and is an attempt to violate Election Law Enforcement Commission laws (ELEC)," said the mayor, who sees a violation of state ethics regulations that prohibit government employees from this type of political activity, and a deliberate effort to deceive the voting public of Plainfield.
Kobitz absolutely denied involvement.
"I had nothing to do with any mailer," said the administrator. "That is also not my address. It is my brother Arthur who owns and lives at that address. I live on Liberty Ave., Hillside.  Please check the fact with the tax board and you will see it is him not me. I am not aware of any investigation on this but would gladly welcome any. Once again, people should check their facts before publishing such lies."
Mapp pointed to 2014 tax records, which list Arthur and Dennis Kobitz as the owners of the address.
"We go by the record," the mayor said.
2015 records show just Arthur Kobitz as the owner.
Councilman Cory Storch and Barry Goode, who are running against Green's Column A candidates, in the June 2nd election, likewise called for a full investigation of both Kobitz's and county records, and demanded Kobitz's resignation.
"This is yet another clear case of Union County Democrats, like our opponents living by one set of rules but not the ones everyone else lives by," Storch and Goode declared in a joint statement. "To involve oneself in a city primary election that politically benefits our opponents, and using his home address to do so while clearly violating state ethics laws, shows that Mr. Kobitz, Jerry Green and company cannot be trusted to be honest with the public. This behavior is a case of playing dirty politics at the expense of the voters, and Plainfield residents definitely deserve better from their public officials."