Celebrated poet, writer, actress, and civil rights activist Maya Angelou's private collection of African-American art, most of which has never been shown publicly, is heading to auction at Swann Auction Galleries on September 15.
The collection of nearly 50 artworks, including pieces by Romare Bearden, Elizabeth Catlett, Melvin Edwards, and Jonathan Green, was directly consigned by Angelou's estate to auction house's African-American Fine Art Department. Angelou's family are "happy to have the art that she loved, bring joy and inspiration to the lives of others," according to a statement by the author's son Guy Johnson.
Alexandra Nelson, Swann Auction Galleries' communications director, said Angelou's collection included some very significant pieces.
"Dr. Angelou had a real interest in African culture, and her collection reflects that," Ms. Nelson said. "We're the only auction house that focuses on this area so intensely. Because we have regular auctions, and because Dr. Angelou's collection was of African-American fine art it, was the right fit."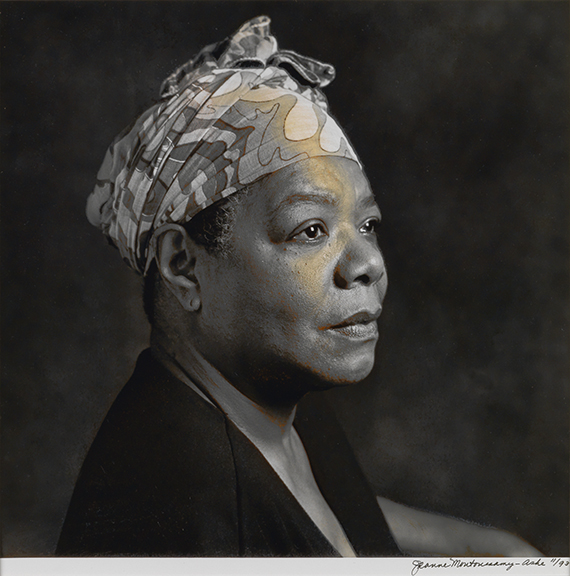 One of the pieces is expected set a new auction record. Faith Ringgold's Maya's Quilt of Life was commissioned by Oprah Winfrey in 1989 as a 60th birthday gift for Angelou, and has a pre-sale estimated of $150,000 to $250,000.
Nigel Freeman, director of the African-American Fine Art department at Swann said the piece was very special to Dr. Angelou, who hung it in her Harlem home.
"It encapsulates Dr. Angelou's interest in art that's a narrative about representations of women—often strong women like herself—and the artist," Mr. Freeman said.
It is the first time one of Ms. Ringgold's story quilts has ever gone to auction.
Ms. Nelson said the quilt, which measures six-square-feet, includes excerpts from Angelou's Just Give Me A Cool Drink of Water 'Fore I Diie, Gather Together In My Name, The Heart of A Woman, and I Know Why The Caged Bird Sings.
"They're iconic passages from Dr. Angelou's writing and the imagery responds to her as a person," Ms. Nelson said. "It's the piece we think says the most about the sale."
Another work from the collection expected to draw attention to the auction a the 1962 painting by John Biggers titled Kumasi Market.
Mr. Freeman told the Observer that the painting of a Ghanaian market place was gifted to Angelou by the artist after they met during a visit to the country after its independence. He cited it as another example of Angelou's continued interest representations of women.
The auction preview will be open to the public beginning September 8.