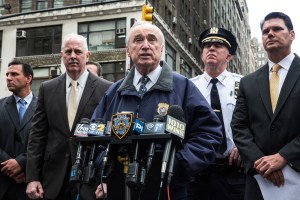 The man suspected of committing a series of hammer attacks this week was shot by police near Penn Station Wednesday morning, police commissioner Bill Bratton said at a press conference near the scene.
The man, whose identity was confirmed by police as David Baril, 30, is suspected in connection with assaulting four people in Midtown during a 6-hour period earlier this week. According to the New York Times, he has been taken to Bellevue in critical condition.
However, police investigators said today that they believe they have the man responsible for the spree of assaults after a bloody standoff with police earlier this morning.
The suspect was shot by police at around 10 a.m. near Penn Station, at W. 37th St. and Eighth Ave, after attempting to strike a female police officer with the claw of the hammer.
Two uniformed officers were patrolling the area when they recognized the suspect from surveillance videos and facial recognition technology. When they attempted to approach, the suspect responded by pulling a hammer and swinging it towards the female officer. The male officer allegedly used four shots to subdue the suspect. Witnesses told the Times that the officer fired from about 10 feet away.
The scene quickly became inundated with police officers and emergency workers.
Mr. Bratton confirmed that the police have video surveillance of the shooting and are confident they have the right man in connection with the hammer attacks.