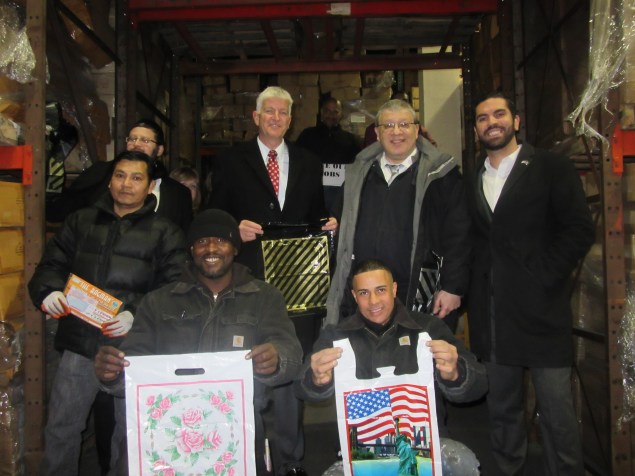 A new poll found that 63 percent of adult New Yorkers oppose the 10-cent surcharge on grocery bags proposed by top members of the Council's Progressive Caucus—including 51 percent of self-described liberals, 74 percent of blacks and 67 percent of those who identified as lower-middle or lower class.
The NBC4 New York/Wall Street Journal/Marist Poll found opposition to an extra impost on carryout sacks across all incomes, religious affiliations and ethnicities, with strongest opposition among nonwhites and those earning less than $50,000 a year. The only groups found to support the legislation, put up by Brooklyn Councilman Brad Lander and Manhattan Councilwoman Margaret Chin, were Manhattan residents and those who identified as having "no religion"—with 51 percent and 52 percent of each demographic favoring the fee, respectively.
And most people seem to have their minds made up: among all constituencies polled, only one to three percent reported being undecided on the legislation.
Mr. Lander's office argued that the benefits of his bill outweigh the drawbacks, and suggested the populace would eventually get used to the fee, as residents of other cities with similar measures have.
"Confronting climate change and reducing waste will require change on all of our parts," a spokesman told the Observer. "In city after city, around the country and around the world, people who were initially resistant to bag fees have very quickly adjusted and overwhelmingly started to bring reusable bags—precisely to avoid paying them. In fact, that's why this is such effective public policy.
The councilman, who represents the largely affluent Park Slope neighborhood, has often noted that New Yorkers use 9 billion plastic grocery bags a year, and that the sacks clutter parks, cling to trees, accrue into islands in the world's oceans, strangle marine life and cost the city some $12.5 million to dispose of annually.
They have also rejected efforts from bag manufacturers and distributors to characterize the surcharge as a "tax," noting that extra dime would go into store owners' pockets not the public coffers.
The proposal has attracted criticism as elitist: Staten Island State Senator Diane Savino derided the idea on her Facebook page as a "half-assed, feel-good limousine liberal approach." A New York City Housing Authority tenant leader also attacked Councilwoman Helen Rosenthal, the wife of an investment banker, for leading school children in a cheer claiming their parents could afford the fee at a recent rally in support of the proposal.
Brooklyn Councilman Rafael Espinal has also argued the plan would destroy jobs at bag warehouses in his low-income district.
Despite Mr. Lander and Ms. Chin's calls for "bag fees by Earth Day" last month, the bill has failed to gain traction in the Council and Mayor Bill de Blasio gave it at best a lukewarm response in his anti-trash OneNYC plan.
The survey was conducted over landlines and cell phones with 713 New Yorkers between April 29 and May 3.
Updated to include comment from Mr. Lander's office.