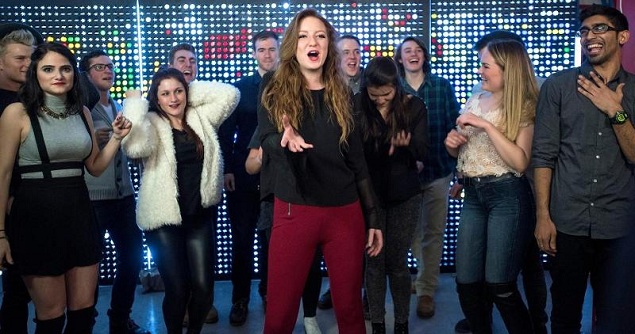 On the heels of the successful feature film Pitch Perfect, and just as its sequel hits theaters, comes Sing It On, POP TV's entry into the world of competitive a capella singing.
The series follows five collegiate teams vying for first place at the International Championship of Collegiate A Cappella (ICCA) Finals. The teams, represented by three colleges, include: AcaBelles (Florida State University), All Night Yahtzee (Florida State University), No Comment (University of Illinois), Nor'easters (Northeastern University), and Pitch, Please! (Northeastern University).
"We started working on this just as the first Pitch Perfect film came out," explains Jennifer O'Connell, Executive Producer of Sing It On. "But we didn't know then that there would be a sequel. When we found that the sequel was happening that amped up the excitement about this even more. We knew it would be a tight turnaround to get the series ready to debut just as Pitch Perfect 2 was hitting theaters, but we were determined to do it and now we have."
The first hurdle in the process was picking the teams to highlight on the series. "We wanted a nice cross section of talent that included who we thought might have a chance to make it all the way to the finals, but we also knew that not all of the teams would get that far," admits O'Connell. "In light of that, we went after people who had interesting stories. We wanted to include teams that have won in the past and who could possibly win again as well as teams that were considered underdogs. It was terrifying and exciting all at the same time."
O'Connell and all involved had to remind themselves at times that they weren't dealing with professional entertainers per se. "Yes, these are artists and performers, but they're also also kids who are students with a lot going on in their lives," says O'Connell.
At this point, O'Connell is quick to say that their youth didn't diminish their commitment to their work and the series in any way. "All of them took this very seriously and they were really easy to work with. Knowing how hard it can be when you're that age, they were very responsible. Their work ethic was quite surprising. I have to admit that initially I thought, 'oh God we're going to be shooting college kids all over the country. It's going to be like herding cats,' but you know what, it wasn't chaotic at all because every one of them was so devoted to what they're doing."
Having cameras following the students was a bit awkward at first, reveals O'Connell but the newness of that worn off pretty fast. "I think that's because if you think about it, having cameras around is a lot less scary than getting up on a big stage in front of an audience. We tried to embed in a way that wasn't too intrusive and that worked because after a short time all of them became really comfortable having us there."
While the performances play a large part, O'Connell insists that it's what happens off stage that makes the series really shine. "Seeing them sing is really exciting and fun, but we spend the least amount of time with them performing. We spend more time showing they got where they are. That journey is really exciting and the performances are great pay-offs to all of their stories."
O'Connell realizes that there's a multitude of shows for viewers to choose from now, but she insists that Sing It On offers a unique experience, saying. "You know, my feeling is that there's so much on TV right now that's about darkness and dark heroes and things like that. This is something that kind of goes against the grain of that. It makes you feel good when you watch what these kids are trying to achieve. And, because it's a competition, you're rooting for them as well when they're competing. Given all of the content out there that's sort of negative, this is almost like a palate cleanser."
The a cappella scene may be gaining national attention, but O'Connell wants everyone to remember that, "There aren't scholarships for this. They're aren't cheerleaders on the sidelines; it's not like big money athletics. In fact, some schools are cutting music programs like this, so it's important that we support what these kids are doing. We need to have music and arts in schools so we have to do what we can to keep attention on these programs."
The pride O'Connell feels for this project is on full display as she says, "I've made a lot of reality shows, but when I watched the first cut of this I thought, 'oh this is why I make TV.' You go through this whole process putting the pieces together and you're not sure how it's going to affect you when you see the finished product. When I was watching this, I had this wave of emotion come over me that's hard to find these days. This is a show about people aspiring to do something and being proud of what they do and working as a team. Its sounds soft but it's not, it's meaningful. These kids put their heart and soul into this and to be able to capture that is really special. I really think there needs to more shows like this."
When asked about her personal singing style, O'Connell laughs as she reveals, "Without a doubt, I'm really just a 'car singer,' and my jams are in the coffee house rock genre. I could never do what these kids do and I know that. They really are special."
Sing It On premieres Wednesday, May 13, at 10pm et on Pop, and moves to its official time slot on Wednesdays at 9pm et beginning on May 20.