If hip-hop is the right musical dialect for the biography of Alexander Hamilton, born poor in Nevis; orphaned at 13; warrior-revolutionary/author by 32—and box office receipts for Lin-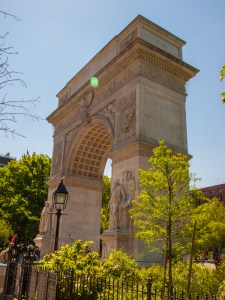 Manuel Miranda's Hamilton, currently up at the Public Theater, suggest that it is—then surely, the proper idiom for the relationship between Robert Moses and Jane Jacobs is opera.
Imperious and obtrusive, an Oxford and Yale-educated son of the Upper East Side, Moses, from his unofficial position as 20th-century New York's master builder, communicated his vision for the city in bold, often scarring gestures: bridges (the Throgs Neck, Bronx-Whitestone, Henry Hudson and Verrazano Narrows); highways (the Cross Bronx Expressway, the BQE, various parkways on Long Island); and urban renewal (tenements replaced by "towers in the park"). When Jacobs arrived in New York from Scranton, Pa., in 1934, she carried, as far as credentials went, a certificate from a secretarial school. What influence Jacobs gained she got by writing—mostly in praise of neighborhood density and diversity in preference to sterile top-down dictates—and through grassroots organization centered in her smoky Greenwich Village apartment.
There, aided by not a few martinis, concerned citizens mounted an unlikely—and ultimately successful—opposition to Moses' plans, in the 1950s and '60s, to run highways through Washington Square Park and Soho, and to raze 14 blocks at the center of the Village. It was one of his few defeats. "There is nobody against this," a crestfallen Moses insisted of the thwarted Washington Square roadway. "Nobody, nobody, nobody but a bunch of, a bunch of mothers."   
In Jacobs, Moses found the immovable object to his unstoppable force; in Moses, the author of The Life and Death of Great American Cities located the Sturm to her Drang. The pair, The New York Times once noted, made "almost perfect antagonists." And that their conflict is relatively little known owes perhaps largely to its omission from Robert Caro's seminal Moses biography, The Power Broker. Caro's manuscript contained an entire chapter devoted to Jacobs, but it was cut from the published version, whose nearly 1,300 pages challenged the capacities of the printing and binding operations at Random House. Jacobs, who called Moses' Greenwich Village project a "monstrous and useless folly," and rejected arguments in its favor as sheer "piffle," did not even get an entry in the index of the final draft.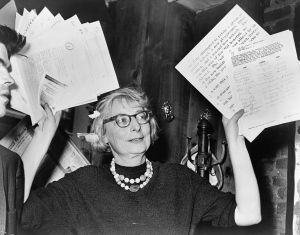 But a new opera, as yet untitled, will seek to bring the brouhaha—and the divergent views on urban development that gave it life—nearer center stage. Directed by Joshua Frankel, with music by Judd Greenstein, the Untitled Opera About Robert Moses and Jane Jacobs began to gestate several years ago, when a friend sent Mr. Greenstein, a professional composer, a copy of the journalist Anthony Flint's book, Wrestling with Moses. The friend, a writer, had annotated the book—a recently published account of the Moses-Jacobs contretemps—suggesting that the drama might produce good opera.  
At the time, Mr. Frankel, an animator and visual artist, and Mr. Greenstein were at work on a short abstract film, Plan of the City, about the flight of New York City's architecture into outer space and its resettlement on Mars. The men, who had known each other since attending Williams College together (Mr. Frankel is 35, Mr. Greenstein 36), were pleased with the project, and were looking for a more substantial venture on which to collaborate. The Moses-Jacobs conflict seemed a likely seed for a follow-up, though they have lately come to regret the title of their film—a fanciful, affecting piece interweaving music, collage, animation and live actors—as it seems to them that it would have been an apt one for the opera.
On a bright, warm afternoon in mid May, the Observer met Mr. Frankel near the southeastern corner of Washington Square Park, close by LaGuardia Place. Thin and pale-skinned, he wore an untucked gray-and-white-striped polo shirt, slouchy blue khakis, close-shorn hair and a long-ish Brooklyn bramble of a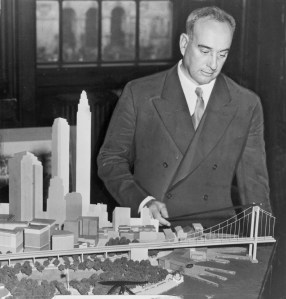 beard. On pathside benches and on the green lawns, undergraduates arrayed themselves, alternately leafing through textbooks and glorying in the relative undress that rising temperatures afforded. From somewhere near the Arch, a saxophone squelched out a line of brassily optimistic flatulence.
"This is a story that is important now," Mr. Frankel said of the opera, which had just finished several days of scene presentations at the 3-Legged Dog Art and Technology Center in the Financial District—meant both to whet audience appetites and to help drum up the $300,000 that the producers estimate they will need to see the complete show open next year. He squinted up to where the pinkish monument of New York University's Bobst Library rose across the street, and beyond, to the "superblock" NYU housing structures of Washington Square Village and University Village, which went up in the '50s and '60s in conjunction with Moses' urban renewal plan for the neighborhood.
In 1957, four years before Bob Dylan played "House of the Rising Sun" at his first major New York City gig, at Gerde's Folk City, on West Fourth Street, an article in the Times about NYU's Washington Square expansion bore the subhed "Bohemian Flair Fades In Village," and went on to mourn the destruction of a brownstone that had housed artists and writers including Stephen Crane, Willa Cather and Theodore Dreiser. Rooms lit by candles stuck in empty wine bottles were growing fewer, air-conditioned penthouses more common; "Washington Square is inevitably becoming a campus for New York University … seems certain to be bisected noisily by the extension of Fifth Avenue through the park … Though the road may not be the wide thoroughfare that Robert Moses wishes."
Like Plan of the City, the opera incorporates animation. Projected on backdrop screens and played on monitors attached to large lightweight jigsaw blocks, which actors shift and repurpose over the course of the production, the images can be abstract—rows upon rows of dripping window air conditioners, running in reverse. Others depict historical infrastructural projects whose scale makes them impractical for physical representation on stage. During one sequence, a dredger spews sand, recalling Moses' successful initiative, in connection with the making of Jones Beach State Park, to raise substantially the elevation of several barrier islands. Another shows colorful cars streaming beneath Washington Square Arch—Moses' defeated proposal—which, Mr. Frankel noted, would have created a Fifth Avenue South, delivering blocks of pricey addresses to would-be developers.
---

'With Moses, you had someone who wasn't afraid to redraw the map entirely to bring about his visions, which was both horrifying and spectacular.'—director Joshua Frankel

---
"With Moses," said Mr. Frankel, who grew up in Hell's Kitchen and spent many hours as a child in Washington Square Park, "you had someone who wasn't afraid to redraw the map entirely to bring about his visions, which was both horrifying and spectacular." Moses' view of seemingly permanent elements as malleable was, in Mr. Frankel's and Mr. Greenstein's reckoning, accurate. "For me, growing up in New York City, there was a moment when I began to realize that things were not always the way that they are now," Mr. Frankel said. "That's kind of the first door toward realizing that you can affect what goes where."
The question of what the city is or ought to be, for whom it is being made—or remade—was much on the creators' minds as they chewed over works of journalism and history, and sifted through archival material over the last few years, imagining what shape a Moses-Jacobs opera might take, and how it could be made to resonate with modern audiences. "NYU's control of real estate in this neighborhood creates a whiff of 'top-down' if care isn't taken to engage their community in develoopment decisions," Mr. Frankel said, treading carefully around the issue of the school's more recent expansion efforts, which have inflamed the tempers of many Village residents. (Not least, members of the Greenwich Village Society for Historic Preservation, which is in the midst of a lawsuit, together with a coalition of other groups, challenging the city's approval of NYU's 20-year, 2-million-square-foot construction plan.) "I feel like what has happened, in some ways, has been a series of violent maneuvers to try to sanitize Washington Square Park," Mr. Greenstein added, somewhat less diplomatically, when the Observer reached him by phone in California some days later.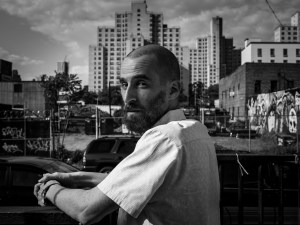 But such issues, of course, have resonance beyond Greenwich Village. An item last February in the Daily News declared that "new megaprojects" would "remake swaths of the city": "The Master Builders are back." On the Lower East Side, a 1.9-million-square-foot residential and commercial development, Essex Crossing, is due to rise. Pacific Park, in Downtown Brooklyn, and Hudson Yards, on the Far West Side, have sought to rebrand gritty neighborhoods with slick, big-box condos to appeal to the city's increasingly wealthy citizens, not infrequently at the expense of existing residents.   
Still, Mr. Greenstein, who grew up around the corner from Washington Square Park, in a Mercer Street apartment where his father still lives, is reluctant to get too wistful about things. "I saw enough of the bad side not to be totally nostalgic for the old New York," he said. "The Washington Square Park of my youth was very much the park of drug dealers. You steered clear of there after a certain hour if you didn't want to be caught up in a particular kind of trouble." It was no longer quite the Village of Jane Jacobs and Bob Dylan, let alone of Stephen Crane. "But it was still functional as a neighborhood in a lot of ways. You had the hardware store and the shoeshine guy and the ice cream store. It wasn't quite the megamall that it's become."
We walked west with Mr. Frankel along the southern limit of the park. To go with his animation and Mr. Greenstein's music, they had invited the interdisciplinary artist Will Rawls, another friend from Williams, to handle choreography, and the Pulitzer-winning poet Tracy K. Smith to write the libretto. Each element, Mr. Frankel said, bore some portion of the "narrative load," so as not to overburden any one artist with exposition. Fragments of dance that might initially appear random would recur over the course of the production, evoking Jacobs' "ballet" of the street, whose apparent chaos rose to the level of physical poetry with extended observation. Actors would assemble and disassemble the movable blocks on stage, suggesting the role of city-dwellers in creating and breaking down their environments, a theme echoed in musical refrains. During scenes concerning Jacobs, animated sequences would show street-level perspectives, while those focused on Moses would look down on the city from godly heights.
We headed north and west again, passing through sun and beneath shade trees on brownstone blocks. Diners emerged from Joseph Leonard, the Beautiful People's bistro of New American fare on Waverly Place, while others, walkers in big sunglasses, made for the retail strip on Bleecker, where outlets of Marc Jacobs, Michael Kors, Burberry, Ralph Lauren and sellers of high-priced perfumes awaited. It was difficult to avoid the fact that for all of Jacobs' liberal cache, her preservationist efforts had contributed to making the Village the prohibitive enclave that it is today.
The Untitled Opera About Robert Moses and Jane Jacobs, Mr. Frankel said, was not a tale of good and evil, or of right and wrong. Though it dispensed with trappings that laymen often associate with traditional opera, the production would retain a theme common to the genre's soapy televised cousins: a love triangle. Moses and Jacobs, he explained, were radically different suitors, competing for the hand of the city that they loved. What the substance of that love consisted of—the extent to which it was bound up in projections of self—was difficult to say. But then, it always is.
We had reached Jane Jacobs' old townhouse, a narrow, red brick building with white trim on Hudson Street. It took us a moment to recognize where Mr. Frankel had led us. In the large front window of Jacobs' former home was a banner bearing the silhouette of an enormous giraffe, the logo of the real estate brokerage that had lately taken up residence there.