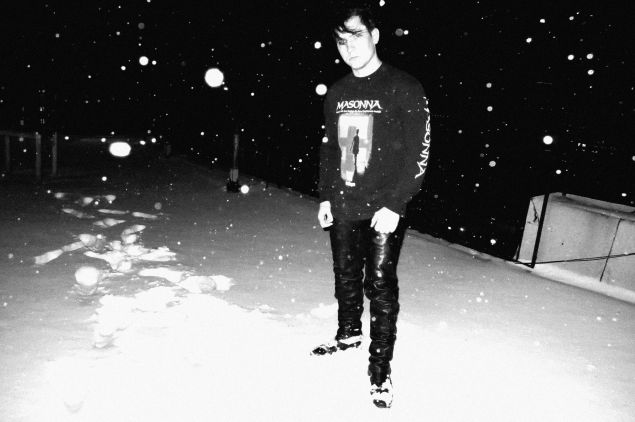 "There's this immense thrill to destroy yourself when you see [Niagara Falls]. I think it's an attractive excitement, a kind of fear that stimulates the imagination in a way that's dangerous. When you're there, it's fucking terrifying."
---

'…It's not so much for me noise vs. music, it's more like trying to reconnect electronic music performance with some kind of raw, intuitive physicality.'

---
Dominick Fernow is discussing the inspiration for his latest LP, Frozen Niagara Falls, a double album that intertwines explorations into the intellect as well as the surrounding world, but this explanation could just as well describe the entire oeuvre of his work as Prurient. Since 1998, and too many albums to count, Fernow has honed a voice that is impressively singular even for the tiny dark corner genre he inhabits. And his latest release, out this month on Ontario's Profound Lore, may be his greatest achievement yet.
Fernow and Profound Lore head Chris Bruni had been discussing putting out Frozen Niagara Falls since the album began incubating in 2013. "I met Chris for the first time when I had the Hospital [Records] store, when it very first opened in 2007. He had come in, and his label had already been going on, but it was somewhat newer. We briefly met then. So we actually knew each other for a long time, on a professional level," Fernow recalled.
Bruni immediately reached out to Fernow after Hydra Head Records, which Prurient was signed to at the time, went out of business in 2012. "We actually [got] into a really long conversation that went over the course of several years about when and why and what to do, and what the record would be and when it would be right."
After several releases of ferocious, unpredictable noise, melodic synths feature prominently on Frozen Niagara Falls, Fernow's first album recorded since moving back to Greenpoint, Brooklyn. Pummeled and distraught, they strengthen the album's grim, manic aura—like on "Dragonflies Sew You Up," where guileless electro-harps get crushed by the tyrannical sound of a muddy motorik kick drum. "I don't necessarily have a purposeful plan in terms of making a distinction between [melody and noise], in terms of how a track is started," Fernow says. "I don't usually begin with one or the other, but I find that the mix of the two [elements] creates some kind of paradox, in the sense that you're accustomed to hearing noise in some sort of atonal manner."
While remaining noisy, Frozen Niagara Falls gradually sounds more wintery and aerial over the course of listening. By slowly steering the album in this ambient direction, Fernow conjures a mirage, reiterating his cerebral outlook. The instrumental "Jester In Agony" is a conduit for the ambient direction. Distortion and feedback are absent, the song's primary component a deep-register, fairly stagnant chord progression. It's an epic track, an interesting contrast to the lo-fi, sickly looking album trailer that it soundtracked.
---

'There's this immense thrill to destroy yourself when you see [Niagara Falls]. I think it's an attractive excitement, a kind of fear that stimulates the imagination in a way that's dangerous. When you're there, it's fucking terrifying.'

---
"Greenpoint," one of the later tracks, best captures this ambience. Acoustic guitars dominate the first minute, eventually dissolving against a mid-pitched hum; overheated industrial rhythms play ephemerally, and then Fernow sporadically soliloquizes in a monotone static-drenched drone for the remainder. The song's aquatic imagery is key: "Didn't you hear they found titanium in the ocean? / And around Sheepshead Bay where it's hard to breath / They're wearing masks / Some even take off their clothes / But cover their mouths with conch shells / Others say they're just doing it to get high / Wallowing through heavy waves / Eroding."
"Water is a kind of contradictory element, in the sense that it's the building block of life, but it's also unlivable for us," Fernow explained. "It's this kind of place that we need, but we can't really go and we can't really exist in. The fear of water is very huge, but also this kind of attraction to the mystery of water."
While Frozen Niagara Falls embraces contradictions—like the melody/noise duality, the necessity, fear and attraction to water—it also embraces congruities. By linking the mind with what Fernow refers to as "physicality," a bond of internal/external is achieved. The mind gives Frozen Niagara Falls depth, but, as he explains, Fernow applies physicality in order to attain rawness.
"With electronics, particularly on this record, we're trying to reference and get back to the idea of physicality within music," Fernow says. "So it's not so much for me noise vs. music, it's more like trying to reconnect electronic music performance with some kind of raw, intuitive physicality."
In that sense, the meaning behind the album's title becomes clear. For Fernow, it's a mental catalyst, specifically tantalizing onlookers about demolition of the body; this tandem encompasses both mind and physicality. Frozen Niagara Falls obsesses over destruction, and its human quality (mind and physicality) makes it relatable. Which encapsulates what makes Prurient so special: Fernow shows that humanity can connect with musical discordance.
[youtube https://www.youtube.com/watch?v=3dgFykz0bNo&w=560&h=315]