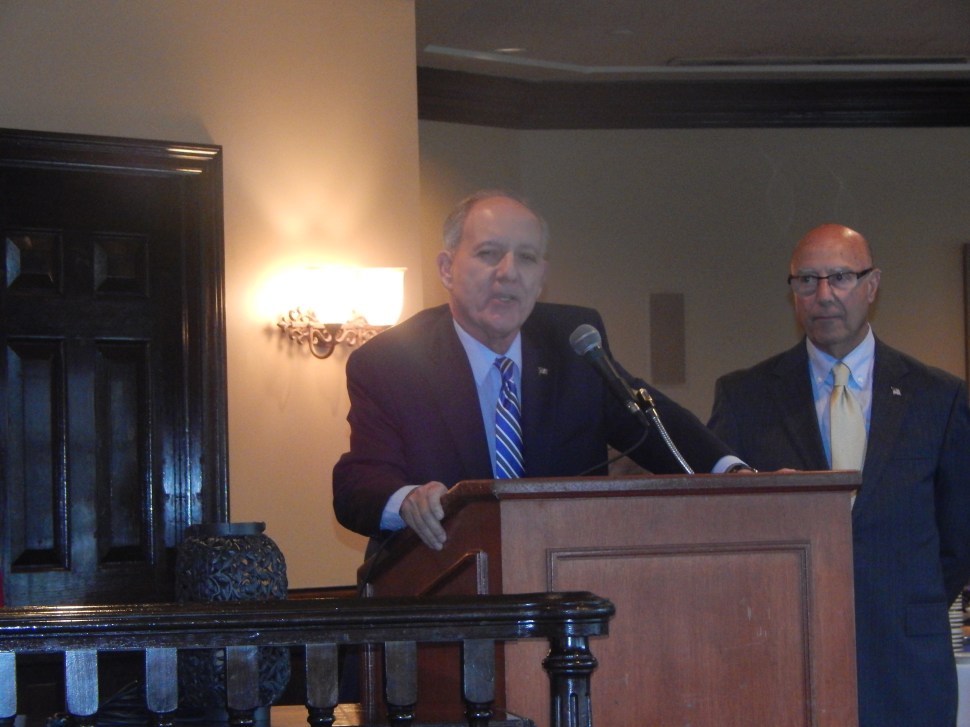 MONROE — A legacy was honored and a torch passed in the wood-panel ballroom of the Forsgate Country Club here tonight, where local Democrats gathered to support mayoral hopeful Gerald Tamburro, the heir-apparent to longtime Mayor Richard Pucci.
"The mayor likes to tell the story that his father was a Joe DiMaggio fan, as I was, and he was a Mickey Mantle fan, as he is," Tamburro said during his remarks at the front of the room. "Trying to follow Mayor Pucci is like trying to follow both the role of Mickey Mantle and Joe DiMaggio. Mayor Pucci, you've left a legacy here to be proud of."
An incumbent of 28 years who Gov. Chris Christie once ruefully described by saying "anybody who has to run in Monroe has to go and kneel at the altar of" the revered Democrat, Pucci announced earlier this year that he would not be running for re-election, citing recent health problems. The announcement came as a surprise to some political observers, who didn't expect Pucci's reign over the Middlesex County town — which observers say under his leadership went from provincial Republican farmland to a thriving suburban Democratic stronghold  — to come to such an end so abruptly.
In his place, the Democratic party has sought to find someone to lead the "transition" from the old administration to new, as they explained tonight — and found him, apparently, in Tamburro, a longtime member of the town council.
"There's a lot of people in the community who might be qualified in one respect or the other, and at the same time think they might like to be the mayor of a community, and that's a wonderful thing and a great thought for somebody, but the reality is that I know better than most I think about what it takes to be a good mayor and run the kind of community we have," Pucci said. "And Jerry has been one of those special people."
Tamburro will join other county organization-backed candidates in this year's election, including the local council, county freeholders, and Assembly representative from legislative district 14, which includes parts of Mercer and Middlesex Counties. In Monroe, the Democratic mayoral candidate will face off against Republican challenger Martin Herrmann, owner of the Hightstown-based Martin Herrmann Investment Advisors and Associates.
The Republican slate held a rally here last night, according to the conservative blog Save Jersey.
But Pucci's departure after over a quarter century at the helm opened not just a door for his successor, but for other hopefuls previous boxed-out by the leading Democrat's sacrosanct status. Tamburro, that is, will also face a Democratic primary challenge in local businessman Charles DiPierro.
"I'm a lifetime resident, and I decided that the tax increases over the years are just getting out of control," DiPierro, who also serves as vice chairman on the Economic Development Commission and chairman of Fire District 1​, told PolitickerNJ about his decision to run. "I felt that I could use my experience and my expertise on analyzing our tax increases and spending."
DiPierro also noted the scandals Pucci has been at the center of over the years, including the time the state comptroller found that Pucci had been paid a series of hefty bonuses in his role as director of the Middlesex County Improvement Authority, as well as the time he was slammed by Christie for blowing through a tax cap imposed by the state legislature in 2010.
"That's really my main goal: if we continue with the current administration then we're going to continue with higher taxes, and there are a lot of residents in our time that are on fixed-income and can't afford it," DiPierro added.
It's not yet clear how contentious a race that primary will become. DiPierro is determined to put up a serious challenge against Tamburro, during an election when residents will find Pucci's name absent from the ballot for the first time in 28 years. And while Tamburro is running with the outgoing mayor's endorsement, that fact still needs to be communicated to voters.
Turnout, they note, could be a problem.
(Home to 10,500 registered Democrats, compared to 5,400 Republicans, Monroe contains the most Democratic votes on paper in the Middlesex portion of the 14th District, second only to Hamilton, with 16,400 district-wide).
"A lot of people still right now probably don't know what's happening," Pucci said. "We've got to get this message out. The message come June 2 is who can best lead the town at this time, through this transition. Because it is a major change now."
But Tamburro is not lacking in establishment support. Local Democrats from across Central Jersey turned up at the organization's reception tonight, including Middlesex County Democratic Chairman Kevin McCabe, Assemblyman Wayne DeAngelo (D-14), state Senator Linda Greenstein (D-14), and Somerset County Democratic Chairwoman Peg Schaffer.
Also present, and eliciting the praise of many of his Democratic colleagues in the room: Councilman Michael Leibowitz, the sole Republican on the town's council.
All paid tribute to Pucci's legacy — as well as toasted to the promise of a future one under Tamburro.
"With any good transition, whether it be in the private sector, some place like Apple, or the organizational transition that has taken place in Monroe, you appreciate what has been built," said McCabe. "And with that transition comes the individual who is going to carry the entire team. And with that you couldn't pick a better candidate than Jerry Tamburro."
Among his accomplishments, supporters cited parks, a state-of-the-art high school, library and senior center that have been built in the 40,000 resident town under Pucci's tenure. Tamburro described them as "wonderful programs at a low-cost tax rate," and vowed to continue to increase and improve services going forward.
"As the town continues to grow, it's changing," said DeAngelo, who faces his own re-election along with district-mate Dan Benson in LD14 this year. "And Jerry Tamburro has seen the change and has seen the transition and is working through the transition. I see a seamless transition with an eye on growth."
Pucci, in a brief conversation with PolitickerNJ as the reception came to a close, reflected on his tenure as mayor and explained why he decided to finally bow out this year. He recalled the days when Monroe was less developed, leaving more room to "experiment."
"Twenty-eight years, it's a long time. It's a really long time," Pucci said. "And with this community, I just thought — the town is kind of unique because, and I've been through the wars of the worlds in politics, I understand in the urban areas and rural areas. But I was younger then, and the community was just growing. So the job was always in front of me, and you could use your creativity and try things."
Now, the town is home to a thriving suburban population, complete with single family homes, kids, and a sizable senior citizen community  — "so I decide it's time," he said.
"But it's not about me anymore. It's bittersweet, but it's time. And Jerry fits what I think will be this transition," he added.