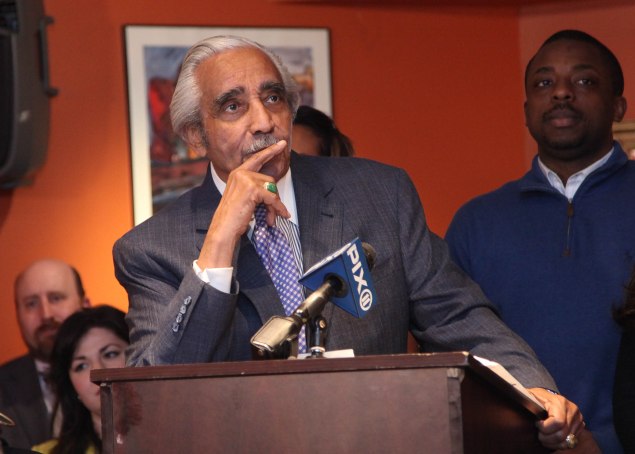 Congressman Charles Rangel is an active Twitter and Facebook user, but he also wants to learn from people experienced in technology, and pass on their innovations to the people he represents.
"This technology train is traveling so fast and is so difficult that all I can do is bring people together and enjoy watching them exchange ideas," Mr. Rangel told the Observer. "There's just no telling the opportunities that this has, and I would not want my community not to be a part of it."
As part of this mission, Mr. Rangel is working with Frankly, a digital platform that allows brands to integrate messaging into their mobile and web properties.
The Silicon Valley company will announce at a town hall meeting tonight that it is forming a technology partnership with Congressman Charles Rangel, who will use Frankly to conduct digital dialogues with his constituents on various issues. District voters will be able to contact each other through Frankly as well.
Frankly was until now best known for its partnerships with Victoria's Secret and the Sacramento Kings. Harrison Shih, the firm's director of content and marketing, told the Observer that Frankly's partnership with Mr. Rangel was a natural extension of the company's branding work.
"A senator wanting to know what his constituents think is not that different from a brand wanting to know what their users think," Mr. Shih said.
The group Silicon Harlem, whose aim is to make the neighborhood Mr. Rangel represents a technology hub, is also part of the partnership- Mr. Shih is joining Silicon Harlem as a technical advisor. He said the fact that he worked on the West Coast would not impede his ability to facilitate and "add the Silicon to Silicon Harlem."
"You don't have to physically be there to mentor someone, and share ideas and beliefs," Mr. Shih said.
---

'When you see kids with their smartphones, they're talking about issues more important than where the next party is going to be.'

---
According to Mr. Rangel, an open communication channel with his district will also have an impact outside of New York City.
"This is going far beyond my constituents," Mr. Rangel said. "I can't put boundaries on technology. I don't get votes out of it, I get excitement and enthusiasm."
Mr. Rangel also said that he wants young people in his district to become more interested in politics and technology through his work with Frankly.
"I'm planting a seed and hoping that the excitement catches on so that when you see kids with their smartphones, they're talking about issues more important than where the next party is going to be," Mr. Rangel said.
In conclusion, Mr. Rangel said that discourse on every issue in his district would be improved if looked at through a technological lens.
"Public schools and charter schools are like a pimple on an elephant's behind compared to technology," Mr. Rangel said. "Without technology, it doesn't mean a damn thing."