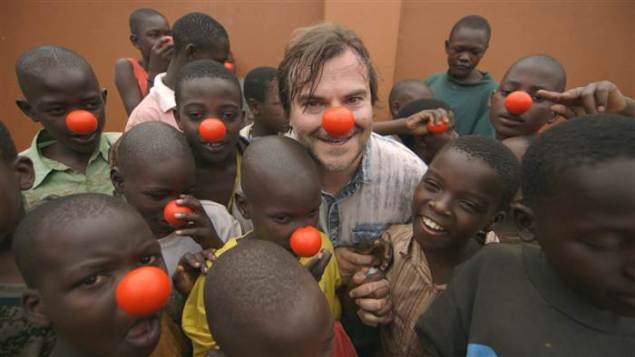 For nearly thirty years Richard Curtis has devoted a great deal of time and energy to a cause that he firmly believes in, and yet, sadly, many in the United States are not fully aware of it. But that's about to change.
Thursday night NBC will air a special highlighting Red Nose Day, a movement that Curtis has spearheaded in the United Kingdom since the '80s, that's raised over a billion dollars for charities around the world.
The annual event is the U.K.'s #1 television fundraising event. The U.S. version will feature some of Hollywood's biggest stars, including Julia Roberts, Will Ferrell, Jennifer Aniston, Reese Witherspoon, Jodie Foster and more. The special will feature videos produced by Funny or Die and incredible music performances, all to raise funds to benefit 12 charitable organizations that work to lift children and young people out of poverty, in the U.S. and throughout the world.
Curtis is most well-known as the writer of several romantic comedies, including Notting Hill and Bridget Jones's Diary, and the writer and director of Love Actually.  He admits that the evolution of Red Nose Day actually started with an impromptu offer that he made during a dinner party years ago. "It's really just such a weird story," laughs Curtis. "At that gathering, I met a girl who was going to Africa with a charity that I knew of and I just offered to go with her. The charity thought it was kind of a waste to send both of us to the same country, so they sent her to the Sudan and me to Ethiopia. While I was there, this is the only way to say it, I saw some terrible things. Things like this building that was three corrugated huts right together – one for people who were going to die that day, one for people who might make it through the night, and one for people who might survive the week. I came back from that trip determined to use the resources that I had in the comedy community to do a stage show, which we did rather successfully. Off of that everyone involved said, 'let's do a TV show to reach more people,' so that's how we ended up here."
To make the event a success, Curtis is constantly reaching out to celebrities to get involved. "I've been in this business a long time so fortunately I know quite a lot of people. You build this inch by inch, partner by partner. We've formed a great partnership with NBC. They're not only presenting the show, but they're doing things on The Today Show and they just helped us do a very funny thing with Will Farrell and The Voice. I'm friends with Judd Apatow so I reached out to him.  Sam Smith just did something for us. Liam Neeson, and Hugh Grant are involved as well, and Julia Roberts is doing something with Jodie Foster. It's a game of dominos really – person after person. I'm always surprised and delighted how swiftly people will react to an invitation to help. There're those cynical people out there who might say that these stars must be doing this for publicity, but I don't buy that. I think I that if you go to someone and say, 'if you do a sketch we can get half a million viewers who may give a million dollars,' they'd have to be inhuman to say no, and more than 95% jump right in. The truth is, the ones that don't end up involved it's usually only because they have an immovable conflict of some sort."
The real secret of Red Nose Day participation, reveals Curtis, is, "We to try to get people to do stuff they actually want to do and they think is fun. We say, 'you have six minutes. Is there anything you want to do or someone you want to work with?' They do what they want rather than being squeezed into boxes and this method always seems to lead to some really original, funny stuff. "
One of those funny people helping out this year is Jack Black, but Black won't be yucking it up on stage during the special. In fact, Black is involved in a much deeper manner – he took a trip to Uganda and produced several short films about his journey which will air during the evening.
Curtis explained how he and Black end up collaborating this way, saying, "Jack and I had come across each other when we were doing the [American] Idol Gives Back event a few years ago. Then Jack was in the U.K. making [the movie] Gulliver and I got an invitation through a mutual friend to go out and have a bite of lunch with him. At that time, Jack just said to me, 'Look, if you're ever doing anything again like the Idol thing, feel free to give me a call.' So, when we decided to do this, well, you know, no one makes an offer for Red Nose Day and doesn't find they've been hooked on the line. So I called him and it was just amazing, he came straight back and said, 'I'm in.' I've got a feeling it was the shortest email I've ever received except the ones that say, 'No.' It was amazing. So it oddly enough started in 2007, we met again in 2011 and then here he is suddenly getting on a plane in 2015."
Black is quick to point out that Curtis didn't open with the specific idea of international travel when they met that day for lunch. "You know, he didn't bring up Uganda right out of the gate.  He waited a few years before he dropped that one on me." But Black is swift to say that because Curtis was involved, he warmed to the idea quickly. "I mean, you spend some time with Richard, you see what he's done in the U.K. with Red Nose Day, and it's just impossible to say 'no' to the guy, or at least it was for me. When you've had as charmed and lucky a life as I've had you're already looking for opportunities to give back and I don't know anyone who's as good at it as Richard. So yes, I found it irresistible and I wanted to jump on board and do some good."
The trip was an eye-opening experience for Black as he admits, "Spending time with these kids and their parents and just seeing how amazing they were as people really moved me the most. If I had gone over there and had just seen a bunch of victims that didn't have any hope, it wouldn't have been as powerful to me as seeing these kids that were so funny and talented and brilliant. And, I just was most blown away by the tragedy of the loss of potential. Here are these amazing people that I could see growing up and having amazing contributions to the world and that's what really gave me the deep sense of urgency to help. These kids have magic in them. They're hungry for education just as much as they are for food. It's not just about survival; it's also about nurturing something really special. That was my biggest takeaway in general and the thing that moved me the most. I hope that really shows in the films I made because when you can relate to a person that's in trouble and you can see the potential there, I think you're a lot more likely to lend a hand to someone."
Sending Black on this trip was well-thought out for a number of reasons, explains Curtis. "One of the things that we've tried never to do on Red Nose Day, is we don't really want to send experts out. What was so brilliant was that Jack went in open-eyed as a normal human being and so that's what I think is so wonderful about the films he's made is that you're not being lectured to by someone who knows everything about all the charities and the politics and the economics, you just are a human being reacting to other human beings, which is what we're trying to do on the night; just make people identify with other people whose lives are hard and see if they can spare some money."
Curtis looks at Red Nose Day as a 'proactive' event rather than a 'reactive' one as he explains, "It's an odd way to look at things to say that we should only give money in the aftermath of a tragedy. Poverty is a long term thing that needs to be solved in a long term careful way. That's why we said, 'let's do something which shows people that they can help every day of every year with extraordinary results. We're trying to show that we're all connected and not just only when a tragedy happens. This is an approach of long term development rather than crisis management."
The mixture of comedy and the vignettes helps further the cause in a positive way says Curtis. "No one really watches a funny sketch and says, 'I must give $10 to thank, you know, Ben Stiller and Will Ferrell for that joke,' but that's the way that we entertain people. We don't see any contradictions between the two halves. I don't think there's anything disrespectful about trying to be as stupid and as funny and entertaining as possible and then just, you know, once every 20 minutes remind everyone of our shared humanity.
So it's the films which are full of sort of grace in humor in their own way, that make the money, and I think the comedy that makes people stay watching. "
After all of these years, Curtis clearly hasn't lost his desire to produce the event, no matter how taxing it is. "Well, right now I'm really working on surviving with a pulse until Friday when this is over," he laughs, but then he's quick to add, "The truth is, even after all these years, I'm obsessed by every dollar. I never underestimate the value of every single dollar and what we can with each and every one of those dollars.  This is really a calling for me. I always wanted to do two jobs – there's my 'making Hugh Grant rich job,' and then my 'trying to raise money' job. I'm fortunate that my two jobs are intertwined and that I've been about to do them both for so long."
Curtis admits to having several goals for the event, saying, "First I want to remind everyone that very simply put, during at any time during the show, even during a  commercial break, you make a donation and literally you can save someone's life, so please keep that in mind when you're watching. On a bigger scale, I'd like this event in the U.S. to reach the level it has in the U.K. There, it's sort of like a public holiday — a really fun day like April Fools Day. Also, this event has helped to expose a whole generation of kids to other people's lives and to show them that they can do something to help people who need it. I want to keep all of this going here – the fun, the learning about others, the giving – all of it. My aim is to provide three hours of great entertainment and raise as much money as we can. Then the dream is to be able to this every year for years and years to come."
The Red Nose Day special airs Thursday, May 21st at 8/7c on NBC.