God said, "let there be light," and there was light, and God saw the light, and it was good.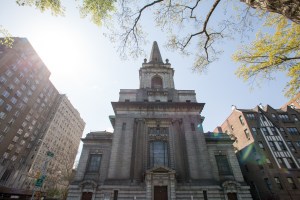 The local community board, though, felt otherwise.
First off, they said, the windows God wanted to add were totally out of context with the building's existing facade. Also, there were way too many of them. And they weren't crazy about His plans to take down the original stained glass, either.
Religion is a notoriously touchy subject; likewise, at least in certain precincts of New York City, with historic preservation. It's little surprise, then, that combining them often results in headaches.
Take, for instance, the plan to transform the landmarked former First Church of Christ, Scientist at 361 Central Park West, into 39 condos, the brainchild of Brooklyn-based developer Joseph Brunner, who purchased the site last year for $42 million. (Mr. Brunner declined comment for this story.) Initial designs were met with strong neighborhood opposition and an unanimous rejection in November by the Community Board 7 preservation committee. Several weeks later, a revised design passed CB7 muster only to be turned down by the city's Landmarks Preservation Commission.
The LPC again rejected the conversion plans two months later in February. And, while the project received LPC approval on its third try in March and recently received a zoning exemption from the community board, it still has to win the favor of the city's Board of Standards and Appeals. [Update: On May 6, it was reported that Community Board 7 reversed its land use committee's decision to grant the exemption.]
One of the conversion's main sticking points? The aforementioned matter of light. Or, rather, the lack thereof. Most churches have "kind of small windows, and when you're turning [a building] into residential, you want the opposite of that," Jordan Rogove, a partner at architecture firm DXA Studio, told the Observer.
To get around that issue, Li/Saltzman Architects' initial design for 361 CPW called for the addition of some 70 windows to the structure's facade, prompting CB7 preservation committee member Peter Sampton to comment that the building "looked like it got shot up by a machine gun."
"It's an inherent difficulty" in church conversions, said Mr. Rogove, who knows of what he speaks. DXA is involved in an Upper West Side church-to-condo project of its own, a conversion of the Mount Pleasant Baptist Church at 142 West 81st St. for developer CMC Development Group.
But while the Brunner project has struggled to win over locals and regulators, the CMC conversion has been warmly received thus far, even winning the endorsement of local preservation group Landmark West!, one of the main opponents of the 316 CPW plan.
A case of divine intervention? Not so, said Landmark West! President Kate Wood. The 142 West 81st Street project "was very respectful of the architecture and very minimal in terms of removal of the original [building elements]," she said, calling it a "case study in how to go about adaptive reuse sensitively."
"Yes, there were changes that were made to the facade and back of the building," Ms. Wood noted. But, she said, "landmarked buildings aren't frozen in amber. It's not that you can't touch a hair on their head. We understand and often support certain modifications that are necessary to keep these buildings in active service."
Nonetheless, the favorable response came as a surprise to Mr. Rogove.
"We were amazed at how well the project was received," he said. "We thought inevitably we would run into opposition with the landmark preservation groups like Landmarks West! and Community Board 7. We've gone with other projects to these guys before and they're a tough crowd to please."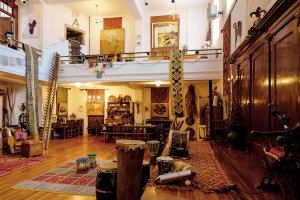 Mr. Rogove and his team had one bit of luck when their research turned up the fact that the building's front windows were actually a bit smaller than those of its historical counterparts.
"So we came to Landmarks with that study showing how we could enlarge the existing windows on the facade without in any way diminishing the quality of the design," he said.
Their plan, which includes a two-story addition atop the existing structure, also brings light into the building via floor-to-ceiling glass walls at the back of this addition.
And while a church isn't the most straightforward space from which to carve a set of condos, a building's quirks do allow for some rather unique amenities. The 81st Street project's penthouse, for instance, will feature a series of terraces falling around the towers that top the building's facade, Mr. Rogove said, while another apartment will include the building's large rose window.
Such opportunities are key to why church conversions can be worth the potential hassle, said Brookland Capital's Boaz Gilad, who is currently involved in four such projects in Brooklyn, including developments at 991 Eastern Parkway and 1255 Bushwick Avenue.
"There's a value financially and style-wise to an existing structure with a history," he said. "It's a very delicate and very challenging game, but it pays off. Because people will pay a premium for a unique product."
Church conversions create "simply amazing, amazing spaces that you really can't find and definitely can't get in new construction," said David Maundrell, president of real estate firm Aptsandlofts.com.
Some 45 blocks uptown from 361 CPW in Hamilton Heights, broker Michel Madie lives in a former church converted to a triple-wide, 10,000-square-foot townhouse that he purchased 10 years ago.
"The beauty of the space is that all the rooms are 50-plus feet wide and you have incredible ceiling heights," he said. Among its features is a mezzanine running around the living room to which guests will occasionally take for readings and performances, he added.
Buying into a former church can also work as something of a shortcut for getting to know the local community, said Corcoran's Lori Mendelis, who lived for seven years at The Arches at Cobble Hill, a church conversion at 101 Warren Street in Brooklyn where she has also sold a number of units.
"I've met older women who were married there, made their communions there, did all the sacraments there," she said. "I'd much rather see these buildings repurposed than torn down. It's nice that they are still there, and not gone. Because in New York every day you have some institution that is just gone."
The 142 West 81st Street project is structured so that the church will, in fact, remain a part of its current community, with the congregation continuing to occupy the bottom levels of the building. Mr. Rogove suggested that this aspect of development probably helped ease its path through the gauntlet of UWS neighborhood organizations.
"It's a big dilemma that many [New York City] churches face right now," he said. "They have these enormous properties that cost significant amounts that are beyond their means to maintain."
"In this case, we were able to keep the congregation on the first two floors of the building, and with the air rights the property could be developed on top of the sanctuary space and the condos then pay for the maintenance of the church," he added. "So this was a rare project where everyone wins." 
This story has been updated to reflecting breaking news.