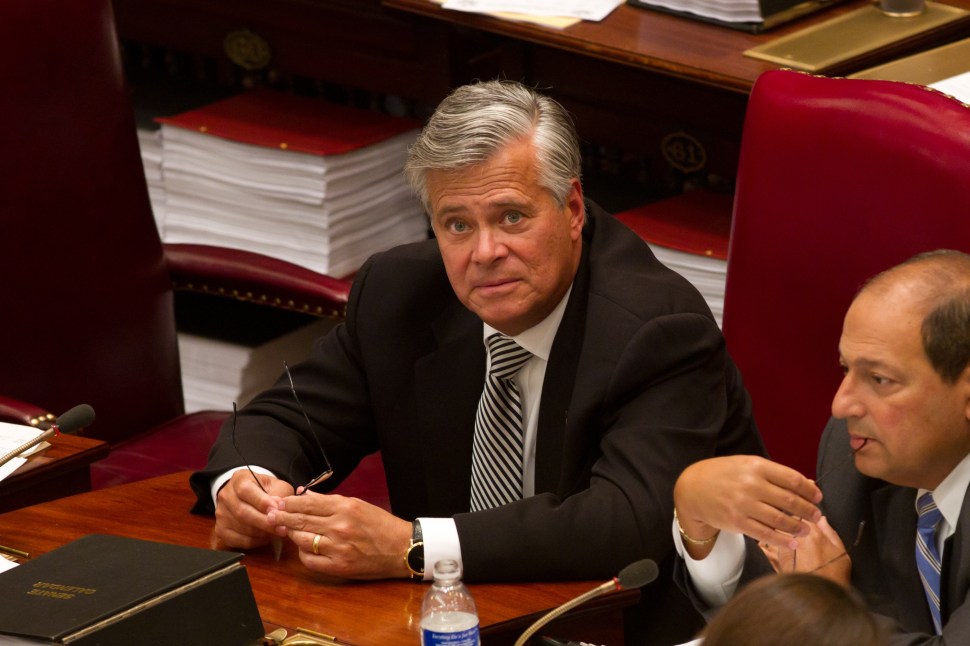 Republican State Senate Dean Skelos could join former Assembly Speaker Sheldon Silver as soon as Monday on the growing list of Albany pols facing charges of corruption, according to a Wall Street Journal report published this evening.
According to the Journal's sources, U.S. Attorney Preet Bharara—who threw the capital into chaos after he had Mr. Silver arrested in January—is completing a criminal complaint against Mr. Skelos and his son Adam, which will include accusations of conspiracy, extortion and solicitation of bribes.
Previous reporting by the New York Times alleged that Mr. Bharara last month submitted evidence to a grand jury pertaining to the awarding of contracts by Mr. Skelos' native Nassau County to AbTech Industries, a company his son worked for. The Times noted that Abtech appeared to have received substantial investment from Glenwood Management, the powerful real estate firm owned by centenarian mega-donor Leonard Litwin, believed to be one of the developers Mr. Silver is accused of extorting and directing to a tax law firm that gave the once-mighty Manhattan assemblyman received referral fees that Mr. Bharara has characterized as "kickbacks."
The Journal reports that the impending criminal complaint involves a real estate developer.
Mr. Skelos' press office did not answer calls for comment. A spokeswoman for the Senate leader blasted a television news report that the powerful Republican was under investigation in January while not denying its assertions.
It is unclear whether Mr. Skelos would retain his position. Mr. Silver stepped down from his, leading to a frantic scramble for the Assembly's top perch and the eventual ascension of Bronx Assemblyman Carl Heastie to the speakership.
The Senate's second-ranking Republican, Deputy Majority Leader Tom Libous of Binghamton, was indicted on charges of lying to federal agents last year but has retained his post.
The Senate majority leader, the Assembly speaker and the governor are often referred to as the "three men in a room" who steer state government.