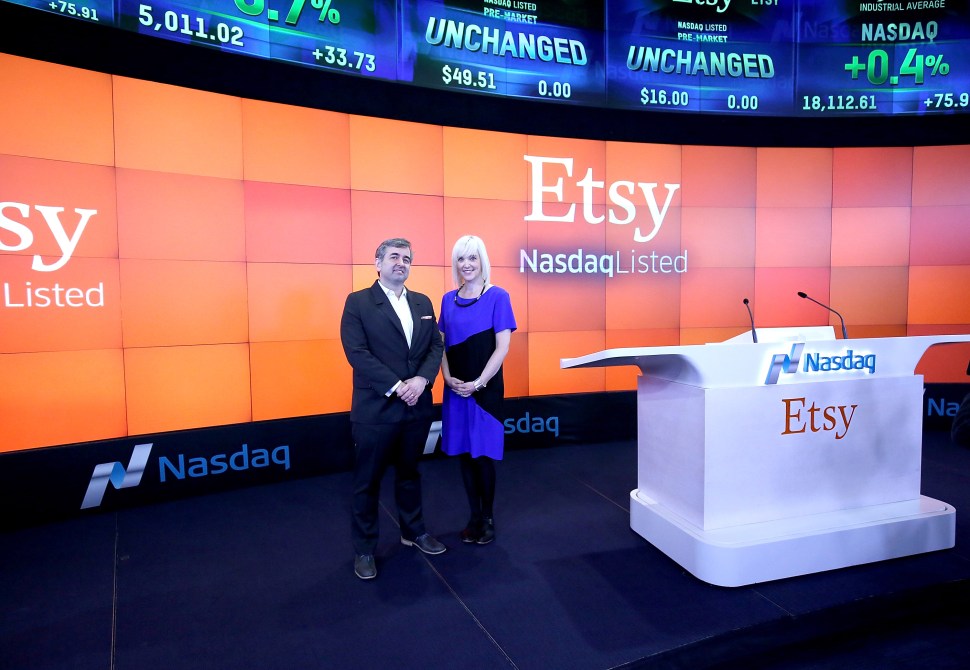 Its stock is publicly traded on the NASDAQ now, but Etsy is at pains to identify itself with organic food co-op values.
In a new report, Etsy describes how its managers get together periodically in "leadership dens," which it describes as professionally facilitated safe spaces where leaders discuss working better. Etsy also has a happiness index, and nine percent of the company's 685 employees take part in its Sustainability Commission. The craft marketplace is working hard to cement its reputation as a company that generates money making a better world. To that end, it released these and other big picture insights in Etsy's recently released 2014 Progress Report.
The report is a 109 page document tracking the craft market's success in creating a culture where commerce can foster a better world. It comes as Etsy also reports a first quarter loss of $36.6 million, its first report since the company went live on the NASDAQ. Additionally, Amazon has started reaching out to Etsy sellers in an effort to poach them for its own craft vertical, according to Quartz.
The financial press is largely pouncing on the site, which had New York City's largest IPO in years. Facebook also had a lousy first year on the stock market, and it wasn't very clear then how the company would make money.
Whether Etsy's bet on aggressive marketing to up its number of sellers and buyers will translate into a growing bottom line remains to be seen, but here's Etsy's case that it's making a better world, regardless. On its landing page for the report, it says: "There was so much we could have included. We focused on our work that generates economic, educational, or ecological value and that strengthens connections between the members of our ecosystem."
Here are some standout takeaways, all information according to the report and all the numbers reflect its work in 2014:
Happiness Index. Etsy uses a third party team to solicit feedback on the happiness of its employees. It uses the PERMA framework, from the University of Pennsylvania, which is based on a theory of "authentic happiness." 92 percent of employees report feeling aligned to the company's mission and values. 92 percent of employees returned the questionaire.
Eatsy. Twice a week, staff gets lunch served family style, sourced from local caterers, to foster connections between employees. It may be working. 86 percent of staff reported feeling connected to the company and each other. At the Brooklyn HQ, all the compost waste is carried by custom cargo bike to a facility in Red Hook.
Blameless problem solving. When a significant issue arises, the company practices problem solving without finding fault, so it can prevent the same issue from arising again and the employee who made the mistake can feel safe explaining how it happened.
Internet powered craft entrepreneurship. One of Etsy's goals is to give people a new way to make money. Thirty percent of Etsy's 1.4 million sellers offer creative goods as their sole occupation.
Democratic prioritization. On the engineering team, managers bring known issues to the team and prioritization solving the problems gets set by a group vote.
Employee to employee recognition. At the company hack week, staff built a system within the employee directory to make it possible for them to recognize each other's work.
Fostering sellers. Etsy needs more sellers to grow, but it also believes that when sellers come from disadvantaged communities it is fostering entrepreneurship. The company details ways it has worked with nonprofits and governments across the country to encourage making goods and selling them on the site by disadvantaged groups. It also relaunched its online labs program, where staff and other sellers discuss best practices and how-tos for sellers.
Waste. Etsy refurbishes and donates used laptops to nonprofits worldwide. It tracks waste of all kinds at each of its 9 offices, tracking data about each waste stream. It even gathered all waste in the Brooklyn and Berlin offices in one day to do an item by item assessment of each office's waste generation.
Carbon emissions. Ninety-seven percent of Etsy's carbon emissions come from sellers shipping products to buyers. While Etsy's energy use and carbon load went up quite a bit in the last year as the company grew, it kept energy use per $1000 earned relatively flat. It also only saw a nine percent increase in carbon from commuting, even as its staff grew by 38 percent. Twelve percent of its staff drive to work.
In the 2013 report, Etsy made a very big deal out of its status as a B Corp, a certification from B Labs as a socially responsible business. It devoted a full seven pages to the score in its prior progress report. In the 2014 report, it only mentions its B Corp status twice. This is probably because the company is likely to lose its B Corp status in late 2017. In B Corp's term sheet for company's certified and incorporated in Delaware, it has required Etsy to change its corporate status to that of a "benefit corporation" by then.
As a publicly traded company, its board may be reluctant to enter into this largely unknown legal territory.