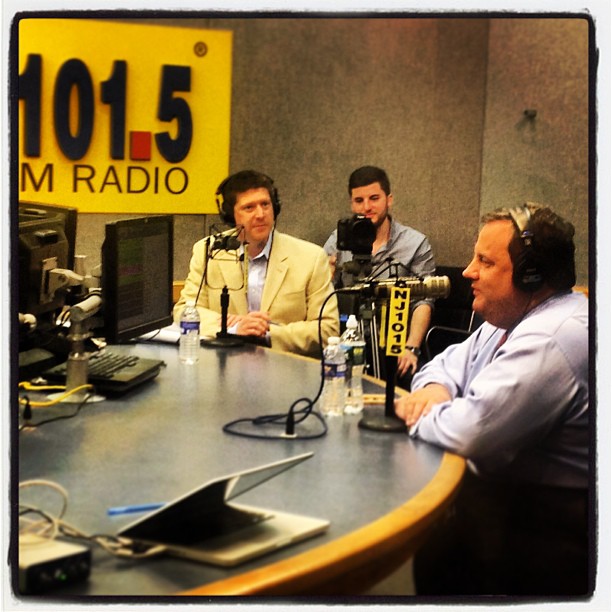 A tasty little media and politics feud has been percolating in New Jersey over the past week. And as with the best inside baseball, loyalties have shifted, with one of Governor Christie's toughest antagonists, Tom Moran, coming to his defense and journalists taking up arms against journalists.
Last Wednesday, the New Jersey Legislative Correspondents' Club hosted its annual dinner to raise money for journalism scholarships. The dinner resembles the White House Correspondents Dinner or the New York City equivalent, Inner Circle. Though filled with reporters, it has traditionally been understood to be an off-the-record affair, the better to get politicians and other guests to embrace the biting satire that's expected of them at a roast.
Well, this year, Governor Christie made the most of his opportunity to blast his media tormentors, opening with "We don't give a shit about this or any of you," requesting that the writers in the room "clean the shit out of your ears," and telling the dinner's organizer, Gannett's Michael Symons, to "just get the fuck away from me."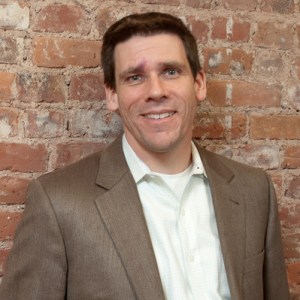 The governor even humorously addressed his low presidential poll numbers: "Anything that gets me off this fucking stage next year, I'm willing to do anything. Why do you think I might run for president? Cause I don't know what primary is in May 2016 next year, but if I'm at 1 fucking percent, I will be there."
It was hilarious and rocked the room of 350 or so. But what happened in Hamilton didn't stay in Hamilton.
As detailed by PolitickerNJ's sister site the Observer (and elsewhere), "Bruno Tedeschi, a Jersey political reporter turned public relations strategist, recorded the speech and wrote about it in an email newsletter blast that he sent out the morning following the speech." After Tedeschi's recap appeared, Ginger Gibson ran a recording of it on IBT.com.
That's when the small world of New Jersey politicos and media people went nuts.
In a sharply worded column, Tom Moran smacked Tedeschi and the others who ran with it: "This was a cheap shot on the governor, first from a communications firm eager for attention, then from mainstream media that followed the path without thinking."
That Moran, who himself has clashed ferociously with Christie and was called an "angry drunk" in the governor's remarks, would come to his defense, produced an interesting "moment" in the fishbowl of New Jersey politics and media.
Bruno Tedeschi now works for Jaffe Communications, which Moran disses as "small" in his column. Moran takes Tedeschi and Jaffe to task for breaking the cone of silence with this zinger, "The tradition of restraint died Thursday morning when a small consulting firm, Jaffe Communications, printed the meat of Christie's speech, including the f-words, in its daily newsletter to clients and media."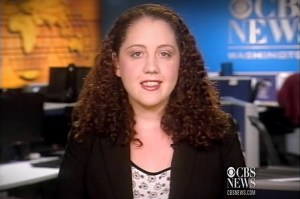 Bruno Tedeschi is Moran's former colleague at the Star-Ledger, making the hard line from the guardian of NJ journalism ethics all the more pungent. And since Tedeschi also served as Statehouse correspondent and bureau chief for the Bergen Record from 1996-2002, Moran's shot should also be seen as a barb at a former competitor as well as former colleague. What's more, Jonathan Jaffe, the founder of the firm that bears his name and now employs Tedeschi, is himself a former Star-Ledger guy. So that makes it a Dodge Ball competition with Tedeschi/Jaffe on one side facing off against Moran/Mulshine, the keepers of the old guard.
When he was at the Record and Ledger, Tedeschi was well-liked among his fellow reporters but he raised eyebrows when he went to work for Steve Adubato, Sr. at the North Ward Center, given the intense coverage the political kingmaker received from both publications. For him to land at Jaffe, which has both political and corporate clients, added fuel to those who criticize the revolving door between journalists and the subjects they cover, much in the news right now because of George Stephanopolous and his travails involving donations he made to the Clinton Foundation.
That pattern emerged elsewhere in this story.
The first reporter to pick up on Tedeschi's tradition-breaking post was Ginger Gibson, the IBT reporter who followed up with Tedeschi's tape on IBT.com. Gibson herself was a Star-Ledger reporter who PolitickerNJ has heard described by a Christie administration insider as their "#1 media enemy." Gibson was poached by Politico to cover Virginia's governor's race and the subsequent high profile bribery trial of the winner of that race, Bob McDonnell.
Oddly enough, Gibson left what appeared to be a cushy spot as a rising star at Politico to join the political consulting firm SevenTwenty Strategies. After what seems like a remarkably short time there, she returned to journalism, landing the gig at IBT, the unusual web news venture with ties to a controversial "gay curing" pastor; there she has joined professional Christie assassin David Sirota (whose bio page at IBT reads like a Christie hate mailer). Having gone from journalism to politics and back in just a couple years, Gibson's own bio at IBT doesn't even mention her time at 720.
Then there's Eric Scott, the radio guy whose embarrassingly pro-Christie coverage has garnered him unusually intimate access to the standoffish governor (in an "only in New Jersey" moment, it even earned him use of a Corvette). Scott chimed in on Facebook to agree with Moran and sizzled Gibson, calling her a "second rate reporter" and IBT a "quasi-news organization."
Interestingly, it's not even clear whether the dinner was intended to be on or off the record. In a long, defensive defense of his conduct, Tedeschi makes the point that no politician can rightfully expect that a room filled with 350 schmoozers could remain unknown. Tedeschi uses the opportunity to take a couple additional shots at the gov, comparing his roasting skills unfavorably to those of President Obama and even saying his lack of preparation proves Christie "really didn't give a shit about this or any of you." And Tedeschi's Twitter feed is now dominated by evidence—much of it from Sirota—that Christie knew or should have known that his remarks were on the record.
A spokesman for the governor, Kevin Roberts, declined to elaborate to PolitickerNJ, but earlier told Bloomberg, "Anyone [who] would misrepresent the traditional lighthearted nature of the event [does] a disservice to everyone involved."
According to the same Bloomberg article, Scott's colleague at 101.5, Kevin McArdle, stated at the beginning of the evening "that the appearance was off the record." But Symons told PolitickerNJ, "I think Kevin said to keep it off the record until the show was over—a request intended to prevent the event from being live streamed via Twitter apps like Meerkat and Periscope."
So there's been a lot of heat but not much light, leaving only two certainties: 1) It will be harder to get Christie to participate in this nice tradition in the future, which is a shame for the students who benefit from the $143 ticket price. 2) If Christie runs for president, ads will saturate Fox News airwaves during the Republican primary featuring grainy photos of the governor accompanied by his voice saying, "I don't give a shit about you."
UPDATE [1:15 pm May 26]: A source who attended the dinner emailed PolitickerNJ after reading this story. This source, who prefers to remain anonymous, is not a journalist but is experienced in the ethics and mores of the field. He reports, "They did, in fact, say not to tweet, etc. during the show only. Did not say it was off the record. There were dozens of people recording the gov's bit around me, including video and all I could think was that it was going to end up online." This would seem to add credence to the Tedeschi/Gibson/Sirota position that it was not only technically on the record, as Tedeschi has pointed out, but that attendees were expecting the remarks to be shared after the dinner.