"Leafy" might be the best adjective for Morris County, that northern New Jersey haven of mountain and swamp land with deer-strewn spaces that put its imprimatur on everyone from George Washington to Chris Christie to Jay Webber, an abode that now finds itself rent asunder once again – not by the muskets of war or the caustic countywide declarations of then-Freeholder Christie – but by a particularly brutal Republican Primary.
"I'm with the incumbents," Morris County GOP Chairman John Sette told PolitickerNJ, which at first blush sounds like a reasonable enough statement but for the fact that the incumbent freeholders are on different teams – and at each other's throats.
The 2012 "team" originally featured John Cesaro, David Scapicchio and John Krickus, a threesome fractured now into Cesaro on one side (running with new allies Angelo Tedesco, a former East Hanover councilman, and with Christine Myers of Mendham Township); and Scapicchio and Krickus on the other with new running mate Denville Councilwoman Deborah Smith.
"We wanted to run together again and we had a difficult time trying to get John Cesaro to the table," Scapicchio said. "We had a meeting at the chairman's office but John Cesaro did not want to run with us again."
Not surprisingly, Cesaro remembers it differently. He remembers showing up at a Beefsteak dinner and finding out that Krickus and Scapicchio had a shiny new running mate. That episode, which Cesaro said shocked the county, forced him into another direction, he insists. "I decided to run with my two running mates," said the freeholder board deputy director.
Hence, war.
On the front end of a conversation with PolitickerNJ, Scapicchio insists he has no problem personally with Cesaro, (pictured at right) an attorney from Parsippany. Scapicchio's a former Mount Olive mayor who, he says, who gets along with everybody. But it doesn't take long to tease out the gleam of a dagger in the incumbent's words. "The difference between mine and the other ticket is you hear John talking about the need for additional revenue," the freeholder said. "When you hear that, you'd better hold onto your wallet because that means a tax increase."
Cesaro slashed back.
"I find his comment laughable for two reasons," he said. "It's the first time he ever stood up and spoke out about something. On the freeholder board, he's go along to get along Dave Scapicchio. So this is the first time I've ever heard him speak up about something. Second, I am not looking to raise anyone's taxes. I'm looking to foster economic growth."
Insiders say Krickus is the by-the-book conservative's conservative for the most part (Cesaro sees it differently, of course, and describes his rival's conservatism as more the manifestation of  a habit of complaining his way into inaction when he doesn't get his own way), while Scapicchio plays the part of establishment-friendly freeholder.
Cesaro's had it with both of them.
But as divided as he and his teammates are now, Cesaro fingers fellow Freeholder Tom Mastrangelo as a key culprit.
"Tom," as he's called here, is a divisive guy, in the words of almost all the players involved – maybe as divisive a figure as there's
been on the board since Chris Christie occupied a seat. In the words of one insider, "Tom" loves leverage and lives for leverage
Indeed, the acrimony between Cesaro and Mastrangelo almost resulted in at least one fistfight and blew up at one point to the latter getting physical with a pen. "It's all on video with the sheriff's office," Cesaro said. "Tom did not like the fact that I voted no on a contract with a company with a previous involvement with his brother-in-law as part of the county police debacle. He told me off and I told him not to tell me off. As I was telling some people what he said, he approached me with his pen and barked at me. The guy's completely ridiculous. He approached me and he stuck his pen approximately an inch away from my eyeball. Tom Mastrangelo wants to control the entire county."
A source, speaking on condition of anonymity, blamed the ambitious Mastrangelo – even though he's not personally not running for reelection until 2016 –  for the board's perceived dysfunction and for the sparks flying now between former friends. Sette himself wrote a much-publicized letter slapping the freeholder for his fundraising tactics.
"As you are all aware, Freeholder Mastrangelo has had many fundraisers in the last twelve months," the party chairman wrote. "He even employs a professional fundraiser from outside Morris County to pursue you for contributions. His ELEC filing from after the June election shows that he has a balance of about $29,000.00 in his account…. Eight weeks ago I asked Tom to please change the date on his golf outing, as it would go against the County policy. I told him that it would hurt our ability to raise the necessary funds to run both the County and Town elections. He chose to ignore our conversation and place his own needs above those of his fellow elected County officials and municipal County Committees."
They resolved the issue, but bad feelings linger between chairman and freeholder. The latter's very close to the father-son political powerhouse team of Senator Tony Bucco and son Assemblyman Tony Bucco, Jr., a relationship that Mastrangelo allegedly suggestively leverages to send minor tremors through others who suspect he will grab an opportunity to run for a 26th District assembly seat, possibly against Assemblyman Webber or Assemblywoman Betty Lou DeCroce – maybe in 2017 with the advantage of a top-of-the-ticket gubernatorial primary dividing the county.
In the meantime, it's commonly understood that he's not backing the reelection of his bitter rival Cesaro.
At least one other person has firmly and publicly picked a side – or at least an individual on one of the two sides. State Senator Joe Pennacchio (R-26) backs Cesaro. "I have a long relationship with John Cesaro," said the veteran state senator. "I've been loyal to him and he's been loyal to me."
Aided by the obvious Mastrangelo ties, rumors float that the county's other upper chamber heavyweight – state Senator Bucco (R-25) – has lined up behind Scapicchio – a longtime friend and ally – but there's no evidence the senator or his son, Assemblyman Bucco, Jr. (R-25) have picked sides, other than the fact that they are both conspicuous by their absence at Cesaro events.
"I have to tell you," Scapicchio insisted, "we have not gone out to seek endorsements. We're incumbents running against each other in a Republican Primary. I believe the Buccos are supporters, but endorsements are overblown."
The top vote-getter when they ran last time, Cesaro has the natural edge of his hometown of Parsippany, a big font of politics where a local election has the potential to spike turnout. A key dynamic in that race features the presence of an independent expenditure PAC with ties to Democrats. Scapicchio said that blows onto Cesaro, who's affiliated with the local ticket advanced by that PAC.
"The concern we have as a ticket is they're bringing Democrats into Morris County to interfere in a Republican Primary," said the freeholder. "John Cesaro has received a significant number of donations from [Democratic Party insider] Ryan Graham and attended a Graham fundraiser in Bloomfield – in Essex County. This was kept secret and we happened to find out about it because a close friend of mine received an invitation. The PAC has people walking the beat here."
Cesaro responded.
"A complete lie," he said. "The raving lies of a man desperate to win an election. I find it very ironic that Mr. Scapicchio's Republican sensibilities are offended about this alleged Essex County invasion when for one year he had a Bergen, Essex and Passaic invasion in Morris working to craft Morris County police department policy and he had nothing to say about it. He did nothing and had nothing to say."
For all the rancor and for five debate forums already done with and more to come, including one tonight at the Lamplighter in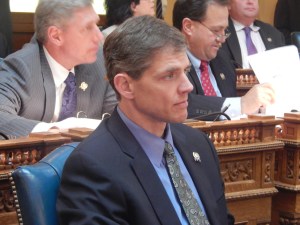 Chester, at least one insider chalked up the contest as a completely personality-driven event defined by "no significant policy difference."
Still, Webber (pictured, right), for his part, sees the positive for voters in this GOP Primary collision course.
"Competition has encouraged some pretty good reforms on the freeholder board," said the veteran assemblyman, who's staying out of it. "It has become more fiscally conservative in the last five years."
More to come…