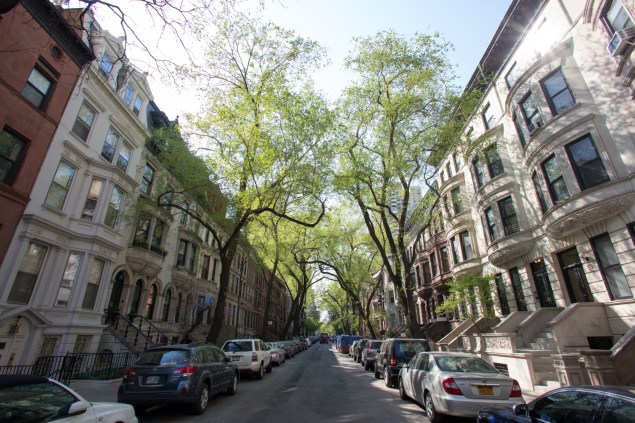 "I moved here originally when I was in college," Rosalie Alario said recently, sounding just a touch wistful about her Murray Hill neighborhood. "I went to Pace University," which stands just south and east of City Hall Park, in the Financial District. "As a girl coming from New Jersey, [Murray Hill] was perfect for me. I loved how young it felt, and how it was so convenient to downtown." Third Avenue hopped Friday and Saturday (and sometimes Tuesday and Thursday) nights with the clamor of recent college graduates, who caromed, more-or-less stably, from one flat-screen-flickering bar to the next: the Joshua Tree, Tonic East, Bar 515 and the Wharf Bar and Grill. On the 6 train, Ms. Alario could whisk downtown for class in a matter of minutes.
But three years after settling in Murray Hill, Ms. Alario, who is now 26 and a real estate broker with Citi Habitats, headed north on a cold, clear February evening to meet friends at an Upper East Side bar, where the local flat-screens would be showing the Super Bowl. One does not generally count on running into eligible European bachelors at Super Bowl parties—what with the alien variety of "football" and the potpourri of Buffalo sauce and Axe body spray, the odd, tubular towers of domestic light beer—but there, nonetheless, was Owen Mahony, a native of rural Ireland three years her senior. Hitting it off, the pair began dating and later moved in together in Murray Hill, occupying a one-bedroom apartment near East 31st Street and Park Avenue South. They got a dog, a French bulldog named Gunner. Eventually they got engaged.
Ms. Alario still loves their place, and feels reluctant to speak ill of the oft-lampooned neighborhood where she came of age. At a certain point, though, she and Mr. Mahony, who works in construction, felt that it was time to move on to something a bit … well, more mature. In her capacity as a broker, Ms. Alario had been spending time on the Upper West Side, and the area had long attracted her and her fiancé for its low-key dining options and its Central Park access. (To reach green space in Murray Hill, Gunner, the aforementioned Frenchie, faces a walk of several blocks to Madison Square Park, at the end of which he's liable to feel already a bit tuckered.)
Ms. Alario began to keep an eye out. "Really, it just came down to finding a place that we knew was better than ours," she said. "We already loved the neighborhood," with its abundant prewar buildings and classical architectural details, its quiet, leafy brownstone blocks and a sense of spaciousness absent from many points south. "We loved the feel that it had. You could almost think that you're in the suburbs, but you're actually in the middle of the city."
Before long, she stumbled on a one-bedroom condo in a newly converted building between Columbus and Amsterdam Avenues on West 95th Street, which offered the balcony space that had made its way onto the couple's list of must-haves. What it lacked in the greater neighborhood's old-fashioned charms the apartment made up in brand new appliances and finishes, novelties to veterans of Murray Hill's prewar product. Central Park and Riverside Park were each a short walk away.
But of course, when they move in (this summer, with any luck), the bars of Murray Hill, to say nothing of the restaurants and clubs of Chelsea, Soho and the Village, will be at a veritable trek's remove. It's a trade, brokers say, that young-ish Manhattanites—often those in the second bloom of early adulthood, with nascent families, nightlife exhaustion and/or burgeoning architectural proclivities—are making in large numbers, as downtown prices become prohibitive for all but the most extravagantly compensated, and the Upper West Side to some extent sheds its sweater-vest rep as an enclave of the artsy and academic.
Christian Emanuel, a broker with Next Step Realty who lives and does much of his business in the neighborhood, which is generally considered to run from West 59th Street to West 110th Street between Central Park and Riverside Drive, told us that the migration extends even to those who aren't quite yet ready to buy. "I've come to think of them sort of like a group of downtown ex-pats," Mr. Emmanuel said. "It's not so much 22-year-olds fresh off the college campuses. It's more people who are closer to their mid-20s, who have lived downtown in shares, maybe in one Village or both. People who are growing up a bit and want a little more privacy—in a studio or a one-bedroom—and say, 'I'm done with that.'"
Michael McCloskey, who is 24 and works near Penn Station in commercial real estate, reached much this conclusion, although not without hesitation. The time he spent soon after college sharing an apartment in Soho, near Sullivan and Prince Streets, he said, "was probably the most fun I ever had in the city." Still, when the lease ended, Mr. McCloskey found himself moving to an apartment on West 96th Street—though he'd never previously been north of Columbus Circle—to an area with which he felt unexpectedly enamored.
"Soho and the West Village are a little nuts now," Mr. McCloskey reflected, referring to the noisy traffic of tourists and commerce that can make once-cozy corners of lower Manhattan feel less like quaint residential districts than catwalks for socio-economic exhibitionism. A native of suburban Long Island, he found the Upper West Side abidingly urban, yet comfortably familiar. "I don't have a family, but I liked that it was more of a family environment," he said. "I had a dog, and the park was nearby, and I just felt more at home there."
Things have become homier still for Mr. McCloskey, who has not put the institution of roommates entirely behind him, and who recently moved into a lavishly renovated four-bedroom walk-up on West 106th Street between Columbus and Amsterdam with his younger brother and two of his friends. (Two roommates work in finance; the third is a graduate student at Columbia.) "Even if I could afford it, I don't think I would move back [downtown]," he said. "I don't think that I would give up this sort of secluded atmosphere. If anything, the next step would be to move into a brownstone in the same neighborhood."
Indeed, for all the appeal of the Upper West Side's quietude and charm, its Whole Foods-Zabars-Fairway trifecta, its Central Park proximity and, increasingly, its accessibility to a vibrant Harlem restaurant scene, there is also the small matter of price. But for Harlem and its north-lying neighbors, the Upper West Side remains the least expensive neighborhood in Manhattan. According to a market report prepared by TOWN Residential, the median cost of a one-bedroom apartment in the neighborhood during the first quarter of 2015 was $779,000, higher than any time in the previous year, but still well south of the downtown median of $975,000. An analysis of Manhattan rentals last March by MNS meanwhile put the median price for a one-bedroom in a non-doorman building on the Upper West Side at $2,796; the rate for an equivalent unit in Greenwich Village stood at $4,084.
"It's financial, honestly," said Paul Zweben, a broker with Douglas Elliman who together with his wife and business partner, Carolyn, lives and conducts a goodly portion of his transactions in the neighborhood. "Now I'm getting a lot of these young married couples—mid 20s, late 20s—who've had the advantage of being born to baby boomer parents and had a little bit of wealth transferred to them." Under less prohibitive circumstances, or with somewhat more generous wealth transference, he ventured, many might have preferred to invest in Chelsea or Gramercy.
The expense of those areas is an obstacle that Mr. Zweben, a former chef of 50, can sympathize with. "I always wanted to live downtown," he mused. "But I could never afford it, even when the prices were lower. We went to this restaurant the other night down on East Houston, and I was like, 'God, I wish we could live down here.' The restaurants [on the Upper West Side] are good, but they are not downtown restaurants. People who go out to eat downtown, afterward, they go for drinks. Nobody goes out for after-dinner drinks on the Upper West Side. No one ever says, 'You want to go have an after-dinner drink?' Ever."
But for some, that's part of the point. Laurie Gilmore, a broker with TOWN who generally specializes in downtown neighborhoods, recalled a man in his early 30s working in finance whom she recently assisted in buying an apartment. He had lived downtown in the past, and Ms. Gilmore assumed that's where she'd be placing him. As the search went on, though, the man increasingly expressed a wish to live neither near his office, nor the loci of his social life. "We looked at one gorgeous apartment that he loved," she said. "It had this great view of downtown. But he decided that he didn't want the city beckoning him out to party. He really wanted his home to be an oasis." The man settled on a rear-facing one-bedroom unit for less than $2 million, in a full-service building half a block from the west side of the Central Park.
Alas, the thickening troop of young real estate brokers and financiers has Upper West Side prices climbing, like those in virtually every neighborhood citywide. And glassy condo towers have lately proliferated, above the old trees and prewar buildings that have reminded some new arrivals to the neighborhood of the suburbs. A single developer has put up a virtual palisade of them along Riverside Boulevard, including One Riverside Park, the site of the city's most talked-about "poor door," where one unit is currently available for $25.75 million.
"We love our building, and we love the Upper West Side," reflected one longtime area resident, a journalist who lives with her wife and two children in a two-bedroom co-op on West End Avenue that she bought in 1998 and recently resold for roughly triple the purchase price, in favor of a much larger space in Hamilton Heights, just north of Morningside Heights.
"But we've come to love it a little less, because it's become so much more bland, with CVS and other chains stores moving in. Diners and mom-and-pop stores can't afford the rent. We're starting to feel a little bit out of our element—it's just starting to feel so wealthy on the Upper West Side." Hamilton Heights reminds her of the Upper West Side that she moved to a few decades ago, as a Barnard student. "It's reminiscent in the sense that the people are smart and interesting—professors, music teachers, editors and writers—but they're not wealthy wealthy. We're not exactly getting in on the ground floor. People have been buzzing about it for a few years now. But it's heating up. And the vibe feels like us."