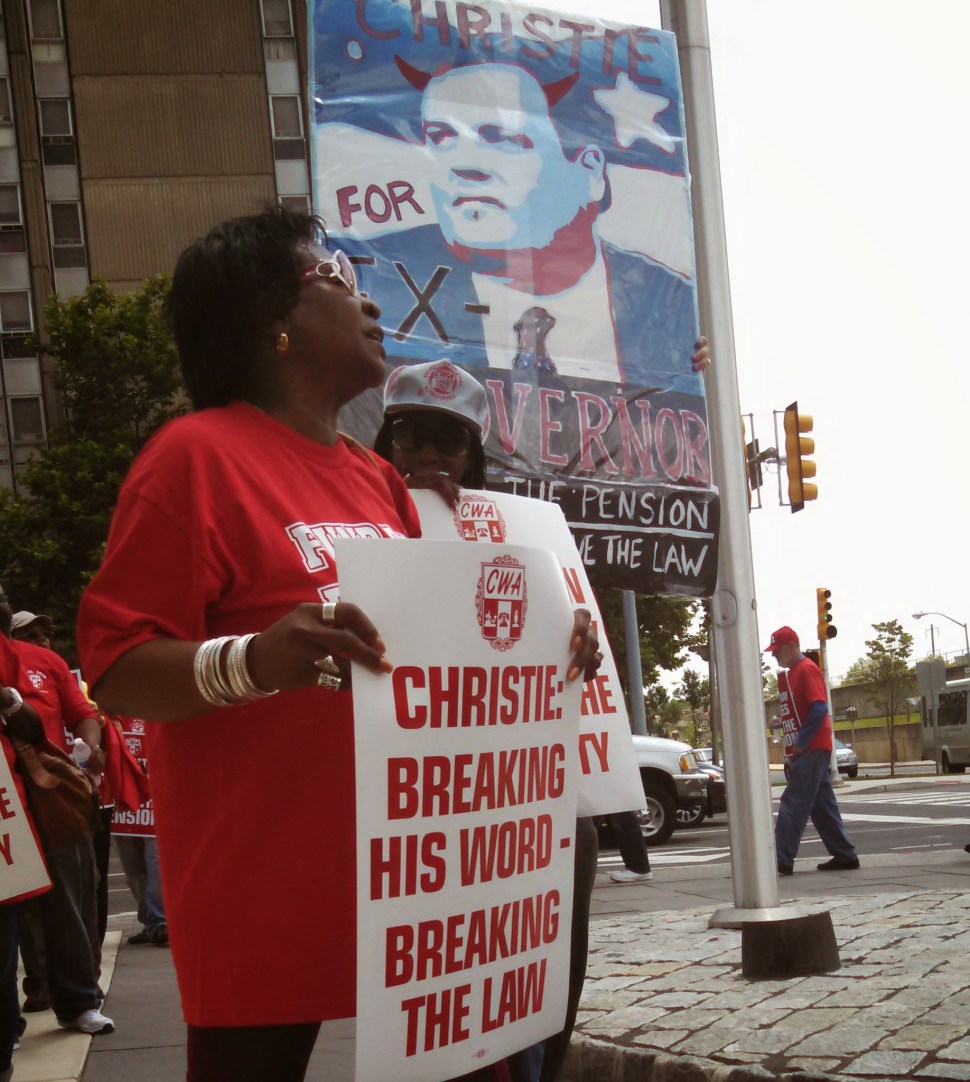 TRENTON — The state director of one of the organizations behind a controversial lawsuit between public sector labor unions and Gov. Chris Christie's administration over the funding of a broken pension benefits system said she was encouraged by the New Jersey Supreme Court's hearing on the case here today.
"I think the key, critical point was made, and overwhelmingly, which is the state has a contractual right here. We recognize that people have worked, they have deferred compensation, they have a right to those benefits," Hetty Rosenstein, state director for Communcations Workers of America, told PolitickerNJ. "It doesn't make any sense that they wouldn't have a right to receive those benefits."
The high court's justices presided over today's hearing on the issue, which saw legal representatives from both parties offering lengthy oral arguments for or in defense of the governor's decision recently to cut some cut $1.6 billion from a slated FY2015 pension payment. Unions argued that the state has a contractual obligation to fund the system under a 2011 reform law passed by Christie and the Democratic legislature, while the state argued that that law is invalid and the contractual obligation "fabricated."
The contractual obligation language refers to a previous ruling by Superior Court Judge Mary Jacobson, which Christie now wants the higher court to overturn.
"We knew what it was, we've heard it before. It's an astonishing position for the Christie administration to take," Rosenstein added. "This is a guy who went out after signing Chapter 78 at town halls meeting saying that this is a contractual right. So it wasn't anything new."
The CWA — along with other public sector unions like the AFL-CIO and the New Jersey Education Association — say they are hopeful the court will uphold Jacobson's earlier judgement. But that could also create other budgetary problems — it's unclear, for example, even if the court does decide to order Christie's administration to make the payment, where exactly such money would come from, with legislature fast-approaching the end of the fiscal year on June 30.
Rosenstien, for her part, suggested it's about putting the state in a position to fund the system in the future.
"Look, they had the money. He vetoed the money out. Their ability to make up that money between now and June 30 is probably pretty questionable. But the fact of the matter is that if they determine that it's a contractual right, then they'll be in a much better position for 2016," she said.
"You can keep saying the state isn't walking away, but the state is walking away and has been walking away, and the history here is the haven't made the payments," she added.
A second Superior Court hearing — this one for the administration's failure to put forth a full payment for FY2016 — is slated for May 12.