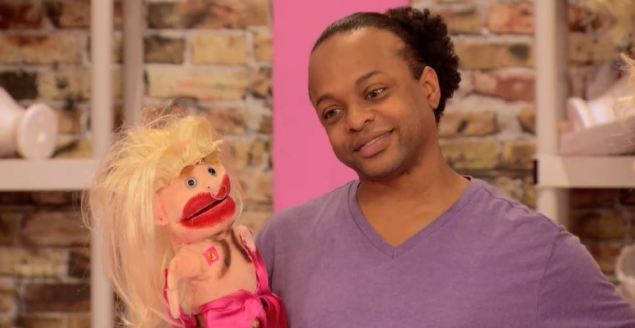 By this time every year it's usually achingly clear who the finalists are going to be, or at the very least which queens remaining having a plausible shot at taking home the crown. No one thought that Dida Ritz or even Roxxxy Andrews had any shot at bringing the title home. Even though this season has the strongest top five in the show's history, there are two tiers remaining: potential winners Pearl, Ginger and Violet, and also-rans Kennedy (rock solid but not innovative) and Katya (a strong performer with no big wins or moments).
This episode starts with a perennial favorite: the puppet challenge. It's a small wonder that RuPaul can still think of new filthy double entendres as he tells the queens to shove their fists into a dark hole and pull out a doll dressed vaguely like a competitor. Basically this is just another version of the reading challenge, which the more, the merrier. It's such a shame that Miss Fame has sashayed away, because watching her bad reads combined with terrible ventriloquism would have made for quite the cringefest.
As the show has progressed, Drag Race has shown that contestants need to be extremely versatile with their talents if they're going to go the distance. You can't just do one thing well or you'll be weeded out tout suite (cf. Tammie Brown). Even though only two of the remaining queens fall anywhere near the comedy camp, all five are hilarious with their puppetry. I could not have been the only person delighted with Pearl for reading Kennedy's "Death Becomes Her" look, perhaps the most nonsensical category presentation since Stacy Layne Matthews' "couture" velvet catsuit. In fact Pearl just repeated Kennedy's blather pretty much verbatim and the laughs came organically. Ginger was also quite funny, reading herself at the same time as she threw digs at Violet (earning her the win).
Then came the main challenge ("maxi-challenge" they call it this year?). In walks…Hello Kitty. Yes, Hello Kitty. What the WTF am I watching? All I could think of was the Project Runway episode where they had to design a dress for Miss Piggy and none of the contestants acknowledged that she was a puppet in any way. Even that makes more sense, since Miss Piggy is a famous actress within the Muppet world. But Hello Kitty? All the queens act excited, but it's reminiscent of Top Chef, where they have to make a dish out of, say, Kraft Macaroni & Cheese—with short little product-placement clips of the cheftestants praising how great it is.
The queens have to pull together a look inspired by Hello Kitty, which seems like a very easy challenge this late in the game. Frankly the only thing that makes it hard is how talented all the competitors are, so it's highly unlikely anyone will completely blow it. Then RuPaul adds a very minor twist: they all have to create a character based on themselves as Hello Kitty's BFF. "Recreate your drag persona in the Hello Kitty style" also seems quite basic and straightforward.
The results are pretty uninspired, which makes sense given how G-rated the challenge is. Pearl basically makes herself into a two-tiered Kitty totem pole wrapped in a blanket. Kennedy does a play on Eartha Kitt's Catwoman which is more than serviceable. Ginger does quite well for herself with a cutesy sort of Japanese schoolgirl look that is clearly outside her normal range. Katya really flubs this one, with a bodysuit matched with a huge pearl necklace and 1960s wig. To no one's surprise Violet blows everyone out of the water with her Hello Kitty via Barbarella look, proving that she's probably the strongest fashion queen this show has ever seen but for Raja (and even that is debatable).
Still, two queens have to lip sync so RuPaul sends Katya up against Kennedy Davenport to perform Katy Perry's "Roar." Their battle is one of the best ever, both contestants swinging for the fences. Kennedy does a cartwheel and a split, and then Katya does a cartwheel and a split. Eventually Kennedy leaves the stage and starts stomping the floor to the music, and when Violet cheers from the back row you just know it looked even better in person.
With no losers at this point but one not-winner, Katya is exiled to drag Siberia. Although she clearly made a name for herself this season—and seems to be an obvious choice for Miss Congeniality—her self-doubt storyline never paid off with achieving self-confidence. Obviously a lot of this is editing and Katya has to have more than a little bit of confidence to put on a dress and perform on stage with a heavy Russian accent. But the point is that the show didn't present her as having a real arc. The editors often tell us more with what they leave in than the queens themselves do. By that logic it looks like Kennedy will have to be the next to go.