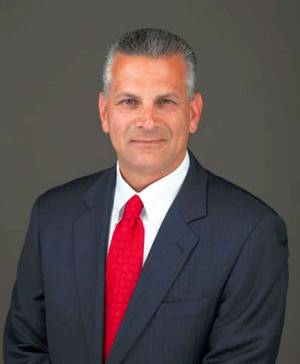 RUTHERFORD – Rutherford Mayor Joe DeSalvo, set to face off against fellow Republican Daphne Williams-Fox in next week's GOP mayoral race primary, stared down the literary lineage of his rival, descended from Rutherford's arguably most famous son, and didn't blink.
"The fact that she's using her grandfather's name to try to get some recognition and do the job that needs to be done is ridiculous," said DeSalvo, 47, referring to the fact that Williams-Fox is the granddaughter of William Carlos Williams, a famed poet who posthumously won the Pulitzer Prize and was a family doctor in his native Rutherford for decades. "I believe the residents of Rutherford see right through that."
DeSalvo, elected mayor in 2011 after serving on the Bergen County borough's council since 2009, saw Rutherford's future through the prism of several key issues, including the bête noire of New Jersey politics: taxes.
"Nobody is ever happy about the taxes in Rutherford, but we do have a quality town here," said DeSalvo. "Over the last seven years that I've been involved in town government, we've stabilized taxes. We used to have tax increases of 35 percent in two years. Since 2009, our elected officials, both Democrat and Republican, have worked together to run our borough more efficiently, and we now have a stable budget with a less than 2 percent tax increase over the last couple of years."
With little state aid forthcoming because of the state of New Jersey's uncertain fiscal state, most New Jersey municipalities are looking for ways to generate more revenue. In an interview with PolitickerNJ, Williams-Fox suggested that Rutherford allow bars to open up on a wide scale.
DeSalvo disagrees.
"I've spoken to plenty of our restaurant owners over the years, and whether they have liquor being sold or not, they're doing very well. They're packed on the weekends," DeSalvo said. "A lot of our residents like the fact that you can bring your own. I don't see the need to change things."
DeSalvo is also aware of the fact that the absorption of the New Jersey Meadowlands Commission, of which Rutherford has been a member, into the New Jersey Sports and Exposition Authority, will lead to changes regarding regional issues, such as zoning control and the commission's tax-sharing program from which Rutherford had obtained annual funding. He believes that more input in needed from the NJSEA before determining which way Rutherford should go regarding the commission.
"The NJSEA doesn't have the answers for the Meadowlands municipalities yet," DeSalvo said. "I agree with the merger of the two entities, but they should have planned it out a little better before they moved forward."
Acknowledging that the changes regarding the Meadowlands Commission will lead to some uncertainties, particularly regarding the planned retail and residential Highland Cross redevelopment in Rutherford and the American Dream entertainment complex in neighboring East Rutherford, DeSalvo looked at the consequences of the second project for Rutherford.
"I'm hoping that they don't lift the [Bergen County] Sunday blue laws, because that might cause a problem with traffic, and that's always a concern," DeSalvo said. "What we are able to get out of the American Dream project is more people live that would live in the area, which would mean more home sales and less vacancies. If we can continue to be strong on our zoning and keep our development low impact in a way that doesn't hurt our schools, I think we'll be OK."
Williams-Fox has raised concerns about the way some recent job vacancies on the borough police department were filled, pointing to an ongoing lawsuit that ongoing lawsuit that involves the recent hiring of several Rutherford police officers, including some veterans, that were not hired instead of Mayor DeSalvo's nephew.
"[Williams-Fox] doesn't have all the facts. The process by which my nephew was hired was 100 percent legit. I was out of the process," DeSalvo countered. "Some of the individuals in question did not make it through the regular application process. Otherwise, I can't really comment because of the lawsuit."
Another issue that is both personal and political for DeSalvo's primary rival is the uncertain future of the William Carlos Williams Center for the Arts in downtown Rutherford, named after Williams-Fox's grandfather.
"The building itself is not preserved as a historical building. It would be nice if it could be kept up to a condition where it could be preserved," DeSalvo said, referring to the center's serious structural problems. "I'm not in a position to say whether the building is structurally sound or not, that's up to the engineers. I know something needs to be done here, and [Bergen County], which owns the center, is sitting there doing absolutely nothing. They're not putting any maintenance into the building. I asked the council to authorize a redevelopment study of the area. That doesn't mean I want to knock the building down. I believe that a performing arts center should be a part of the redevelopment plan. We've got to get down to nuts and bolts to move this thing along. If the county wants to come in and spend the money to renovate the arts center and put it back in full working order, I told [Bergen County Executive] Jim Tedesco that I would stand behind him 100 percent. But we need something to happen."
When it comes to what happens in the June 2 GOP primary match-up with Williams-Fox, DeSalvo, an electrician by trade, stated the first half of his opponent's name won't short circuit him.
"No disrespect to William Carlos Williams, but I would say most Rutherford residents don't know who he is, unfortunately," DeSalvo, who has county GOP support, said. "His last name is not a reason for anybody to come in and think that they can do the full-time, hands-on job it takes to be mayor. I've been a self-employed electrical contractor for 27 years. Working with people gives me the experience to run for mayor. I can get people together to work for the common goal of getting Rutherford where it needs to be. That's what I want to continue to do."