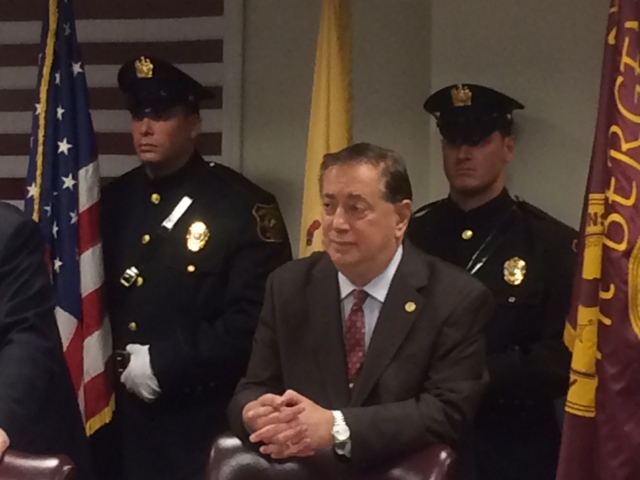 NORTH BERGEN – North Bergen Mayor and state Senator Nick Sacco (D-32) remembered walking door to door and up the hills of his hometown during his recently-concluded campaign as he was sworn in for a seventh term on Tuesday.
"We've worked hard. We're going to continue to work hard, maybe even harder," said Sacco, 68, moments after he and his four-member commissioner slate were sworn in in the commissioners' chambers before more than 100 people at North Bergen Town Hall. "We can walk all we want, but without you walking with us, we'd be hitting blind doors. You took us where you wanted us to go on Election Day. I thank each and every one of you from the bottom of my heart for your commitment to me and to my commissioners."
Sacco defeated challenger Larry Wainstein, a wealthy local businessman, by an approximately 2-1 margin on May 12 after a highly confrontational campaign in which accusations of corruption flew as fast and furious between the two candidates as commuter vans hurtling down Bergenline Avenue.
But in the end, state Assembly Speaker and Hudson County Democratic Organization (HCDO) Chairman Vinny Prieto (D-32) said that organizational street muscle can still trump money on Election Day.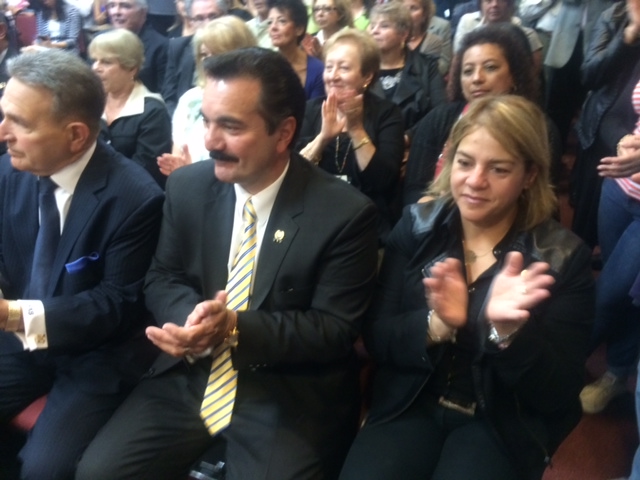 "This is a testament to Nick Sacco's leadership in North Bergen," said Prieto, a strong Sacco ally. "It's great for me to take credit as the HCDO chairman, but the mayor has done the job by providing services to the community. You saw him thank the people who took him around during the campaign. He's talking about the county committee people that are the backbone of his organization. In Hudson County, it's about the mayors. The mayors have the base that gets the voters out. And his organization is second to none."
Sacco attributed his victory in part to services.
"We're the only town that when you enter it during a snowstorm, you know you're here because the streets are clean," said Sacco, North Bergen's mayor since 1991. "We keep public safety at the highest level we can, and we spend money very carefully."
In his attempt to oust Sacco, Wainstein was supposedly not so careful with his money, with his campaign spending more than $1 million against Sacco and has team. Sacco also had to contend with a town hall raid by the state Attorney General's Office on the day he officially launched his reelection campaign. Two North Bergen Department of Parks and Recreation employees were eventually charged with theft.
Sacco explained why none of these factors ultimately foiled his reelection.
"People know me. They see me as a regular person. So when you throw some really nasty things at me, the people know me, which is like an inoculation," said Sacco. "Saying things like tying me into [late Mafia boss] John Gotti turned off a lot of our hard-core voters. That's totally insane. [Wainstein] can throw the money at me again in four years. He's not going to get any closer."
The commissioner slate of Hugo Cabrera, Allen Pascual, Frank Gargiulo and Julio Marenco elected with Sacco is the first Latino-majority slate elected to that body, a move closer to the changing demographics of North Bergen.
PolitickerNJ asked Sacco if the slate's sign of the times is a demonstration of the handwriting on the wall for Sacco's political future.
"In time, change will happen," Sacco said. "But we are growing inclusiveness. I want to work on the schools, open space and keep taxes and the town stable. I'm not done yet."