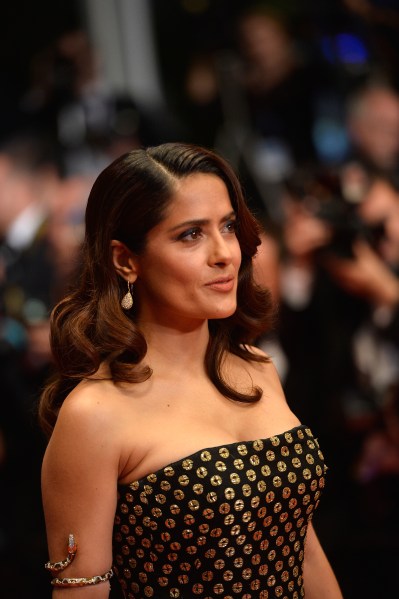 CANNES, France — "Welcome! Come on up!" A barefooted Salma Hayek beamed at the handful of journalists invited to a wind-battered tent at the top of the JW Marriot overlooking the coastline of Cannes. "I'm just having a cigarette," she laughed. "Don't let anyone know!"
Sporting a tight maroon faux alligator-skin dress by Christopher Kane, Hayek curled up on a plush seat, sitting on her legs (black stiletto pumps stood at attention nearby) and holding court to promote her turn as a queen in Matteo Garrone's Tale of Tales, a vibrantly gory adaptation of three darkly fantastical stories from 17thcentury Neapolitan Giambattista Basile's Pentamerone—a little-known but seminal template for later scribes like the brothers Grimm and Hans Christian Anderson.
Her turn as a cold-hearted monarch obsessed with becoming a mother is one of the most memorable in the film, mainly since she must eat the giant heart of a sea monster to become instantly pregnant. Her bloody, bare-handed feast is one of the film's most horrific images. "It was really disgusting," she admitted. "I was gagging." Before the shoot, she was requested to submit a list of any food allergies so the prop department wouldn't harm her with the fake edible heart. "When they bring me this, I ask them, 'What's it made of?' 'Eh, many things,' they said. 'You're not allergic to it!' My teeth were hurting from it. My daughter Valentina figured it out: it was marshmallow soaked in sugar. It had all kinds of textures. And then I took a bite and felt a worm. 'OK, what is in this thing!' 'No, that's pasta. Mangia, mangia!'"
Mangia indeed: who knew Colin Farrell and Joaquin Phoenix had pot bellies? On Friday, Cannes held back-to-back screenings of their latest films, in which both men proudly stuck out their rotund guts—Farrell for the surrealist relationship drama The Lobster (from Greek absurdist auteur Yorgos Lanthimos), and Phoenix for the Dostyoevskian relationship drama Irrational Man (from drolly existentialist Manhattanite Woody Allen).
Their full forms served them well, as tortured souls desperate to find a way to survive in their worlds. For Farrell's pudgy character, who just checked into a matchmaking resort hotel, the stakes are automatically higher: he has 45 days to find a mate, or else he'll be turned into an animal (in his case, the titular crustacean). Phoenix's plump philosophy professor is more proactive about raising the stakes: he's convinced that his life will have more meaning if he can pull off the perfect crime and poison a heartless judge.
The Lobster is a wicked satire of societal pressure to conform—as the movie's backgrounds get increasingly populated with animals (everything from a peacock to a camel), people get more and more anxious to couple up by any means necessary. Farrell even feigns indifference to a brazen animal slaughter to prove his compatibility with an increasingly skeptical (and deeply sadistic) woman. Meanwhile, lurking in the nearby woods are the Loners, singletons led by Lea Seydoux who have escaped the hotel—although they are periodically hunted down by its guests—and live by their own equally harsh rules: no coupling allowed, masturbation only, and anyone caught locking lips gets them chopped off in an act called the "Red Kiss."
Allen's far more mundane Irrational Man is still wrought with extremes, as the manic Joaquin blithely plays Russian Roulette in front of his students while faculty wife Parker Posey and star pupil Emma Stone each desperately tries to bed him. And despite the academic references to Kant and Sartre, the movie has more in common with an Agatha Christie woodunit as Stone starts to piece together the clues to the judge's seemingly unsolvable murder. A nifty thriller—one critic called it Match Point Lite—Irrational Man got its biggest laugh from the Continental crowd when Stone belittles Pheonix for his "French bullshit post-war posturing."
"Have you ever considered murdering anyone?" a Brazilian journalist asked Allen at the film's press conference. "Even as you speak!" he quipped. Although the 79-year-old's hearing isn't as strong as it used to be, his mind was as sharp as ever. "Mr. Allen?" said another journalist, calling for his attention while the director gazed in another direction. "Mr. Allen, are you there?" Nonplussed, he deadpanned, "Yes, if you look closely."
Decorum is famously uneven here in Cannes, where razzing a film is just as encouraged as a standing ovation. A theater packed with critics loudly booed the ending of Sea of Trees, the deeply disappointing and dramatically misguided new film from Gus Van Sant about a distraught Matthew McConaughey determined to kill himself in Aokigahara, Japan's suicide forest. Bad manners? It's not like Cannes isn't used to it. This year, the city council has hoisted posters everywhere begging people not to pee in the streets—at risk of a 180 euro fine. "Our town is our living space," it exclaims, along with the Twitter handle #RespectCannes.
Many of course still adore the place—especially far above the urine-stained streets. At the Trophée Chopard party on top of the luxe Martinez Hotel, Rossy de Palma and Lupita Nyong'o hobnobbed with the black-tie crowd, while Colin Firth reminisced about his favorite Cannes moment. "The first time I was ever star-struck was here in Cannes," confided the Oscar winner, who has been a Cannes attendee dating back to 1984, when his film Another Country competed for the Palme d'Or. "It was Werner Herzog, and he was on the beach. I was absolutely star-struck." It's good to be reminded that even the glitziest celebrities can still be dazzled.