When Morris County Freeholder David Scapiccio (pictured, left) first ran for the Morris County Freeholder Board in 1994, he ran with Jack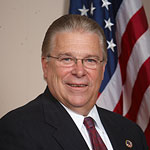 O'Keefe and Chris Christie.
Christie and O'Keefe won board seats. Scapiccio lost.
Owner of a residential construction company, Scapiccio had not yet held elected office at that point in his career, and would go on to get elected locally to the Mount Olive Council. He served five years as mayor.
"It was an education," he said of his first run, on the ticket with O'Keefe and Christie.
Scappiccio finally ran for freeholder again and won his first three-year term in 2012.
What does he remember about the man who would be governor? "He was bright, he was good on his feet, and he was a great orator," Scapiccio told PolitickerNJ.