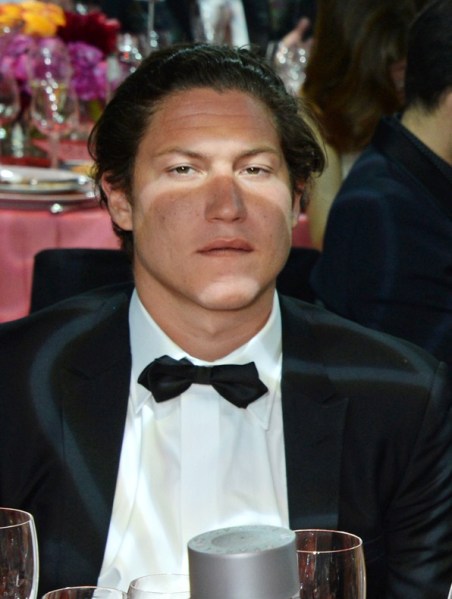 Sometimes you just feel the urge to get your dad's million dollar painting and some of your friends' million dollar paintings and hang them all up in an iconic New York building that your other friend bought for 55 million, amirite??
No, I'm not describing an episode of Revenge. This is something that curator Vito Schnabel is actually working on, thanks to Aby Rosen's recent purchase of the former Germania Bank building on the Bowery. Titled "First Show/Last Show," Schnabel's exhibition brings the work of seven auction-approved white male artists together under the cryptic rubric that their art "immediately conveys its significance," a super power that is obviously absent from any artwork authored by a woman or a person of color.
As mentioned, Schnabel Sr.—who is an acclaimed filmmaker and a guy who's starting to look a hell of a lot like Rip Torn–has a painting in this show, as does Mark Grotjahn, the affable L.A. painter dude who smashed his previous auction high yesterday at Sotheby's by hammering at 6.5 million clams. The other artists included in the show are Joe Bradley, Dan Colen, Jeff Elrod, Harmony Korine, and Ron Gorchov. But more importantly, there will likely be some serious STARS at this event (Owen? Heidi?), so why ruin the glamour with some whiny "white male privilege" claptrap?
First Show/Last Show curated by Vito Schnabel opens at 190 Bowery, Saturday May 16, 5-8 p.m.